Tough task to treat tusker
In Dalma, efforts to save a wounded young jumbo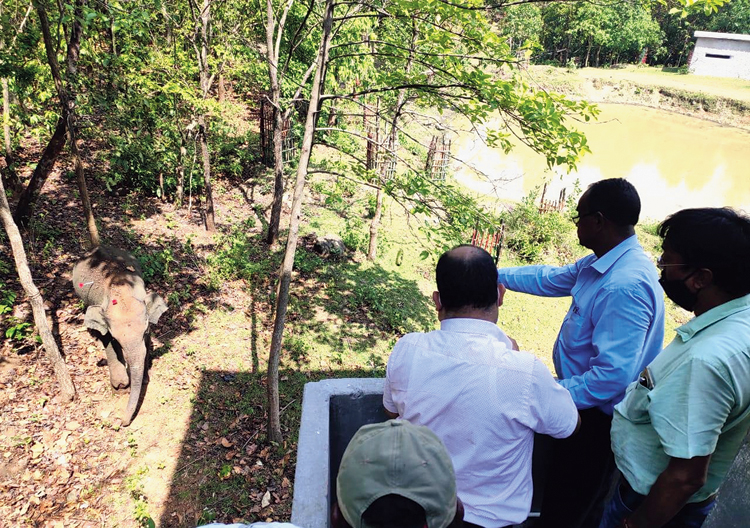 ---
---
Treating a wounded wild elephant is turning out to be a mammoth task for veterinarians and foresters who are on the job for the past two days.
The 10-year-old jumbo, who was found limping near a watering hole inside the Dalma Wildlife Sanctuary four days back, has a deep wound on his right front leg. It is not known how it got the wound.
The elephant is walking with great difficulty and gets angry whenever there is human interference.
The young jumbo is being looked after by senior vets from Jamshedpur and Ranchi near the Kashjobi watering hole inside the core area of the 192sqkm sanctuary 30km from Jamshedpur. Foresters are providing logistical assistance to the vets.
The elephant often chases forest guards and trackers (village youths recruited on daily wages to keep a tab on movement of animals) who try to bring him before the vets for treatment.
The foresters lure the tusker with bottle gourd and jaggery to make him go towards a watchtower from where the vets administer medicines.
The vets are positioned atop the watchtower, because it is not a wise idea to go near any wild animal, specially an elephant, to administer medicines.
The doctors fire needles from the watchtower with a blow gun to inject medicines into the wounded elephant.
"This is the only way to administer medicines to a wild elephant. The needles find place on different parts of the elephant's body," said Dalma range officer (West) Dinesh Chandra.
Chandra, who accompanied Bhagwan Birsa Munda Zoological Park vet Ajay Kumar to treat the elephant on Saturday, said the tusker remains angry because of the wound.
"The elephant is experiencing great pain.We are not aware how the tusker got wounded. The front limb also has swelling. Five needles were being injected for the past two days," the range officer said, adding that the treatment started on Friday afternoon.
Besides injections, capsules mixed with jaggery are also being given to the elephant, who seems to have got separated from a herd.
Tata Steel Zoological park vet Manik Palit is also part of the team which is taking care of the elephant.
The tusker limps back towards the watering hole when the day's treatment gets over. The treatment is likely to stretch for some more days.
Dalma foresters said the elephant may be tranquillised to treat its wound.
"The stage for tranquillising the elephant would come when the wound does not heal. It's the next stage of treatment," one of the foresters said.
Jumbo kills man
A 71-year-old man was killed by an elephant at Kanderbera village in Chandil forest range on Friday night. The incident took place around 9.30pm when Jitu Mukhi had gone to answer nature's call near a nullah. The body was sent to MGM Medical College for post-mortem, said Chandil forester Radha Raman Thakur.