IIT (ISM) celebrates its 96th Foundation Day
Focus on innovation, research and industrial exposure of students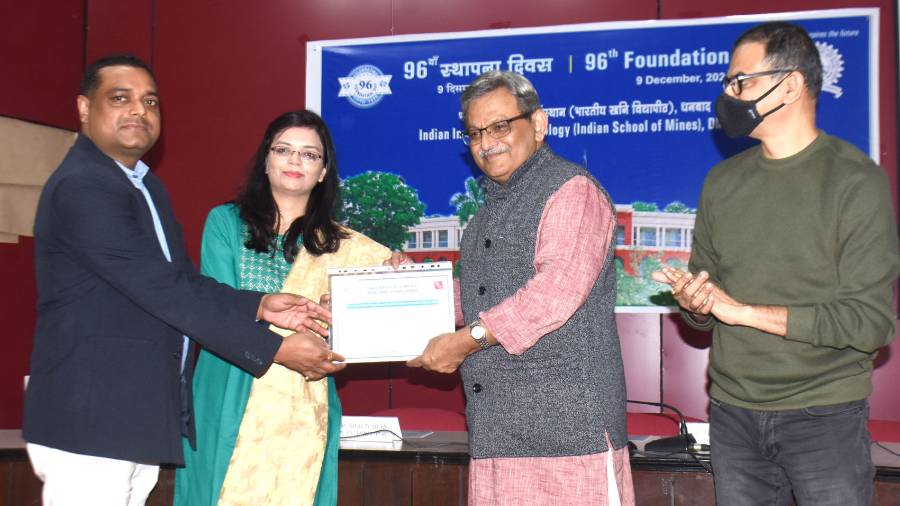 Pratishtha Gupta, Research Scholar and Professor Vipin Kumar, Department of Environmental Science and Engineering, IIT(ISM) Dhanbad receiving Winner of Inder Mohan Thapar Award-2020 on Thursday.
Gautam Dey
---
Dhanbad
|
Published 09.12.21, 08:35 PM
|
---
As IIT (ISM) celebrated its 96th Foundation Day today, the focus was on innovation, path-breaking research and industrial exposure of students.
The day also witnessed the felicitation of 35 faculty members and 36 students for their achievements in the field of research and academics on national and international platforms besides four faculties and staff for their long service of 25 years. Additionally, six scholars and professors were also felicitated for winning the Inder Mohan Thapar Award- 2020 and for being a part of the research team.
The function began with the welcome address delivered by Rajni Singh, Dean (Media and Branding). It was followed by director Rajiv Shekhar's address which dwelt at length on the achievements of the institute during the previous years and the way forward for its post pandemic future.
Speaking on the occasion, Shekhar said, "Our focus will be on making education exciting and interesting so that students gain knowledge through studies round the year rather than only for a specific period before the exams."
Shekhar also said, "Our effort will be directed towards focusing more on enhancing students' knowledge through expert lectures and videos, as today's tech-savvy students are good at making videos. He took the example of some fascinating engineering session videos, which offer live solutions to problems being faced across the world."
Shekhar made it clear that they would be also be focusing on laboratory sessions as the same is crucial for the engineering curricula.
Emphasizing the importance of guest lecturers, Shekhar said that online classes during the pandemic provided enough scope for lectures through industry experts who gave first-hand experience of problems of industry and said that as part of the M Tech Programme in Pharmaceutical Science and Engineering at IIT (ISM), Dhanbad, a host of pharmaceutical sector leaders were roped in for expert lectures.
Further elaborating the road map for education, he said that software development will also be their main focus as the institute software development is an integral part of new generation engineering education.
Shekhar also talked about the need to promote innovative ideas as part of curriculum more than merely focusing on infrastructure set ups of the incubation centers.
In his lecture titled, 'New Education Policy: Opportunities and Obstacles' Prem Vrat, chairperson of IIT (ISM) Board of Governors in his lecture, delivered through video conferencing, said that NEP 2020 is a bold transformative strategy that looks at education holistically from the basic to secondary, tertiary levels and foster multidisciplinary in higher education.