Highway near Jamshedpur's Dimna Chowk blocked over mishap death
The accident took place when a speeding trailer hit a 30-year-old youth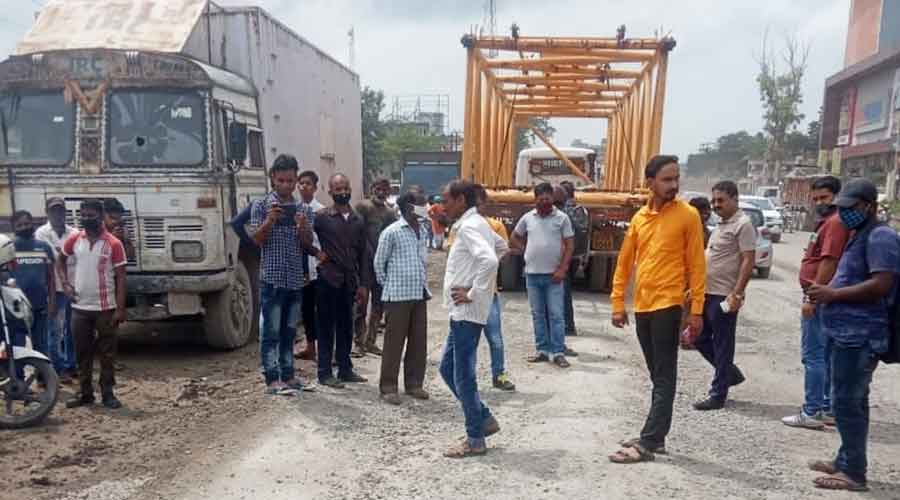 The spot of the mishap on NH-33 on Friday.
Bhola Prasad
---
Published 20.08.21, 07:29 PM
---
The movement of vehicles on NH-33 was affected for about two hours on Friday, as local residents put up a blockade near the Big Bazaar store, about a km away from the Dimna Chowk, over the death of a 30-year old pedestrian.
The accident took place when a speeding trailer hit the youth while he was crossing the highway.
The driver of the erring vehicle fled the spot soon after the mishap.
The mobile police of Mango thana reached the spot soon after getting the information and seized the vehicle.
The police sent the body, whose identity could not be verified, to MGM Medical College for post-mortem.
S.K. Singh, a sub-inspector of Mango thana said they were trying to identify the body of the mishap victim.
Meanwhile, a section of residents led by local Congress activists reached the spot and put-up a road blockade in protest against rising cases of road mishaps on that stretch of NH-33.
The blockade which was put up at around 1.15pm continued for two hours.
With frequent mishaps, the 3km stretch of NH-33 between Dimna Chowk in Mango and Pardih has literally become the road to hell especially for pedestrians, cyclists and two-wheeler riders. 
The road widening work by the National Highway Authority of India (NHAI) which is in progress results in mishaps. 
With the height of the highway being raised at certain points, vehicles - from buses and trucks to cars, bikes and cycles - jostle for space often leading to accidents.
In the last one month, two persons lost their lives after being hit by heavy vehicles between Dimna Chowk and Pardih. 
Several mishaps resulting in injuries to commuters were also reported in that stretch during the last couple of months.
A local resident of Mango said, "Trailers and trucks ply violating the speed limit and  without caring commuters riding small vehicles like two-wheelers and auto-rickshaws which often fall victim of mishaps."