Hemant Soren's tweets win praise from all
The Raghubar Das government had refused to admit hunger as the reason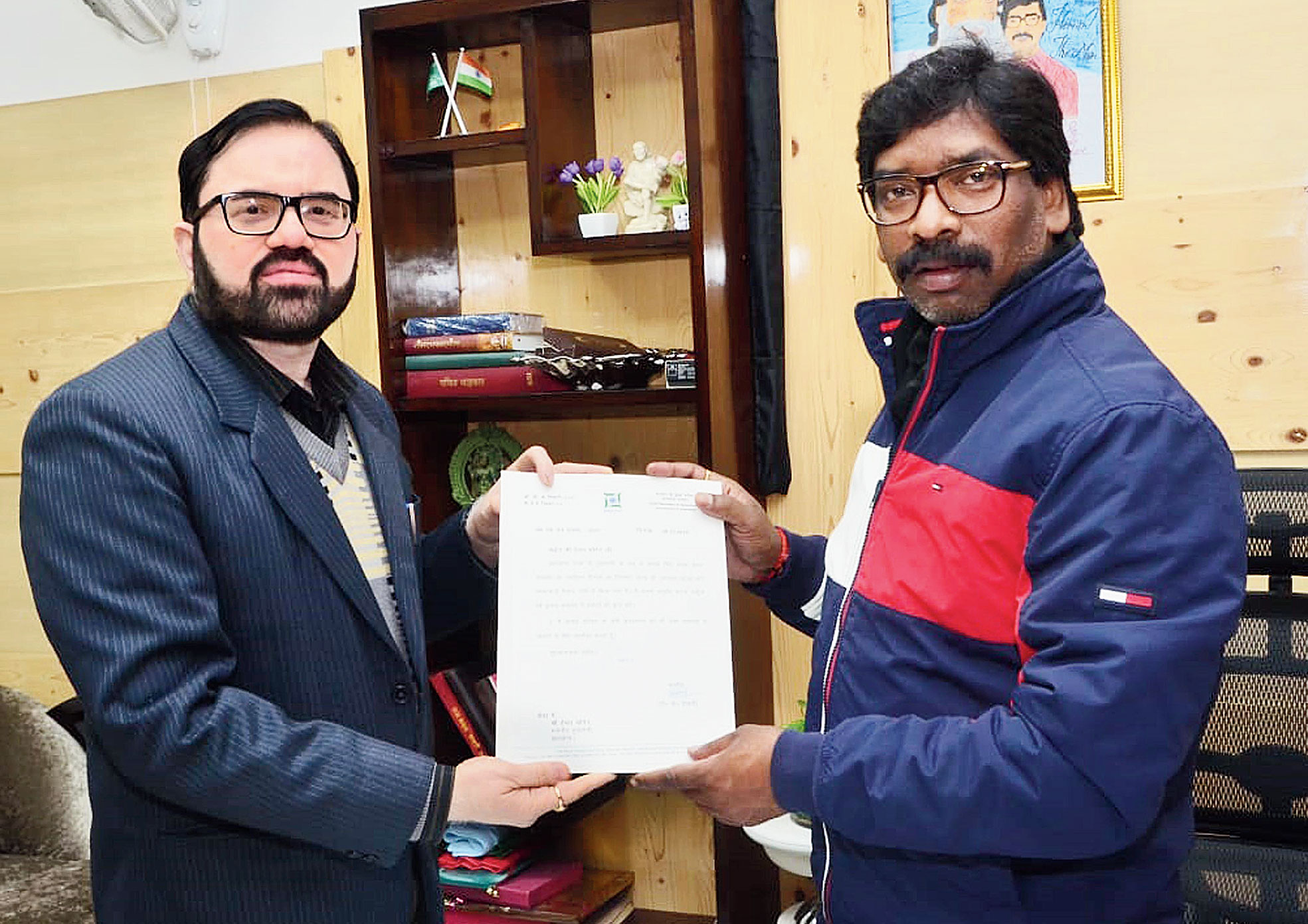 Jharkhand chief secretary DK Tiwary handovers Hemant Soren an invitation letter to take oath as CM at his residence in Ranchi on Thursday.
Picture by Prashant Mitra
---
Ranchi
|
Published 26.12.19, 07:43 PM
|
---
Hemant Soren, the chief minister-designate, appears to have tweeted his priorities before formally taking up the reins of Jharkhand on December 29.
He gave a hint of his priorities through two linked tweets in English on Thursday.
"On my way back to Ranchi from Delhi yesterday late in the night , I remembered the meeting with Santoshi's mother & her listless eyes speaking about how her daughter died saying 'bhat, bhat', remembered the countless youth who asked me why in spite of studying hard they couldn't get…" read the first tweet. The second one that followed said: "…suitable job opportunities. I remember the farmer's family in Mandar who went numb after he committed suicide jumping into the same well under MGNREGA & denied wage payment. This victory of @JmmJharkhand + @INCJharkhand + @RJDforIndia marks the beginning of a new dawn for Jharkhand."
Eleven-year-old Santoshi Kumari, a girl of Jaldega in Simdega district of the state, died on September 28, 2017, her mother alleging that she died of hunger, crying for rice. Inquiry by social groups had revealed that her family had been denied ration for five months as their ration card had been cancelled for want of the compulsory Aadhaar registration. The Raghubar Das government had refused to admit hunger as the reason. Over 20 more such deaths would follow in the next two years. The state government did not accept a single one as starvation death.
However, from the time of Santoshi's death, it was apparent that mandatory linking of ration cards with Aadhaar proved costly for many poor families in Jharkhand who did not have Aadhaar or stayed in remote places where biometric identification did not work due to owing to tech glitches, lack of Internet connectivity or simply power cuts.
Hemant's tweet on Santoshi was widely retweeted. Till 10pm, there were over 1.1 thousand retweets and over 5.8 thousand likes.
Many comments were thought-provoking, conveying to Hemant their expectations from his government — priorities being the end of starvation, corruption and unemployment.
"Please keep a photo of Santoshi and her mother... They'd remind you everyday why you are in office," suggested Santosh Mahato.
"We all have faith in you," tweeted Nitin Kumar Upadhyay.
Md Aurangzeb felt "ab lag raha hai Jharkhand ke yuvawon ko pareshani ka samna nehi karna padega (it seems the youths of the state would not have to face problems anymore)".
"Sir, agar time mile to ekbar Tabrej Ansari ka family se bhi mil lijiyega," Satya advised the CM-elect, reminding him about the lynching victim at Seraikela in June 2019.
"It's time to make Jharkhand great, people of the state deserve more," opined Sanjeev Kumar, adding that the people of Jharkhand are poor though the state is mineral-rich.
Someone using the handle Ambedkar's World advised Hemant to "appoint persons with calibre and sincerity to move development (process) that lay standstill for past many years." "Don't divide us, we want development sir," urged Aamir Raja. Basant Hetamsaria summed up his demand for "ration for those facing starvation, punishment for the accused in mob lynching cases and withdrawal of sedition charges against those involved in pathalgadi incidents." Firoz Khan tweeted that he wanted "rojgar, food and achcha law and order".
Others pointed out that the issue of Jharkhand Public Service Commission and para teachers deserve attention.