Hemant is anti-poor, says BJP about his criticism of NEP
'Chief minister wants to oppose everything the Union govt is doing'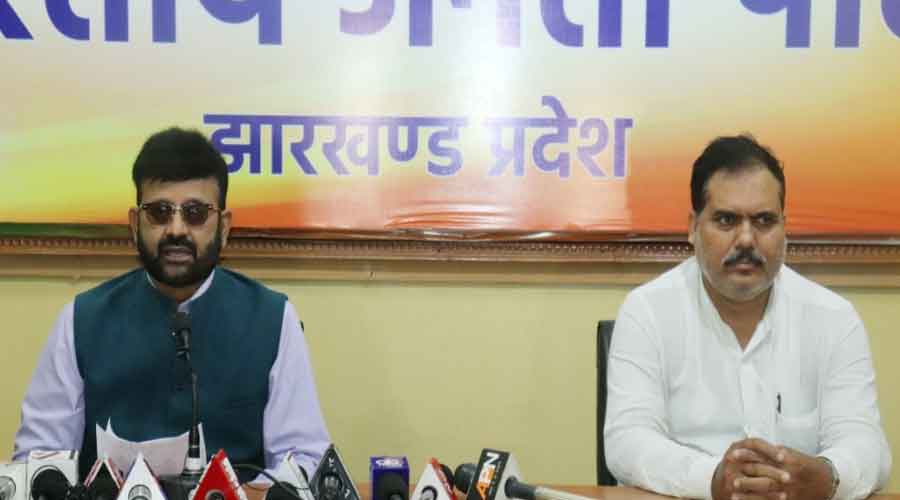 BJP spokespersons Pratul Shahdeo (left) with Shivpujan Pathak addressing the media in Ranchi on Tuesday.
Telegraph picture
---
Ranchi
|
Published 08.09.20, 09:38 PM
|
---
The Opposition BJP upped its ante against the Hemant Soren government on Tuesday, dubbing its stand on the National Educational Policy (NEP) as anti-tribal and anti-poor.
Rebutting Hemant's criticism at Monday's Governors' conclave, the state BJP alleged that he was playing dirty politics over the future of poor and tribals in Jharkhand.
"By opposing and criticising NEP, Hemant Soren has exhibited that he is anti-tribal and anti-poor. The points that he raised during the meeting before the President of India is proof enough that the incumbent state government wants to oppose everything that the Union government is doing. By doing so, he (Hemant) is only putting the future of scores of tribals, poor at stake," said state BJP spokesperson Pratul Shahdeo.
At the online conclave held under the aegis of President Ramnath Kovind and also attended by Prime Minister Narendra Modi, Hemant described NEP as pro-privatisation and raised several apprehensions regarding its implementation in its current form.
One of his concerns was that NEP did not give proper weightage to tribal languages as a medium of teaching. Shahdeo said, "NEP allows teaching in local and regional languages which are in the Eighth Schedule of the Constitution. Santhali language, one of the prominent ones spoken here, is in the Eighth Schedule. As far as other tribal languages are concerned, the state government must pursue with the Centre for its inclusion."
On the chief minister's accusation that NEP was pro-privatisation, Shahdeo said a higher education commission was to be set up under NEP which would act as a watchdog.
"Every year, lakhs of students including those from Jharkhand go to pursue higher studies in foreign countries. But NEP will allow foreign varsities to set up shop here which will help Indians save on expenses. NEP also mandates 20 per cent admission for under-privileged and 30 per cent scholarships to the  deserving. Most importantly, it also allows those who have dropped out to restart studies," he said.
Shahdeo said Hemant's view that NEP did not take in account a students' employability was laughable. "For the first time, NEP prescribes vocation studies from class 6, which will in the long-run make students job-ready," he said, adding that around 17,000 graduates of tribal and regional languages in Jharkhand are without jobs. These people could be easily inducted into teaching students in local languages once NEP was implemented, he added.