Hemant Soren encourages tribals to thrive in businesses
The Jharkhand CM speaks on govt employment and development schemes for the community at virtual meet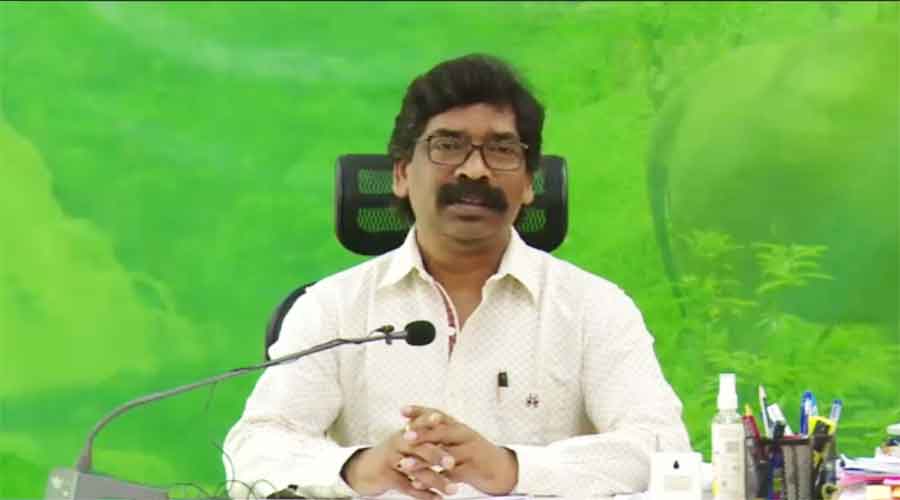 Chief minister Hemant Soren addresses the fourth edition of Tribal Development Meet.
The Telegraph Picture
---
Jamshedpur
|
Published 28.06.21, 11:36 PM
|
---
Chief minister Hemant Soren on Monday emphasised the need to change the mindset of the tribal population to encourage them to become entrepreneurs at the fourth edition of Tribal Development Meet organised by the Jharkhand State Council of the Confederation of Indian Industry.
In his address, the chief minister congratulated CII for organising the meet for four years consecutively. 
According to Soren, since the majority of tribal populace are into agriculture business, there is a need for creating a market for them, eliminating middlemen in order to help them earn more profits.
He went on to say that  Jharkhand government is taking special initiatives towards overall growth and development of  tribal community such as single window system for ease of doing business, special focus on agri farming, cage fish farming,  development of tourists spots and also trying to attract manufacturing companies (especially that of sports equipments as Jharkhand is endowed with talented sports personalities) to set up their industry in the state especially to generate employment opportunities.
Addressing the virtual tribal meet, Chanakya Chaudhary, chairman, CII Jharkhand State Council and vice- president (Corporate Services), Tata Steel said tribal community in the Indian Constitution is known as scheduled tribe (ST) and it accounts for 8.6 percent of the total population of the country as per 2011 census. 
"Jharkhand holds the sixth position among all states in terms of Scheduled Tribe (ST) population. Tribes by nature are rich in culture and resources and they have strong community bonding. Youth of tribal communities are a pool of mixed talents which needs to be harnessed for creating a strong workforce. CII and industries of Jharkhand are committed to the development of the tribal community," he said.
Sanjay Sabherwal, immediate past chairman, CII Jharkhand State Council and managing director, Metaldyne Industries Ltd during his address said that the tribal's are facing several serious problems. 
"The major among these is their poor economic condition. As they have no regular source of earning, most tribals live below the poverty line. They do not have adequate finance to start their own small ventures. While development processes are making inroads in terms of localization of industries apart from mining and quarrying, agri and tourism sector should be the focus areas," he pointed out.
The meet was also addressed by Baidyanath Mandi, state president, Tribal Indian Chamber of Commerce and Industry,  N L Vhatte, CEO and whole time director, ESL Steel Limited,  Amarendu Prakash, director in - charge, SAIL- Bokaro Steel Plant,  Jiren Xavier Toppo, head - Tribal Culture, Tata Steel Limited and several other tribal experts.
The Tribal Development Meet elaborately deliberated on challenges and opportunities for the economic development of the tribal society and their success stories.