Hemant orders probe after Muslim youth is assaulted in Dhanbad
Congress leader helps victim lodge FIR, alleges BJP men behind attack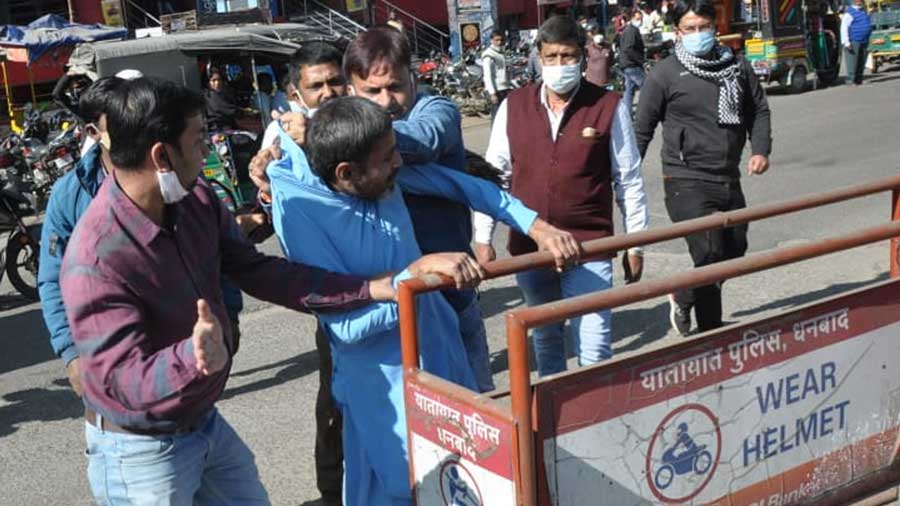 Zeeshan Khan being beaten up by BJP supporters in Dhanbad on Friday
Gautam Dey
---
Dhanbad
|
Published 07.01.22, 09:05 PM
|
---
A Muslim youth was beaten up, allegedly BJP supporters on Friday as per a purported video posted on social media, prompting chief minister Hemant Soren to order an inquiry and declare that there was no place for hatred in peace-loving Jharkhand.
According to a local Congress leader, Zeeshan Khan was assaulted and made to do sit-ups after he allegedly criticised state state BJP president Deepak Prakash while the party, under the leadership of Dhanbad BJP MLA Raj Sinha, was holding a silent protest to condemn Wednesday's breach of the Prime Minister's security in Punjab.  
Shamsher Alam, the Dhanbad- based state executive committee member of the Congress, said, " We came to know that one Zeeshan Khan, a resident of Naya Bazar locality, was assaulted by BJP party workers. Hence, we went to Dhanbad police station in the evening, along with Zeeshan and his elder brother, Rehan, to lodge an FIR ."
Dhanbad SSP Sanjeev Kumar said police would initiate legal action against those involved in the incident as per the directive of the chief minister. "We will study the video of the incident and take proper action against the guilty after conducting a full investigation," he said.
Quoting the tweet from the handle of one Sanjay Srivastava, which included the purported video of the assault, chief minister Hemant Soren asked Dhanbad deputy commissioner (Sandeep Singh) to probe the matter and ensure strict punishment against the guity. He also said that there was no place for such hatred among the people of Jharkhand living in peace and harmony.
.@dc_dhanbad कृपया उक्त मामले की जाँच कर दोषियों पर सख्त कार्यवाई करते हुए सूचित करें।
अमन चैन से रहने वाले झारखण्डवासियों के इस राज्य में वैमनस्य की कोई जगह नहीं है।@dhanbadpolice @JharkhandPolice https://t.co/XXZFcu9mNo

— Hemant Soren (@HemantSorenJMM) January 7, 2022
In the purported video, a youth is seen being assaulted and pulled by his hair by a group of people. He is also asked to do sit-ups.
"We can't let such an act against a person of a minority community go unpunished. We will pursue the matter to its logical conclusion," added Alam, who was at Dhanbad police station at 7.30pm, along with the victim, to register an FIR..
Dhanbad district Congress president Brajendra Prasad Singh said, "We condemn such a barbaric act carried out by some people in the presence of senior leaders of the BJP and demand a high-level probe. Nobody has the right to take the law into his own hands. In a democracy every person has the right to ask questions and he can't be punished by a mob."
MLA Raj Sinha could not be reached for his comment as his phone went unanswered.