Hemant launches Covid lab, welfare measures in Dumka
CM holds talks with notables during 3-day visit to poll-bound district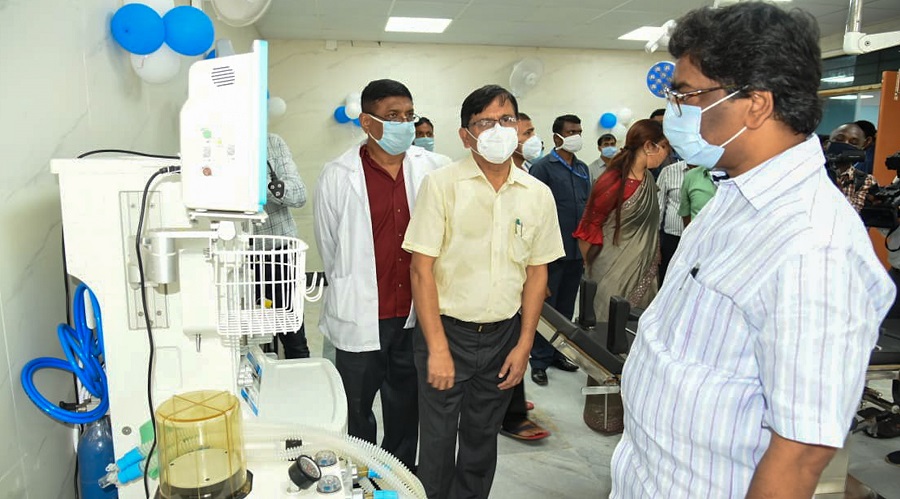 ---
|
Ranchi
|
Published 16.09.20, 06:13 PM
---
Chief minister Hemant Soren launched a Covid-19 testing lab, an operation theatre and an ultrasound unit at Dumka Medical College and Hospital on Wednesday, describing the Rs 20 crore worth additions as key assets for the revival of the ailing health infrastructure of the Santhal Pargana region.
While winding up his three-day tour of Dumka, Hemant said that setting up the RT-PCR lab at the hospital, recently renamed Fulo-Jhano Medical College and Hospital, was in keeping with his government's endeavour to reach Covid care facilities to the grassroots to ensure early detection and cure of patients.
"Since the outbreak of this global pandemic in Jharkhand in March, we have had to begin from the scratch to combat this menace. At one point in time, we didn't have a single Covid testing lab in our state. But despite financial and other challenges, we have set up many labs both in government hospitals and private entities so that we can screen as many as we can to curb the spread of this virus," he said.
He also promised all-round support to develop the medical college and hospital in the days ahead.
Dumka's Covid-19 lab for RT-PCR tests is the first in the district and second in the Santhal Pargana region. Last month, a private lab set up similar facilities in Deoghar in association with the district administration.
Principal of Dumka medical college Dr Hiralal Murmu said they had begun testing samples from August 28. "On an average, we are now testing 1,000-1,200 samples daily, covering three districts of Dumka, Pakur and Sahebganj. The lab is a boon for the people of the region who had to wait for weeks to get their Covid test reports, which in turn delayed timely detection and also complicated health parameters of people with comorbidities," he said.
Dr Murmu said the lab had been set up in association with a private agency named, Prejah Foundation. "We have signed an MoU with this agency for three months for setting up the lab, training our people for testing and for providing other support. The state government has spent close to Rs 2.5 crore," said Murmu.
Another official of the medical college appealed to the Hemant Soren government for ensuring proper teaching manpower. "Although, the college has started with 100 students of MBBS this year, we are struggling as there is an acute shortage of teachers. Against a required staff strength of 115 teachers, we now have only 58," said the official on condition of anonymity.
Later, Hemant also launched a sewing training centre at Hirapur panchayat in Dumka and doled out credit cash linkage facilities to women's self-help groups.
During his three-day tour, Hemant held extensive public meetings with civil society groups and notables, and also took part in government sponsored programmes.
The visit, JMM sources said, was also aimed at gauging the public mood in Dumka, considered a party bastion, ahead of by-elections, dates of which are yet to be announced by the Election Commission of India.
On Tuesday, Hemant announced at a public meeting that his government was committed to providing old age pension (60 years and above) to the needy and was working on plans to provide widow pensions irrespective of age.