Have an eco-friendly Raksha Bandhan with Biponi's rakhis
Jamshedpur-based store employs struggling tribal women for the trade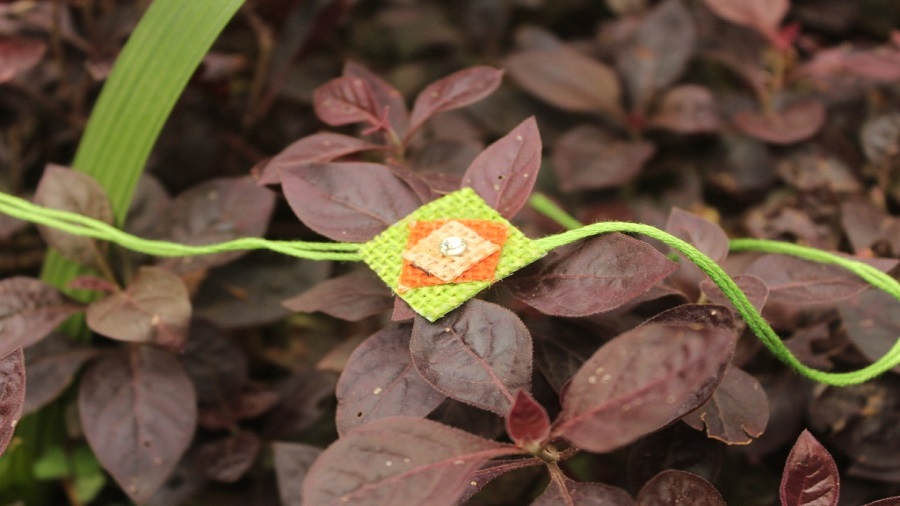 ---
---
A rakhi made of grass? Try it on for size this year and celebrate Raksha Bandhan, leave a fruitful impact on the environment, and support those employed in making recyclable, biodegradable rakhis, the works for which are abuzz now in Jamshedpur's Biponi's.
The handicraft store, a retail outlet functioning under the Kalamandir Saksham SHG Foundation, has employed a group of marginalized women who are busy making such rakhis out of recycled and degradable materials.
Tibal women have found an opportunity to earn even in the times of the pandemic.
The rakhi project serves three purposes- employment to women, making products that are gentle on the environment and using waste material, especially since availability of raw materials is scarce during the Covid crisis.
"Employment is a challenge for many rural artisans and women who were engaged in handicraft making," said secretary of the Kalamandir Saksham SHG Federation, Devla Murmu.
"The pandemic has turned the normal market upside down, compelling us to think differently. Finding employment is a major challenge. As Raksha Bandhan is next month, we tried our hands in rakhi making with materials that we already had," he said.
Every time we cast away a non-degradable material, it finds its way in either a landfill or a water body, increasing the burden on planet Earth.
So about 25 people, mostly women, are using Gonda grass, waste cloth, jute, terracotta and other similar materials that can degrade quickly, leaving no trace on the environment. This apart, the handiwork also provides income to these marginalized groups, who are trying hard to make both ends meet.
From local buyers to online consignments, the rakhis have already created a demand in the market.
The affordable price range, from Rs 20 to Rs 70, makes it more attractive for customers.
"We conceptualized the idea and started production from July 10 and with social media promotion, the response is overwhelming. We realized that rakhis ultimately become waste after a few days, so why not make it eco-friendly?" said Murmu.
The Kalamandir Saksham SHG Federation has also engaged rural and urban artisans in making three-layer face masks for Covid.
The masks have been in demand for their unique designs with Jharkhand's indigenous art forms painted on them. Artisans are also engaged in making Chhau-styled face masks of paper mache that also come with cloth layers to stop the viral contagion.
Raksha Bandhan this year is set to be celebrated on August 3.