Green adieu to Durga & her children
XLRI, Sikh students' outfit show way to eco-friendly immersions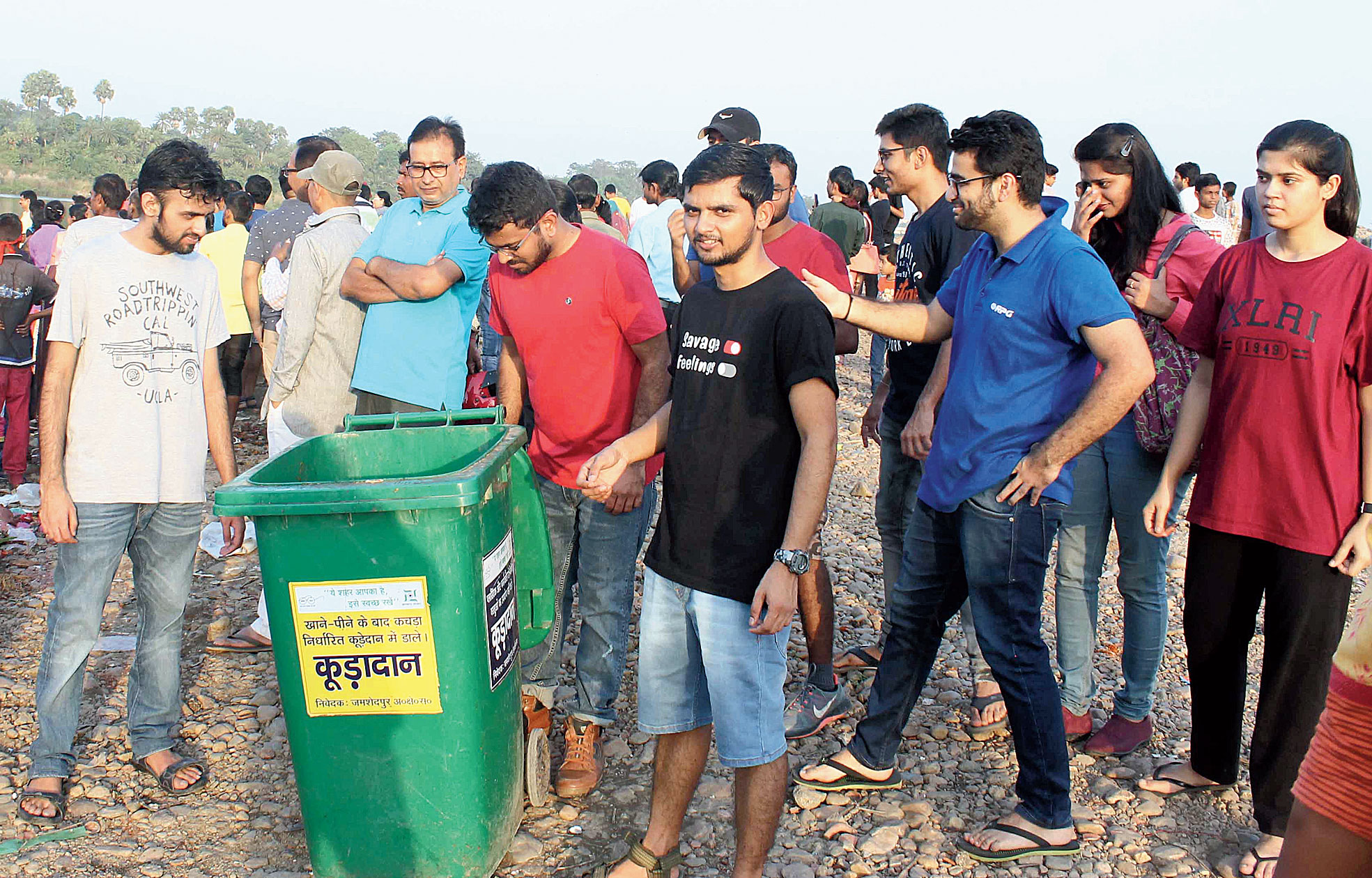 ---
---
A social outfit and a bunch of B-school students showed what an ideal immersion could be at Domuhani ghat, Sonari, on Vijaya Dashami Friday.
Nine budding managers from XLRI's Social Initiative Group for Managerial Assistance (SIGMA), a students' society, along with 10 members of All India Sikh Students Federation, made Puja committees aware of the importance of removing inorganic idol decorations before immersion at Domuhani, a confluence of Subernarekha and Kharkai rivers.
XLRI SIGMA and AISSF students were a part of Clean India Green Festivals campaign under Swachh Bharat Mission initiated four years ago by city organisation Jampot Greens supported by Jamshedpur Durga Puja Kendriya Samiti, Jusco and East Singhbhum district administration. For XLRI, this was a maiden venture.
These 19 youngsters, apart from six Jampot Greens and two Jamshedpur Durga Puja Kendriya Samiti members, requested Puja organisers not to choke the waterbody with inorganic items that were part of the idol décor or plastic bags.
Domuhani saw 15 immersions on Friday till 6.30pm. Till then, all 27 volunteers were seen standing at the ghat requesting organisers to segregate flowers, leaves, plastic, thermocol, tin and other items.
Asked if organisers listened, XLRI student Shreya Tripathi said she was pleasantly surprised. "Yes, it is a sensitive issue in India, but we told organisers to remove inorganic items such as thermocol and tin from idols before immersion as these would harm the river. One plastic bag less also matters. Organisers did cooperate, I feel," she said.
Volunteers picked up wastes deposited by Puja committees, including earthen pots, flowers, dry leaves, clothes, thermocol and polythene bags. These were put in two large containers given by Jusco and three dustbins given by Jamshedpur Notified Area Committee.
"People will take water from the river for the next festival and expect it to be clean. A river won't stay clean magically. Each one of us is responsible for its clean-up," said AISSF (eastern India) president Satnam Singh Gambhir.
Many Puja committees liked this sincerity. Subhas Bose, a Puja committee member of Vijaya's Shatabdee in Sonari, said, "Volunteers did a wonderful job.
It also feels good to immerse the goddess in clean water."