Governor attends ABVP event
Refers to national general secretary of right-wing student outfit as 'beti'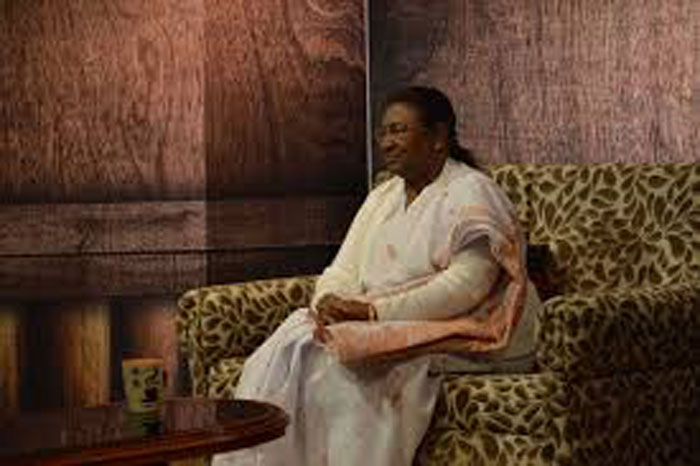 ---
---
Governor Droupadi Murmu attended the 20th state-level conference of Akhil Bharatiya Vidyarthi Parishad (ABVP) at the sprawling Shivajee Maidan here on Saturday.
The four-day conclave, which began on Friday, saw some of the top ABVP functionaries such as K.N. Raghunandan, Nathu Garee, Nidhi Tripathy and K.K. Mishra sharing the stage with the governor.
Murmu came by a chopper and stayed at the event for around one-and-a-half hour.
ABVP national general secretary Nidhi Tripathy, who introduced herself as a PhD scholar in Jawaharlal Nehru University (JNU), spoke before the governor and her speech continued well beyond the allotted time.
Murmu, who some thought would be upset, listened with rapt attention to Nidhi's speech and referred to her as "beti" when she finally rose to speak.
She lauded Nidhi's courage and urged ABVP youths to be as "fiery" as her.
The governor asked ABVP cadres to be a "toofan" (storm) and work for unity and purity.
"When unity is found lacking, divisive forces occupy its place," Murmu said.
The governor refrained from making any reference to the recent unrest in universities across the country, but focussed on how she brought back the universities in Jharkhand on the right track in terms of academic sessions, examinations and publication of results.
She asked youths to become job creators instead of job seekers. "India has a huge base of young population. The 2011 census, had put the population of youths in the country at 65 per cent," she added.
However, it was Nidhi's speech that attracted loud cheers from the audience.
She spoke on some of the recent issues, including the sit-in at Shaheen Bagh in New Delhi against the citizenship law, the mob attack at JNU and how journalists were busy showing one side of the story.
On Shaheen Bagh, Nidhi said: "I have seen a video that shows how Rs 500 each are being given to the squatters there per shift. Money was also given to the stone-pelters in Jammu and Kashmir before the Narendra Modi government scrapped Article 370."
Taking a dig at a Bollywood actor, she said: "The actor went to JNU and hogged the limelight, but couldn't come out with a fitting reply as to why the Citizenship (Amendment) Act was wrong."
She said people with vested interest were misleading the common people by taking advantage of their ignorance.
She wrapped up her speech by referring to ABVP as "Deshdrohiyon ka kaal (the death knell for traitors).