Gloomy night for squatters in Jamshedpur
Residents of Debun Bagan and Ramdeo Bagan are likely to be evicted by the railways for encroaching on its land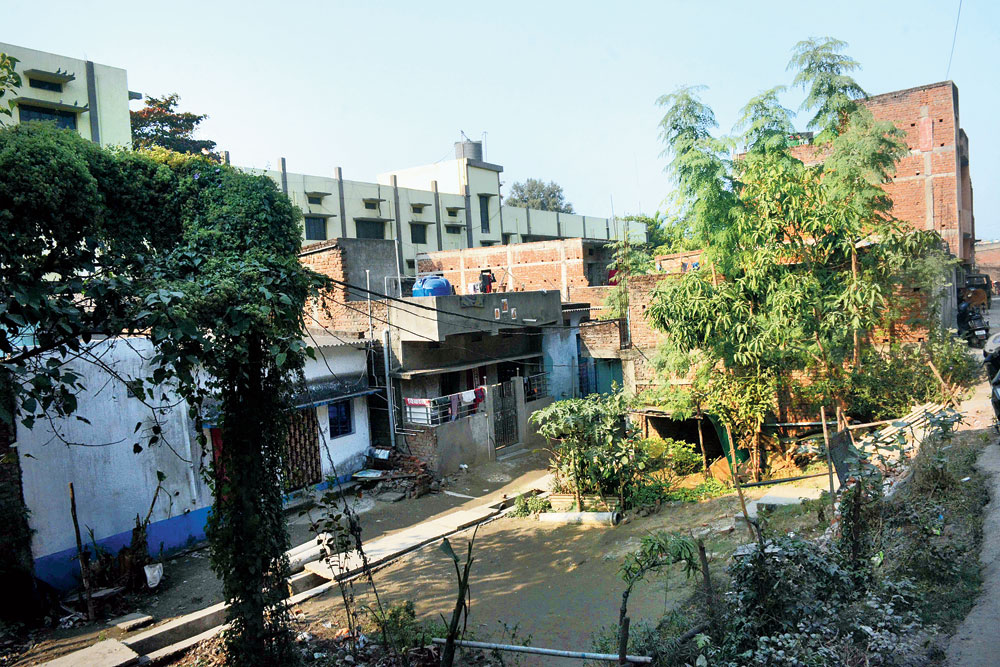 Future uncertain: Debun Bagan at Tinplate in Golmuri, Jamshedpur, on Tuesday.
Picture by Bhola Prasad
---
Jamshedpur
|
Published 01.01.19, 06:40 PM
|
---
While the entire world ushered in the New Year with celebrations, over 300 residents of two urban slums near Tinplate in Golmuri here spent a silent night on Monday desperately hoping for a miracle that would save them from being evicted from their homes of two decades.
Located along the Golmuri-Telco Road, the residents of Debun Bagan and Ramdeo Bagan are likely to be evicted by the railways for encroaching their land.
Fear writ large on the faces of women and men alike as they are apprehensive of excavators pulling down their houses any of these days. Even children were not in a celebratory mood as they had been told by their parents that their houses would be razed.
"We used to organise parties on New Year's eve every year. Youngsters used to dance to foot-tapping music and the party used to continue till January 2. But nothing happened this time," said Sanjay Shao, one of the residents who runs a tailor shop at Golmuri market.
Shao's neighbour Bablu Prasad echoed the same. "How can anyone celebrate when our houses are about to be demolished. We had build our shelters on railway property and now we will have to vacate the place," he added.
Prasad, who runs a confectionary shop at Tinplate, said a railway court had heard their case on December 13 and would hear them again on January 4.
"We had gone to the railway court in Chakradharpur on December 13 after getting a notice from its estate department. We have been asked to go there again on Friday," said Prasad.
Both these slums were set up illegally along railway tracks which was meant for the siding of Tinplate Company of India in Golmuri. After goods train stopped running on that track four decades ago, agents started selling railway land in small plots to the people in the late Nineties.
Over a period of time, some residents even built double-storey buildings and rented the ground floors to private banks, cellphone operators and even a police outpost.
RPF inspector (Tatanagar) M.K. Singh said they had started preparations for demolition drive on their land in Golmuri.
"The process of hearing the encroachers at a railway court is on. As soon an order is issued, we will launch the drive with the cooperation of the local police and administration," Singh told The Telegraph.