First tribal trade fair to promote business in Namkum
Entrepreneurs from across the state had put up 100 stalls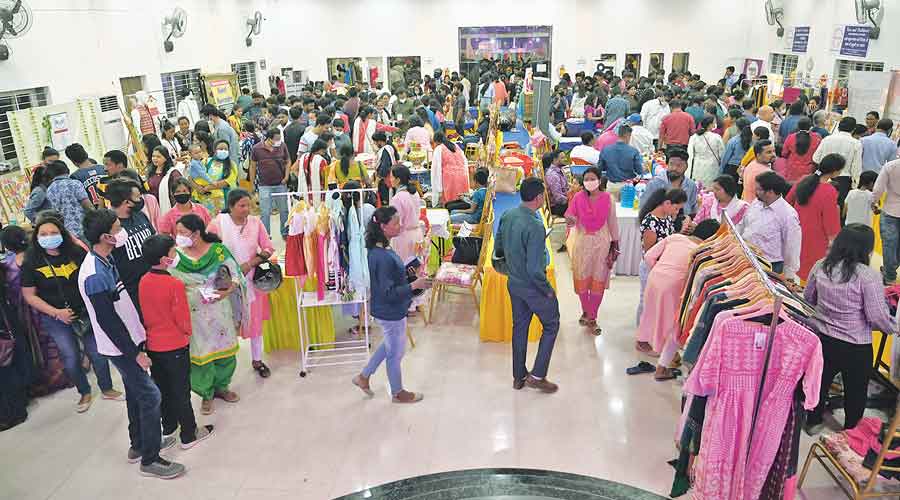 Crowd at the stalls inside the hall at Namkum in Ranchi on Sunday.
Manob Chowdhury
---
Jamshedpur
|
Published 29.03.22, 12:51 AM
|
---
Over 100 entrepreneurs participated in Jharkhand's first three-day tribal trade fair at Adan Vatika in Namkum near Ranchi.
The fair which concluded on Sunday was organised by Manish Aind, founder of Tribekart- an entrepreneurial venture aspiring to create an intra-tribe business ecosystem for the socio-economic development of indigenous people.
"Tribekart was founded in May 2020 during the pandemic first phase when as per state government data over 7 lakh migrants, mostly tribals, returned with tales of sorrow and neglect from different parts of the country. We decided to establish an economical and commercial platform for tribal entrepreneurs with an objective to enhance their income and have greater space in the market as well and with this objective in mind we organised the country's first tribal trade fair," Manish said.
 "We named this first edition of the tribal trade fair 'Renaissance' and have already started planning for another such fair during autumn, between November-December this year. We would try to host at least two fairs in a calendar year," he added.
Tribal entrepreneurs from across the state had put up 100 stalls. "We are very encouraged at the sale in the fair. Over Rs 50 lakh was the business recorded during the three-day fair," Manish said.
Renaissance witnessed over 10,000 people visiting the venue which had stalls selling tribal apparel, traditional clothing, tribal pickles, tribal food, greenery plant and horticultural stalls, camping, book stall which specified "heritage of Jharkhand" and stalls put up by Indian Institute of Architecture.
Interestingly, many women tribal entrepreneurs also participated in the fair.
Music groups entertained visitors with their tribal music.
"This has been a great initiative in bringing up indigenous communities in one platform under Tribekart, which brings thousands of young entrepreneurs and creates their space in the market and gives confidence that they can do anything possible," said director Phia Foundation, Johnson Topno who visited the fair.
"It was a privilege for me to do a bit of brainstorming with the organisers of this event 'Renaissance'... it came out as a result of their determination and enthusiasm. I appreciate that all the participants who had their stalls, complimented each other without feeling of competition or any evidence of envy or jealousy", said Dr. Vikram Tirkey, medical director- St Barnabas Hospital, Ranchi amongst the dignitaries who visited the fair.
Former additional director- general of police Rezi Dungdung inaugurated the event.
Khijri MLA Rajesh Kachhap and senior bureaucrat and cabinet secretary Jharkhand, Vandana Dadel also visited the stalls.