Fear rules, traders threaten bandh in Ranchi
'The failure of the police exposes the poor intelligence system of Ranchi police,' said FJCCI president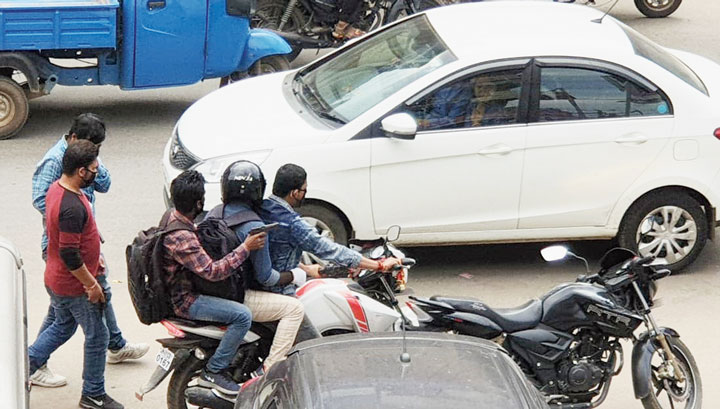 ---
|
Ranchi
|
Published 19.10.19, 07:03 PM
---
The apex body of traders in Jharkhand on Saturday threatened a state-wide bandh on Monday if the gunmen who shot at two jewellery store owners in the capital on October 14 are not arrested by Sunday.
Brothers Rohit and Rahul Kheriwal were attacked in daylight at their shop near Lalpur Chowk by five men on two motorbikes who were caught on CCTV cameras brandishing a gun.
"If police fail to make any breakthrough by Sunday we will call for a statewide bandh on Monday," Praveen Kumar Jain, vice-president of the Federation of Jharkhand Chamber of Commerce & Industries (FJCCI), said on Saturday.
"So far we are carrying out a symbolic protest by putting on black badges but our patience has a limit because in such an atmosphere of lawlessness it is impossible to run businesses. Not only the business community, all common people are affected if police fail to protect life and property of residents," Jain added.
He said that due to poor policing criminals have no fear of the law in Jharkhand.
"Starting from Durga Puja till January, the markets usually witness a boom due to the festivals and this is the period when criminals increase their activities and businessmen are their soft target," said FJCCI president Kunal Ajmani.
"In a daylight gun attack five armed criminals shot two persons in a crowded market place and fled. Within 10 minutes, the pictures of the suspects went viral but the district police was clueless about their whereabouts. Police even did not barricade their possible escape routes. The criminals crossed the toll plaza at Ormanjhi, around 28km from the crime spot, and there was no one to stop them," he added.
Ajmani said responsibilities must be fixed upon officer in-charges of police stations and circle inspectors if such incidents happen.
"The failure of the police exposes the poor intelligence system of Ranchi police," he added.
A trader of Upper Bazaar pointed out that around a year ago a rice trader, Narendra Singh Hora, was shot dead on Main Road in the state capital when he was returning home from his shop at Upper Bazaar.
"Ranchi police claim that the entire city is covered with CCTV surveillance system. There are over two dozen PCR (police control room) vans and 200 Mobile Tigers (bike-borne cops) for round-the-clock surveillance. The cops even claim to be using facial recognition cameras and technology. But these are of no use in actual prevention of crime and arresting of criminals," he said.
Niranjan, a small business owner from resident of Kokar near Lalpur, pointed out that in September last year, a man named Budhu Das was murdered near the chief minister's residence and barely 50m from Gonda police station.
"The Lalpur attack is equally shocking," he added. "Amid heavy traffic, in which vehicles crawl, the criminals managed to flee."
Senior police officers maintained silence on the case. Three calls to Ranchi senior superintendent of police Anish Gupta's mobile phone, around half an hour apart, were not answered.
"The criminals were spotted at Ormanjhi toll plaza and then in Ramgarh and Hazaribagh according to CCTV footage and technical intelligence inputs," said a police officer, who spoke on promise of anonymity. "There are some criminal groups in Sherghati and Gaya of Bihar whose involvement is suspected and we are in touch with our Bihar counterparts. If criminals escaped out of Ranchi undetected, responsibility must be fixed. The registration number plates of the criminals' motorbikes were found to be fake."
Cops also suspect the gang has a local conduit.
"We strongly suspect that one of them is from Ranchi. We are investigating," said an official of Ranchi police.