Excise department destroys 6,000 cartons of beer cans at Bhilaipahadi
Iinspector Pravin Kumar Rana said they have dug a 12X8ft pit in the premises of the JSBCL go-down for the disposal of the destroyed bottles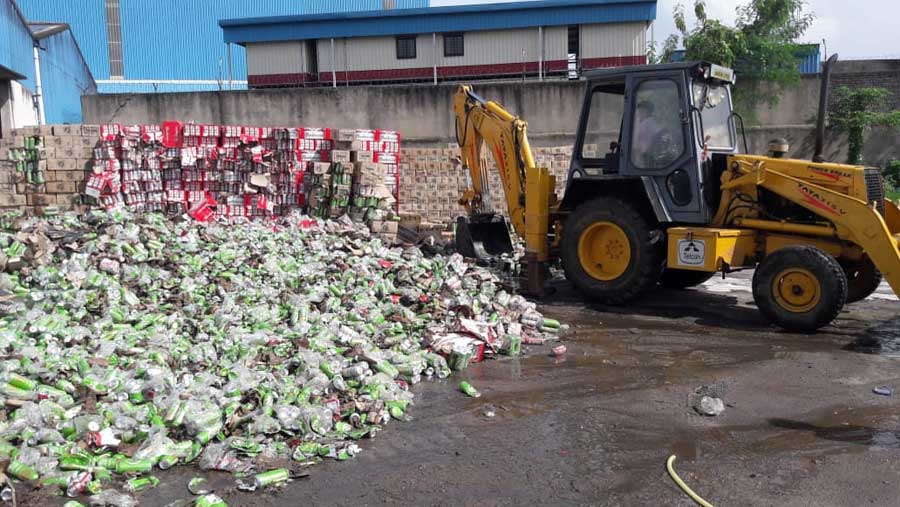 Expired beer being destroyed by means of an excavator at Bhilaipahadi near Jamshedpur on Wednesday.
Animesh Sengupta
---
Jamshedpur
|
Published 07.10.20, 10:48 PM
|
---
The excise department on Wednesday destroyed a huge stock of beer that had expired due to the Covid-induced lockdown.
Over 6,000 cartons of canned beer were smashed and destroyed by an excavator that the Excise department officials of the East Singhbhum district had employed in the presence of a designated executive magistrate on the premises of Jharkhand State Beverage Corporation Ltd (JSBCL) godown at Bhilaipahadi along the NH33 about 16km away from here towards Ghatsila this afternoon.
The destroyed commodity is part of the total 17,000 cartons of beer which are scheduled to be destroyed during the next two days.
Excise inspector Pravin Kumar Rana said they have dug a 12X8ft pit in the premises of the JSBCL godown for the disposal of the destroyed bottles.
"In the first lot, we decided to destroy the beer cans; the total stock was 12,000 of the 17,000 cartons.  The remaining 5,000 cartons are ordinary beer.  We have destroyed 6,000 cartons of beer by pressing an excavator today and as much amount will be destroyed on Thursday. The remaining 5,000 cartons of ordinary beers will be destroyed in other ways," said the excise inspector while talking to The Telegraph Online. Rana said that more pits were required for the disposal of the entire stock.
Before the disposal, several youngsters hailing from the adjoining villages had gathered to retrieve the remainder of the stock.
Arun Mishra, assistant excise commissioner, said the total stock of the expired beer was collected from 134 licensed liquor shops, 40 beer bars and five clubs in and around the steel city.
"As beer remains consumable only for six months after its manufacturing, we had started identifying the liquor shops, beer bars and the clubs from June 1. We had also checked the stock of the beverage, especially the expired beer at the beer bars, including in the clubs which are still non-functional. The bulk of the expired stock recovered was from the JSBCL godown," said Mishra while talking to The Telegraph Online.