Eviction rally spurs snarls in Jamshedpur
Dhalbhum SDO Chandan Kumar said a permission was given for the rally and not the blockade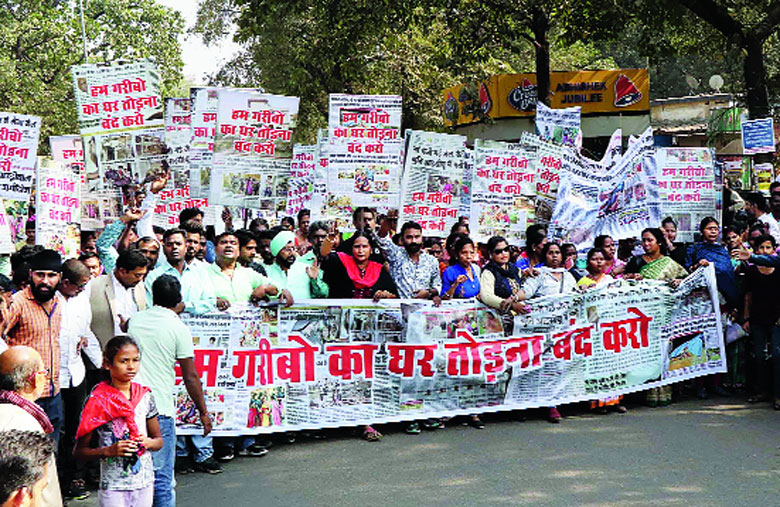 Disgruntled voices: Residents of urban slums take part in the protest near the East Singhbhum district collectorate in Jamshedpur on Thursday.
Picture by Bhola Prasad
---
Jamshedpur
|
Published 07.12.18, 07:38 AM
|
---
Vehicular traffic along the Subernarekha Link Road stretch between Jubilee Park Gate and Old Court campus was affected for over an hour on Thursday afternoon because of a protest rally by residents of unauthorised urban slums facing the threat of eviction.
Nearly 250 residents of Birsanagar and Govindpur under the banner of Ghar Bachao Sangharsh Samiti and backed by Congress and JVM took out a rally from Baradwari Durga Puja grounds and marched 2km to reach the district collectorate.
While the representatives of the samiti entered the district collectorate to submit a memorandum to East Singhbhum DC Amit Kumar, others squatted on the street in front of the building from 12.40pm till 2.15pm, causing inconvenience to commuters especially school students.
"Most of the schools get dispersed between 1.30pm and 2pm. I did not know about the agitation and my van was caught in the traffic snarl for nearly 40 minutes. Students reached home very late much to the displeasure of the parents, but I was helpless," Sukanto Mondal, a pool van driver who ferries students to their houses in Bhuiyandih and Sitaramdera from Loyola School in Bistupur, said.
Corporate workers were also inconvenienced.
"I had come to my house for lunch. However, while returning to office at 1.30pm I was caught up in a long queue of vehicle near Subernarekha Link Road. It took me nearly 15 minutes to negotiate the congestion and by the time I reached office, I was nearly 30 minutes late," said Krishna Singh, a financial officer in a Bistupur-based MNC.
JVM senior leader and Ghar Bachao Sangarsh Samiti convener Abhay Singh admitted that a few of their volunteers squatted on the road, but added that they had not asked anyone to block the road.
"We saw people sitting on the road and shouting slogans, but it was not our intention. We wanted to take out a protest march and submit a memo to the district collectorate. However, residents aggrieved by the demolition of pucca houses in Birsanagar and Govindpur, had squatted on the road," Singh said.
Dhalbhum SDO Chandan Kumar said a permission was given for the rally and not the blockade."We will take action based on photographic evidence," Kumar added.