Elephants run amok in Chakulia; attack villagers, destroy standing crops
Foresters blame trench dug along Bengal border, ask senior officials to initiate talks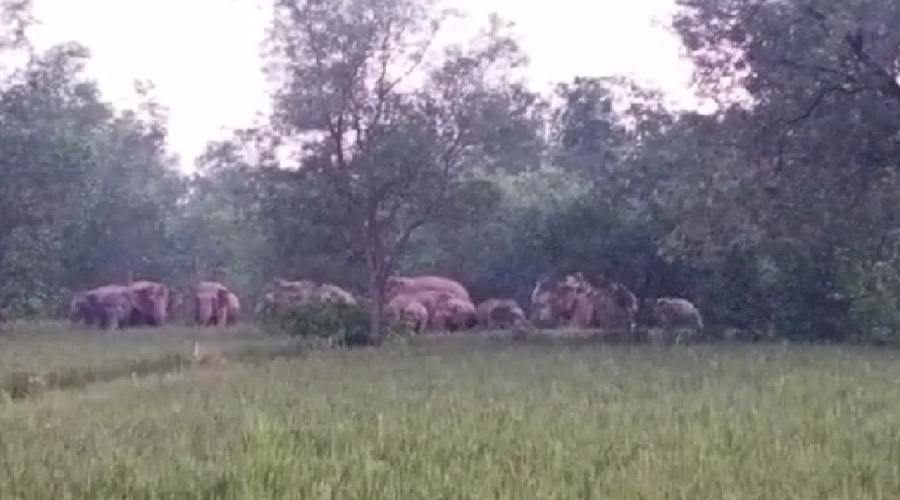 Elephant herd in Chakulia on Friday.
Telegraph Picture
---
Jamshedpur
|
Published 23.10.21, 06:40 PM
|
---
Elephants from Bengal are damaging standing crops and targeting villagers at Chakulia block of East Singhbhum, 90 km from Jamshedpur, and Jharkhand foresters cite a trench dug along the Bengal border as the root cause of the problem. 
A herd of 26 elephants is anchored in the jungles of Chakulia, not very far from human settlements, and is unable to move back into Bengal because of the trench, Jharkhand foresters claim.
An elephant attacked a woman near a jungle in Chakulia while she was going to work at a cowshed late on Friday afternoon. The elephant lifted Salge Hembrom of Bhatkunda village with its trunk and flung her across a distance of around 20 metres. The 25-year-old  suffered a fracture in one of her legs.
In another attack, one Budheswar Sabar of Badaichatti village also broke one of his legs earlier this month.
The herd is also damaging standing crops in several villages of Chakulia block and wiping out food stocks from homes. Petrified villagers remain holed up in their homes in the evenings. The herd also damaged a statue of martyr Rantu Murmu in Amlagora on the Bengal border.
Chakulia range officer Digvijaya Singh said the trench dug by Bengal foresters forced elephants to remain anchored in Jharkhand. "We are helpless and cannot drive away the elephants. The trench has been dug on the elephant corridor," he said.
Speaking over the phone from Chakulia, the range officer said they have communicated the problem to senior forest officers and requested them to initiate talks with their Bengal counterparts.
A forester said the situation in Chakuklia forest range was not good as one never knows when he or she will come across the herd. "There is unrest among villagers who are being targeted by elephants. They are also angry since they are losing their standing crops. Elephants will not leave Chakulia till the trench issue is resolved," he added.
Foresters and village youths are keeping a watch over the movement of the herd from Bengal. "Food and water are not scarce, and the elephants are enjoying their time. Some jumbos usually remain in a belligerent mood and often move out from the herd to chase and attack humans. Man-animal conflict is taking a serious turn," another forester said.