Elephant count set to go up at Dalma Wildlife Sanctuary
Census to be conducted in May-June, may get postponed due to pandemic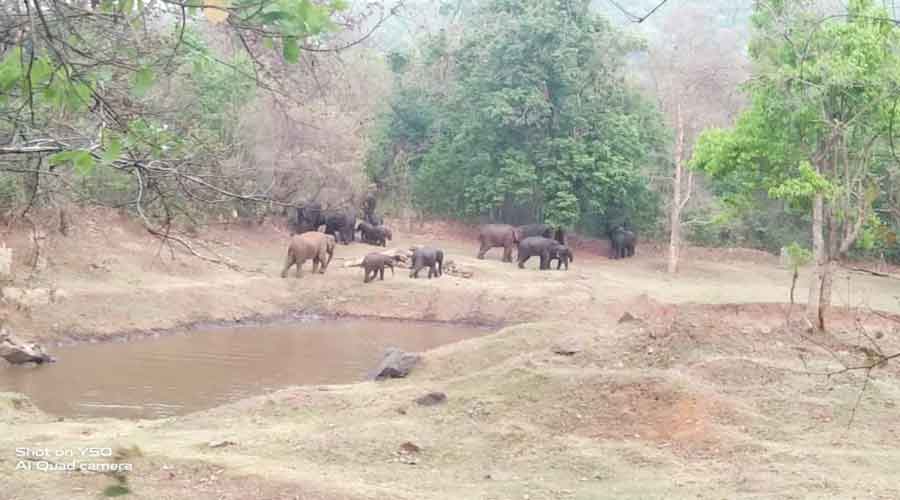 Elephant calves with a herd near Chotka Bandh inside Dalma wildlife sanctuary on Wednesday.
The Telegraph picture
---
Jamshedpur
|
Published 08.04.21, 06:40 PM
|
---
The elephant count at Dalma wildlife sanctuary is all set to pep up during the census as foresters have spotted around 20 calves inside the sprawling 192 sq km sanctuary, 30 km from Jamshedpur.
The calves have been spotted with herds at both the eastern and western forest range of the sanctuary. Calves were also seen with a herd near the Chotka Bandh watering holes on Wednesday evening.
"Calves were born at the Dalma and Bengal jungles. The calves are 5 to 6 months old," Dalma range officer (West) Dinesh Chandra confirmed.
According to Chandra, animal census is scheduled at the sanctuary in May or June.
The elephants had migrated to the jungles of West Midnapore and Bankura in neighbouring Bengal in August-September last year. Some jumbos returned to Dalma home early while almost all returned in March. There are 155 elephants at Dalma reserve.
A forester said the animal census could be postponed in view of the global pandemic. "Animal census takes places in May or June but it could be postponed due to the pandemic. The state government may issue directives to close the sanctuary. We are keeping our fingers crossed," he added, with a request not to be quoted.
However, elephant sighting was drastically low during the day-long animal census conducted at the sanctuary on June 10 last year. Showers had dashed hopes of foresters who were looking forward to an impressive elephant count at the jumbo abode.
Altogether 50 elephants were sighted at the east and west forest ranges during the census last time. The animal census was based on field surveys and actual sightings near watering holes.
Since water was abundant at the sanctuary as well as pockets falling outside it, most of the elephants moved out of the sanctuary in search of water when the count began. Only a few were sighted during the exercise.
Elephants are roving animals and venture out anywhere. The jumbos chose to quench their thirst outside their abode during the last census. Consequently, fewer elephants were sighted
Foresters blamed the timing of census for the decrease in the number of elephants. "The animal count is usually conducted in May when heat is at its peak. It usually takes place a week after the annual Bishu Shikar (a tribal hunting festival). But the exercise had to be postponed in view of Covid-19. We could have sighted an impressive number of elephants if the exercise was conducted in May," one of the foresters said.
Bamboo cottage opens
The bamboo cottage inside the sanctuary was opened for tourists on Tuesday. The gates of the facility were thrown open after necessary furnishing was completed.