Dug-up road poses risk at Kanke
Around 10,000 vehicles use the road daily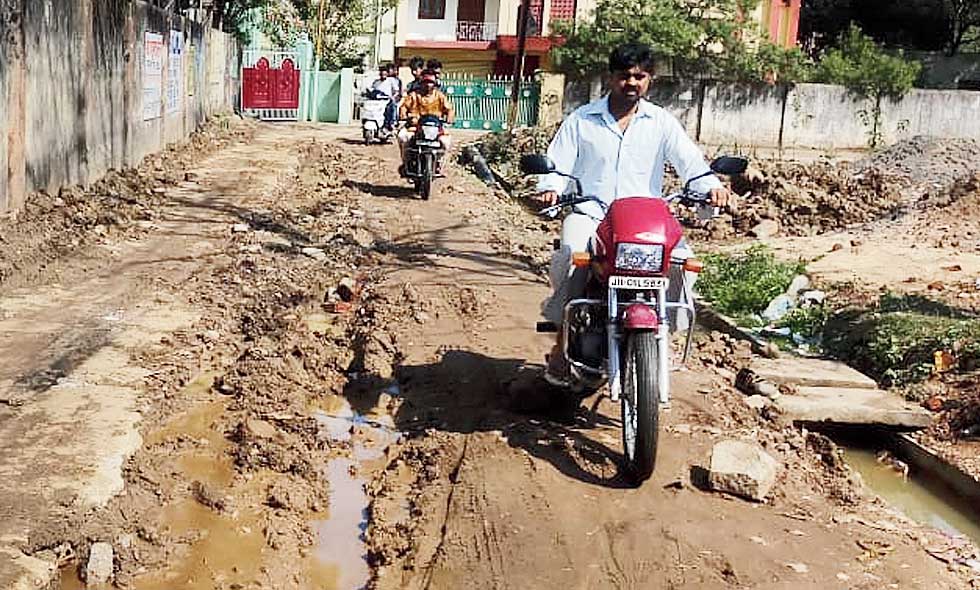 ---
---
Digging of a nearly 30-metre stretch of road for construction of drains at Kanke in Ranchi is putting commuters to risk.
Work on the construction of roadside drains is being carried out for nearly two years, but three days back the agency hired by Ranchi Municipal Corporation dug up the middle of the 20-feet wide road connecting Vidyapatinagar with Gandhinagar in Kanke.
"We had hoped that the construction of the 1.5km long drain from Vidyapatinagar to Gandhinagar will be completed soon. However, it has been continuing for nearly two years now. The situation became worse when the agency dug up the middle of the road without taking the pain of filling it up," said S.P. Singh (62), a retired state government employee and a resident of Vidyapatinagar.
Singh said after Friday night's rain, the 30-metre stretch had become slushy and extremely dangerous for commuters.
"Several two-wheelers and four-wheelers got stuck on the road on Saturday morning. We expect more trouble after dusk because there are not many lights on the stretch," Singh added.
Around 10,000 vehicles cross the road daily.
Vidyapatinagar has 4,000 households with a population of over 40,000 while Gandhinagar hosts nearly four schools, including elite cradles such as DAV Gandhinagar and health centres like CCL Hospital and a private nursing home.
"I was coming with my husband (a private contractor) on a bike yesterday (Friday) night when the two-wheeler got stuck in the mud. We had to walk to our house as otherwise the vehicle could have skidded causing
injury. The civic authorities should not have dug up the middle of the road," said Sabita Mishra (38), a housewife and a resident of Vidyapatinagar.
Sources in Ranchi Municipal Corporation informed that the drain construction work had began two years back with the outfall on a waste land. However, after opposition from residents near the waste land, the civic body decided to extend the drain at Vidyapatinagar to Gandhinagar, work for which began three days ago.
"We have received the complaints and will look into the issue tomorrow (Sunday). The officials should not have dug up the middle of the road and left it like that," RMC deputy mayor Sanjeev Vijayvargiya said.
RMC chief engineer Ajit Lakra also assured of taking corrective measures.
"I am not aware of any such complaint, but will send a team and get the problem rectified soon," he said.