Drugged goons terrorise trader
Bullets fly after resident objects to ruckus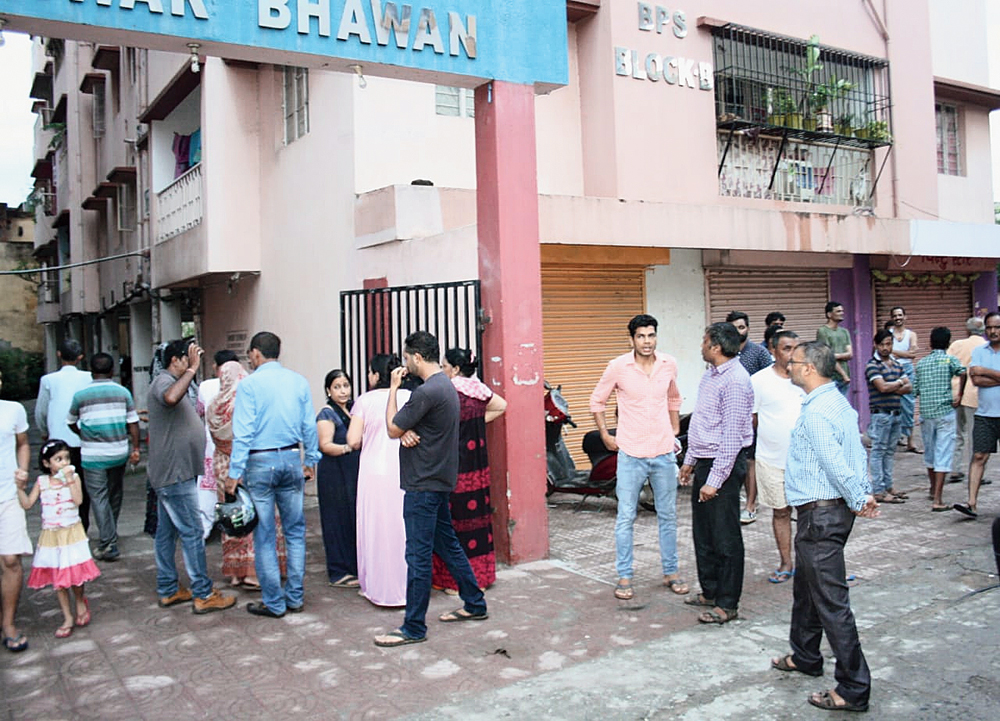 Residents gather near Madhusudhan Rajeswar Apartment in Mango, Jamshedpur, on Tuesday
Picture by Animesh Sengupta
---
Jamshedpur
|
Published 02.07.19, 06:45 PM
|
---
A bunch of drug-addled hooligans on Monday night tried to barge into the apartment of a businessman — who had told them not to create a ruckus outside his housing society in Mango — and fired seven times in the air, triggering panic among local residents.
The shocking incident occurred at Madhusudhan Rajeswar apartment in Teachers' Colony under the Ulidih police station area.
According to the FIR, Udayshankar Singh, 45, was returning home around 8pm when the operator of a women's beauty parlour located just near the Madhusudhan Rajeswar apartment approached the businessman and requested him to tell off a bunch of young men who were creating a commotion.
"As the youths were under the influence of drugs and liquor, I did not think proper to intervene," Singh mentioned in the FIR. "But as the extent of the commotion increased after some time, I came down and asked those lumpen elements to leave the place as the residents of the apartment were getting disturbed."
Singh had barely returned to his apartment on the fourth floor when the men barged into the housing society by beating up the security guard.
"The youths then climbed onto my flat," Singh wrote.
The men first knocked on Singh's door, which was bolted from inside. Then they kicked the door and also smashed a glass window before they left.
"I was a bit scared as the miscreants were creating ruckus outside my flat. I did not open the door in fear. Then, as they left, I heard the sounds of gunfire. The miscreants had fired shots while leaving the spot," Singh has mentioned in the FIR.
Police sources said there were about eight youths, all in the 25-27 age group, who used to smoke ganja in the locality from the evening till late night every day.
The cops on Tuesday arrested one of the accused, Roshan Ranjan, 26, and seized his bike. Ranjan, police sources said, is a member of the notorious Guddu Pandey gang which operates in Mango. The cops are looking for the others with him.
"The miscreants fired around seven shots in the air, aiming to intimidate one of the residents of Madhusudhan Rajeswar apartment," said Mango police station officer-in-charge Arun Kumar Mahatha. "They wanted not to be disturbed by anyone, even the apartment residents, in their activities near the residential apartment."
Mango residents are no strangers to the sound of gunfire.
Last Tuesday, Pradeep Singh, 32, had fired three shots at a motor garage on Gurudwara Road under Mango police station. A month ago, unidentified persons had fired in the air near the same road art night.
Police sources said such incidents are often the handiwork of addicts who abuse prescription drugs such as Nitrosun, a tranquilliser tablet, to intimidate medical shop owners sell them the drugs without prescriptions.
"A section of medical store owners in Mango do sell banned drugs in a clandestine manner," a Mango police officer said.
"The chemists keep the drugs in the boot compartments of two-wheelers to evade raids by the police. These miscreants tend to bully owners of such medical stores by firing gunshots."