Dhanbad's private banker narrates his Kabul experience
'We were working amidst continuous fear of life ever since we moved to Afghanistan in 2019; over 33 blasts took place in the capital city alone, during our stay in the country'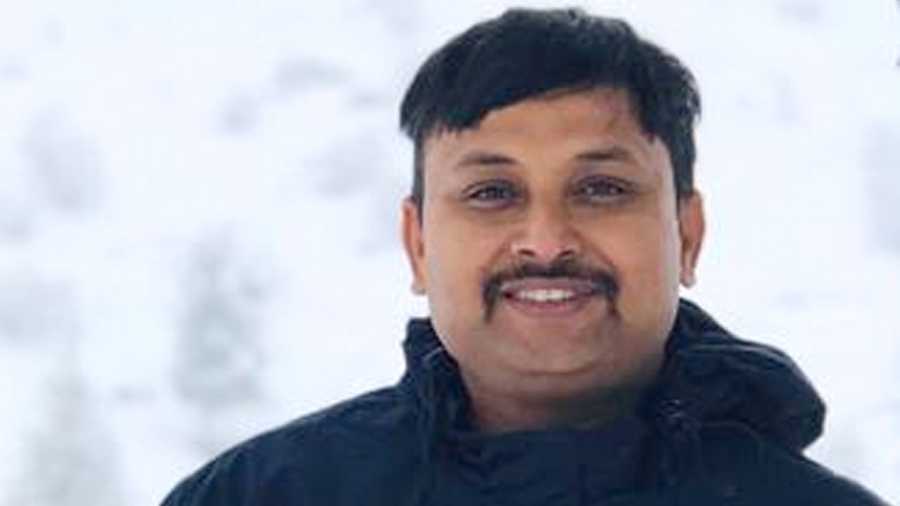 Satyendra Kumar
Picture arranged by Gautam Dey
---
Dhanbad
|
Published 17.08.21, 05:50 PM
|
---
Satyendra Kumar, a 39-year-old private banker hailing from Dhanbad, is one of the few lucky Indians who managed to reach India well ahead of the Taliban taking over Afghanistan.
Not willing to disclose the name of the bank that he worked for in Kabul for security reasons, Kumar revealed that he had worked at Kabul for over 2 years and had returned back to Jharkhand on August 12, just 3 days ahead of the Taliban takeover. Summing up his experience of working in Afghanistan as - having to work under constant death threat. 
A native resident of Bihar's Bhojpur district of Bihar, Kumar completed his education (schooling and college) from Dhanbad, and pursued Post Graduate Diploma in IT from Triveni Devi Bhalotia College, Raniganj. Currently stationed at his native place in Bhojpur after returning to Ranchi on August 12, he said, "We were working amidst continuous fear of life ever since we moved to Afghanistan in 2019; over 33 blasts took place in the capital city alone, during our stay in the country,"  while talking to The Telegraph Online over the phone. 
"Our concern however increased with the US government announcing the withdrawal of its forces from Afghanistan on April 14 this year followed by increased aggressive posturing of Taliban from May 4 by launching a fight against the government forces in Southern province of Helmand," said Kumar, father of two school going children. Both his children are enrolled at private school in Ranchi.
"As the Taliban forces started capturing different provinces one by one including the Niruz province capital, Zaranj on August 6 my family members began building pressure on me to return back as they were concerned about my safety," said Kumar.
"Though the foreign consulates of different western countries in other provinces have been issuing advisories since August and we decided to pack off when the Indian Embassy in Kabul started issuing advisories, since June 29 followed by advisories of July 23, August 10 and also on August 12," said Kumar.
"I boarded the Air India flight at around 2.40  pm on August 12 and reached at Delhi at around 5 pm and from there reached to Ranchi through another flight next day and later moved to my native place at Bhojpur along with my family as my parents were waiting eagerly for me there" said Kumar.
 "Ten Indians including me were living at a house together at Kabul majority of whom from the Banking sector and I was the only person from Jharkhand among them and we hired a local cook who used to cook vegetarian food for us in Kabul and as Indian food was available there," said Kumar, who used to travel between his home at Ranchi and Kabul every three months and would carry back Indian food grains for his Kabul stay.
"The people at Kabul are very good and friendly to us and all the Indian experts used to enjoy a lot of respect among the local people and as majority of software experts in Banking sector including me are also from India we too enjoyed similar respect among local colleagues there" said Kumar and added the life was not as easy as India in Afghanistan and there perpetual threat of attack in form of blasts and they can't move along even to market and had to accompanied by the security provided by the Bank.
"As I have reached my home everyone in my family including my parents, siblings, wife and children expressed happiness after witnessing the images and video coming from Afghanistan," said Kumar. However, he added that he is willing to return when the situation improves as his three contracts have been renewed recently with the bank.