Dhanbad war against plastic starts
In Ranchi and Jamshedpur, too, civic bodies started Swachhata Hi Seva events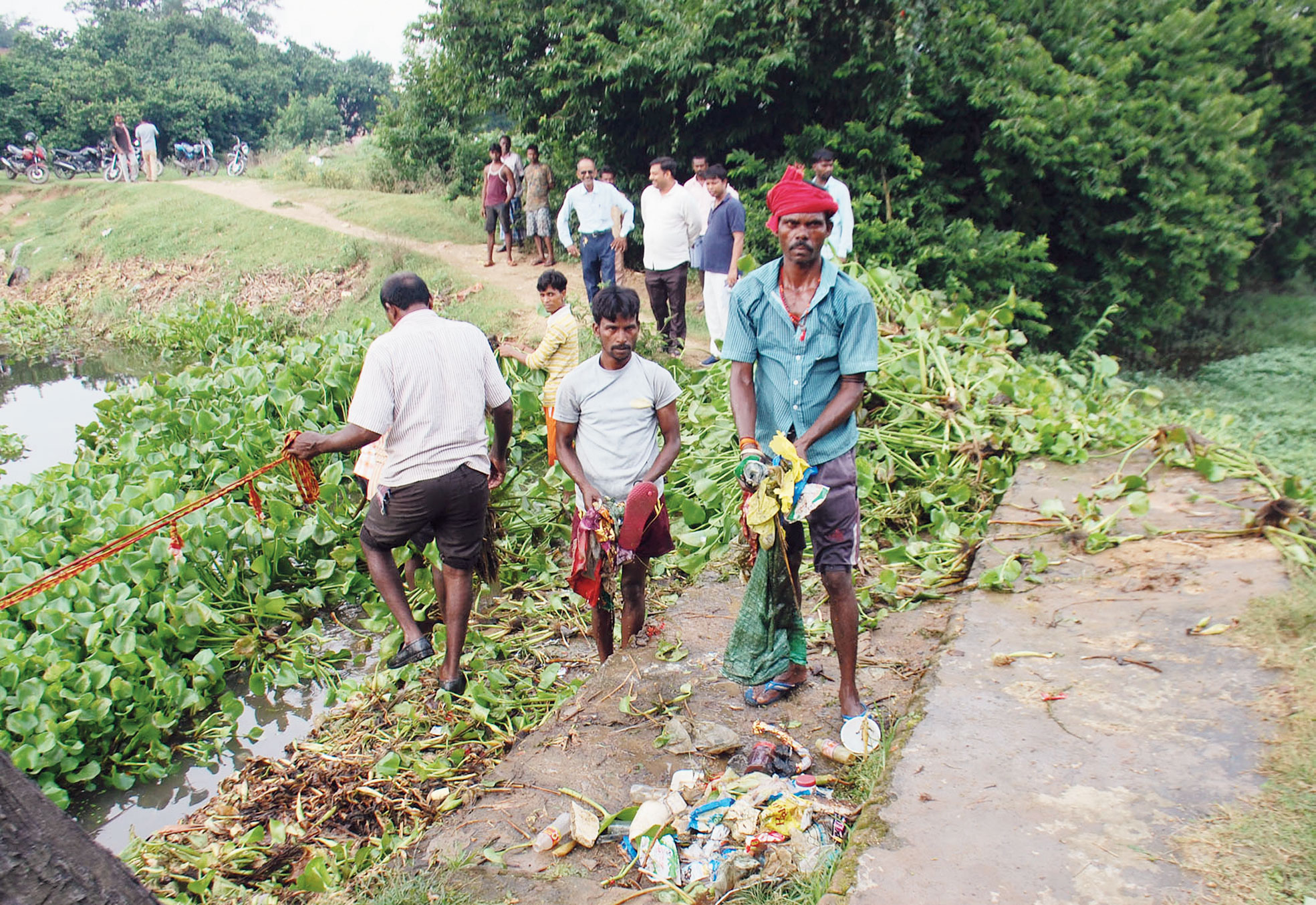 ---
|
Dhanbad
|
Published 11.09.19, 08:52 PM
---
The civic body on Wednesday held a massive cleanliness drive at Manjhi Talab in Simaldih under ward 25 of Dhanbad circle as part of awareness drive against single-use plastic items such as cups, straws and milk packets.
Supervised by Dhanbad Municipal Corporation (DMC) city manager (sanitation) Bijay Kumar, the four-hour drive from 7am under the mega Swacchata Hi Seva saw a flurry of activity, especially at Majhi Talab.
"We have planned a series of events on cleanliness and the ill-effects of plastics under Swachhata Hi Seva, which is being organised on the occasion of Mahatma Gandhi's 150th birth anniversary year from September 11 to October 27. We began today (September 11, Wednesday) with pond cleanliness work at ward 25," said Kumar.
Fifteen labourers dredged up the pond clogged with hyacinths and filth and removed polythene bags, milk packets, wrappers and plastic cutlery. Councillor of ward 25 Priyaranjan and sanitary inspector Arjun Ram, present at the site, also supervised the work.
Bijay Kumar said single-use plastics were very harmful for the environment. "But people need to be aware. Without public awareness, people will continue to use plastic glasses and spoons on a large scale during wedding and birthday parties," he said. "The only area where we will urge the use of plastics is roads."
The state urban development department has instructed urban bodies to spread awareness about the harm plastics do, with special focus on single-use plastics. Civic bodies will host No-plastic events.
In the first phase of Swachhata Hi Seva, cleanliness and sapling drives will be held till September 15. During the second phase, cleanliness rallies will be taken out of schools from September 16 to 22. In the third phase from September 23 to October 1, cleanliness drive will be carried out in slums. The fourth phase on Gandhi Jayanti, October 2, will see a spruce-up of statues of notables at traffic squares. The fifth and final phase from October 3 to 27 will see rag-pickers being trained and integrated with the management of garbage dumping sites, awareness drives for plastic roads and imposition of fines for using plastic products in daily life.
In Ranchi and Jamshedpur, too, civic bodies started Swachhata Hi Seva events.