Dhanbad traders stage protest against holding tax imposition
Multiple civic bodies levying charges, say businessmen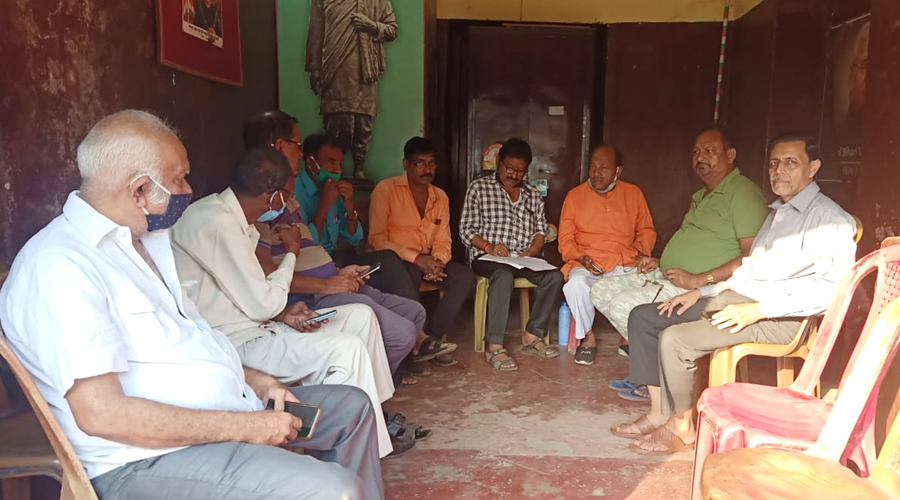 Traders and members of Chamber of Commerce, Jharia holding meeting on holding tax at Jharia in Dhanbad last month.
Picture by Gautam Dey
---
Dhanbad
|
Published 06.12.20, 06:39 PM
|
---
Traders of Jharia are up in arms against holding tax imposition by Dhanbad Municipal Corporation in Jharia circle. A meeting of Jharia residents was held on Sunday under the banner of Koylanchal Nagrik Manch during which they expressed protest against the imposition of same tax by different civic bodies including Jharkhand Mineral Area Development Authority (JMADA) and Dhanbad Municipal Corporation (DMC).
Talking to the Telegraph Online on Sunday, President of Jharia Chamber of Commerce, Amit Sahu alias Dipu Sahu who is also a founder of Jharia Chamber of Commerce said, "We have met different people's representatives including Jharia MLA Purnima Singh; Dhanbad MLA Raj Sinha; Dhanbad MP PN Singh over the issue of exorbitant demand of holding tax during last month but to no avail as only two days ago, a team of DMC carried out measurement of Dharamshala for the imposition of holding tax."
"Nowhere in the country, have two civic bodies applied the same tax but here in Jharia we are being forced to pay the same tax to different bodies," said Sahu.
Echoing sentiments, former councillor of ward number 37 of Jharia, Anup Sao said, "The difference between the holding tax rate of JMADA and DMC is huge as the DMC holding tax is more than five times the holding tax which is hitherto charged by JMADA."
"At a time when the income of everyone including the traders to servicemen have been badly affected due to retrenchment or recession such a huge tax will only compound the existing problem of the common people," added Sao.
"We want the Jamshedpur Model to the implemented in Dhanbad where instead of charging tax from the common people Tata Steel pays the tax to the Jamshedpur Utility Services Company," said Sao. He also said as people in Jharia are compelled to face the brunt of the worst pollution in the country due to the reckless mining being carried out in various open cast mines of Bharat Coking Coal Limited (BCCL), the holding tax should also be contributed by BCCL in Jharia like the same is paid by Tata Steel in Jamshedpur.
"On the one hand, the facilities are being withdrawn from Jharia in the name of being located in the fire area while on the other hand new taxes are being imposed," said a furniture trader, Rajkumar Agarwal and cited the example of RSP College, a lone degree college of the town which has been shifted from Jharia to distant Belgarhia area of Baliapur block in the name of underground fire beneath the college ground in Jharia.