Dhanbad to launch stray dog catching drive amid backlash
Residents fear lack of rehabilitation may lead to their death calling the initiative 'inhuman'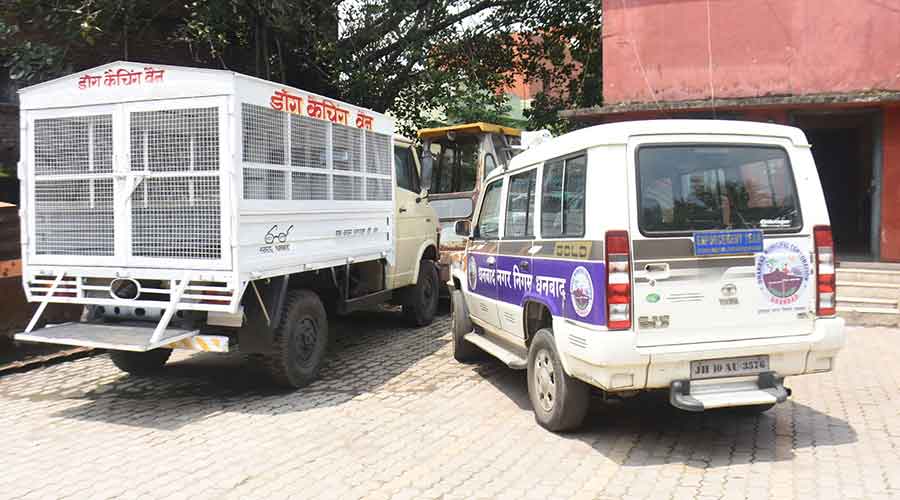 The Dog Catching Van at old Dhanbad Municipal Corporation (DMC) office in Bank More, Dhanbad on Monday.
Gautam Dey
---
Dhanbad
|
Published 16.08.21, 09:06 PM
|
---
The Dhanbad Municipal Corporation has remodelled and converted a mini truck to a stray dog catching van to provide relief to residents from stray dog menace that has caused several road accidents besides dog bites.
The civic body is taking inputs from the Ranchi Municipal Corporation to prepare a team of dog catchers by imparting training and also procure dog catching equipment.
The team would also include experts from district animal husbandry department to avoid any fatal injury or death to dogs during the process of caching them and also during sterilizing them for birth control.
The corporation has already carried out a partial trial of the dog catching drive last week.
Executive Officer of Dhanbad Municipal Corporation, Md Anis said, "Though the dog catching van has already been developed by our engineering cell by carrying out remodelling of the existing mini truck as per the tips received from Ranchi Municipal Corporation but some more work in terms of equipment purchase as well as training etc is yet to be carried out for formally launching the dog catching drive."
"We will resume the drive as soon as the equipment is purchased as training is already under process," said Anis and added the increased population of dogs are causing accidents besides the dog bites to the children are also sometimes turning fatal.
Notably, a wide variety of dog catching equipment  including dog catcher pole, or catching nets are used to catch the stray dogs after which sterilization of dogs is also carried out.
Meanwhile the dog lovers of the district have expressed apprehension over the entire drive turning out to be an inhuman initiative against the dogs.
Talking to The Telegraph Online on Monday, a renowned hotelier Anutosh Bagchi who is also a well known dog lover said, "The process of catching the dogs through poles is quite inhuman as it leads to breaking of collar bone or vertebrae of the dogs."
"Before the launching of the drive a shelter home should be ready to provide temporary shelter to the sterilized dogs and they should be again left back to same place from where they have been caught before the sterilization," said Bagchi and added that they apprehend that these dogs are likely to be left in a forest where they will die due to different reasons.
"We will soon meet Satyendra Kumar, Dhanbad Municipal Commissioner and request him to not carry out the drive without proper preparation like development of shelter home for post sterilization care," said Kumar.
Souvik Banerjee, another dog lover of Dhanbad also expressed similar apprehension and added that instead of dog catching drive the DMC seems to be preparing for the dog killing drive without making proper preparation.