Dhanbad sports training institute receives a generous donation
Shahid Shankar Mahto Sports Club provides training to sportspersons of economically weaker sections of society.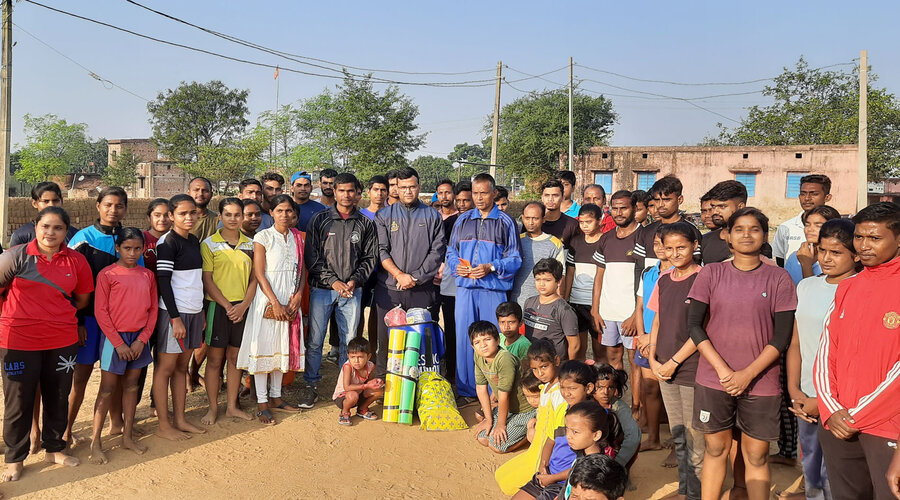 ---
|
Dhanbad
|
Published 03.11.20, 05:50 PM
---
Dev Kumar Verma, a young BCCL officer, engaged in a philanthropic activity by donating training equipment for the training institute, Shahid Shankar Mahto Sports Club.
Mahavir Prasad Mahto (55), founder-cum-operator of the training center, is very happy with the donations received. He provides training to over 50 sportspersons of the economically weaker section of the society in different sports disciplines including Wushu, Karate, Boxing, Sepak Tekra, and Taekwondo along with his two Taekwondo trained daughters, Priti Mahto (30) and Kusum Mahto.
Talking to the Telegraph Online today, Mahto said, "We take nominal charges of Rs 50 per month for providing training to all the 50 trainees of our institute and face financial crunch for procuring equipment. The four pair of punching gloves and one punching bag provided to us today will be very helpful as we have only four punching gloves of our own apart from four homemade punching bags."
Divulging into more details, Mahto added, "We have not only been provided with punching bags and punching gloves but also provided with two yoga mats, two skipping rope, several pieces of teeth guard, growing guard and crepe bandage, etc.," and added that all these gears will help them a lot in training at the center.
Dev Kumar Verma, who operates three schools for the coal picker children of Katras to provide free of cost education, while talking to The Telegraph Online said, "We recently came to know about the training center, which has produced several state-level and national-level players and decided to do our bit to help the operator of the center, Mahavir Prasad Mahto, who despite facing financial constrains is dedicated to support the sportsman of the economically deprived section of society."
Shubham Kumar Rajak (21), son of a washerman, Manohar Rajak, who represented Dhanbad in the state-level boxing championships several times turned happy today over the prospects of carrying out better training after receiving the four sets of punching gloves and one punching bag to his training institute.
Similar was the reaction of Rahul Kumar (19), another state-level boxer and trainee of the institute, son of a tent house worker Shivbalak, after receiving the training equipment from Verma today for his institute.
"A local dancer of Karmatand area of Baliapur block, Sanatan Kumar Mahto who accompanied us during our visit to the training center, today also provided cash worth Rs 2000 to the institute for procuring equipment for the center," added Verma.
Established way back in 1995 by Mahto in memory of his social activist elder brother, Shankar Mahto, the center operates all six working days of the week from 7 am to 9 am the morning and from 4 pm to 6 pm in the evening.