Dhanbad petrol pumps observe 12 hour strike
Jharkhand Petroleum Dealers Association's call for a shutdown was to escalate their demands like reduction of VAT on diesel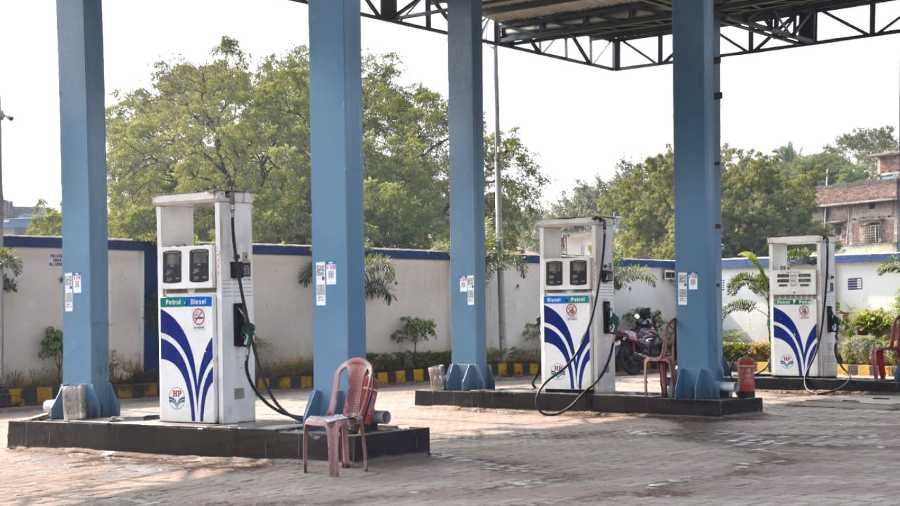 A Dhanbad petrol pump dons a deserted look during the 12-hour strike called by Jharkhand Petroleum Association.
Gautam Dey
---
Dhanbad
|
Published 21.12.21, 09:34 PM
|
---
All 171 petrol pumps of Dhanbad remained closed from 6 am to 6 pm today  as part of the day long strike called by Jharkhand Petroleum Dealers Association (JPDA) to press for their demands, including the reduction of VAT on diesel from 22% to 16%, payment of pending arrears of government offices on account of fuel purchase and the use of adulterated diesel in the name of biodiesel.
This, despite the fact that the state government has termed the strike as illegal and warned the petroleum dealers association against carrying out strike and denying fuel to the common people  under the Essential Commodities Act, 1952.
Talking to the media, Ashok Singh, President of Jharkhand Petroleum Dealers Association, said, "The strike has been almost near total and we are thankful to the petroleum dealers."
Reacting over the government decision declaring the strike as illegal against the Essential Services Maintenance act, Singh said, "Though, I have not received any government notification with regard to the strike being declared illegal and only came to know about it through social media, but to my knowledge, petrol and diesel have been removed from the purview of essential services maintenance act with the private players entering into the petroleum and diesel sale arena."
He further said, "At least the government has taken notice of the issues being raised by the petroleum dealers but it would have been better had the government simultaneously taken steps to address the issue of pending dues of government offices with the petrol pumps as raised by our association."
Citing an example of the difficulties faced by the petrol pump owners, he said a sum of around Rs 1 crore of pending dues of government offices is lying with the Green View petrol pump of Dhanbad and petrol pumps are being made to pay the interest of these pending dues also," said Singh adding they have planned  to send the bank statement with the regard to the interest being paid by petroleum dealers  to the government.
He also raised the issue of adulterated oil being sold by some private players in the name of biodiesel.
Sanjeev Rana, general secretary of district unit of Jharkhand Petroleum Dealers Association  said, "All 171 petrol pumps of the district went on strike today and we can't understand why the government is not addressing issues raised by us."
"We have carried out study which revealed that if the government reduces the VAT as per our demand the sale of fuel will lead to an increase in revenue of around Rs 600 crore on account of fuel sale in state " said Rana.