Dhanbad judge murder: High court sceptical of CBI's mobile phone theory
Uttam Anand only had a handerkerchief on him, observes bench headed by chief justice Ravi Ranjan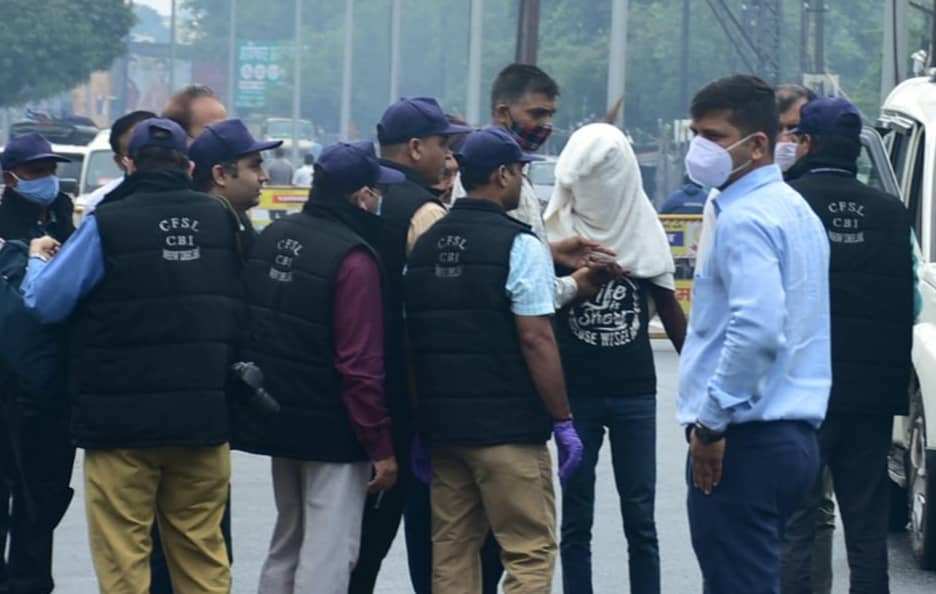 The CBI team during the investigation with the one of the accused (face covered) at Randhir Verma Chowk
Shabbir Hussain
---
Dhanbad
|
Published 21.01.22, 09:33 PM
|
---
The Jharkhand High Court, which is supervising the CBI investigation of the July 2021 murder of a judicial officer in Dhanbad, expressed scepticism at the investigating agency's suggestion that the motive behind the killing was to steal his mobile phone.
A bench of  Chief Justice Ravi Ranjan and Justice S.N. Prasad, during its hearing on Friday, commented that the deceased judge wasn't carrying a mobile phone at the time of the murder. All he had was his handkerchief. So, how can it be concluded that  the murder has been carried out for mobile theft, the judges asked.
The bench pointed out that all evidence seemed to suggest something else. Moreover, the two persons who have been arrested had admitted that they had carried out the murder in full consciousness and that they knew the judge from before, the bench noted. 
Additional district and sessions judge of Dhanbad Uttam Anand  was hit by an auto-rickshaw while he was on his morning walk at 5.00am on July 28, 2021. The incident occurred near his house on Randhir Verma Chowk. The driver of the auto,  Lakhan Verma, and his accomplice, Rahul Verma, were subsequently arrested. The auto they were in was recovered from Giridih.
State police, led by additional director general of police Sanjay Anand Latkar carried out the initial investigations. Later, the CBI took over the case on August 5, 2021, after a nationwide outcry from judges and lawyers who feared that Anand's murder was an attack on the independence of the judiciary since he was hearing criminal cases allegedly involving influential people. 
The reaction of the bench on Friday came after additional solicitor-general  S.V. Raju had presented his report on the case that included details of the CBI investigation, including narco test reports. When the CBI counsel was talking about the agency's findings after the arrest of the two accused, the bench expressed its displeasure that the agency had failed to zero in on the root cause of the murder.