Dhanbad: Crowdfunding helps infant to undergo liver transplant
Parents of the child were at their wits end in August when a hospital in Calcutta diagnosed the seven-month old to be suffering from Biliary Atresia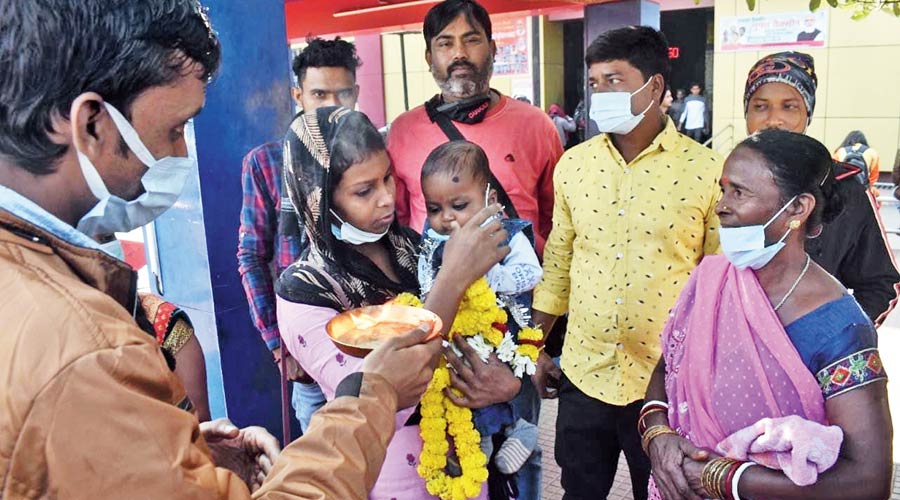 Social activist Ankit Rajgadhiya welcomes Arav at the Dhanbad railway station on Wednesday after the successful liver transplant in Chennai.
Shabbir Hussain
---
Jamshedpur
|
Published 02.12.21, 12:32 AM
|
---
Crowdfunding by the residents of Jharkhand's Dhanbad has given a fresh lease of life for seven-month old Arav, suffering from a rare disease of the liver to undergo successful liver transplant in Chennai.
Parents of the child — father Ajay Kumar, 35, and mother Rani Devi, 32, — both residents of Dhauvatand in Barmasia around 2km from the heart of the Dhanbad city were at their wits end in August when a multispecialty hospital in Calcutta diagnosed Arav to be suffering from Biliary Atresia (a rare disease of the liver and bile ducts that occurs in infants resulting in blockage of bile ducts as the ducts inside or outside the liver do not develop normally).
"Doctors in Dhanbad referred us to Asansol (in Bengal) from where we were asked us to go to Calcutta and doctors in Calcutta informed us that it would need a liver transplant and advised us to go to Global Hospitals in Chennai.
"We went to the hospital in Chennai in August but lost all hopes when the doctors told us that it would require Rs 25 lakh for transplant and informed us that the baby boy could survive for only 40 days without a transplant," said Ajay Kumar who runs food  stalls in parties and functions and was undergoing financial loss because of the Covid-induced lockdown.
It was through some local sources that they got in touch with  Ankit Rajgarhia, a social activist from Dhanbad, who had been running such campaigns to help the needy through film actor Sonu Sood.
"The parents only had Rs 73,000 in cash with them and could manage Rs 1 lakh somehow. Through the efforts of Dhanbad deputy commissioner, we managed to get Rs 5 lakh from Mukhyamantri Asadhya Rog Yojana (CM incurable diseases scheme). On my advice, the parents ran a crowdfunding campaign through Milaap and got Rs 12 lakh. We were still falling short and I had no option but to run a social media campaign on my Facebook and Instagram handles with the tagline 'Zindagi Mange Arav' in August," said Ankit.
The social activist was surprised at the enormous response from the Dhanbad residents.
"I had been staying in Dhanbad since childhood and had been listening only about crimes (Wasseypur is in Dhanbad), coal mafias, pollution and other negative things about the city. I could not even in my dream imagine that within a short time (38 days) people would contribute Rs 7.5 lakh in the account of the parents. The real heroes in the infant getting a fresh lease of life are the nearly 1000 common people of this city who contributed for this noble cause," claimed Ankit.
Arav underwent a liver transplant at the Chennai hospital on September 22 and after observation and successful recovery returned back to Dhanbad on Wednesday.
"I will not be able to repay what the people of Dhanbad have done for me and my child," said Rani Devi who donated 25 per cent of her liver which was transplanted into the baby by the doctors in Chennai after completing all medical procedures.