Dhanbad: CIvic body carries out anti-encroachment drive in police line area
Several shops demolished, others asked to move away as soon as possible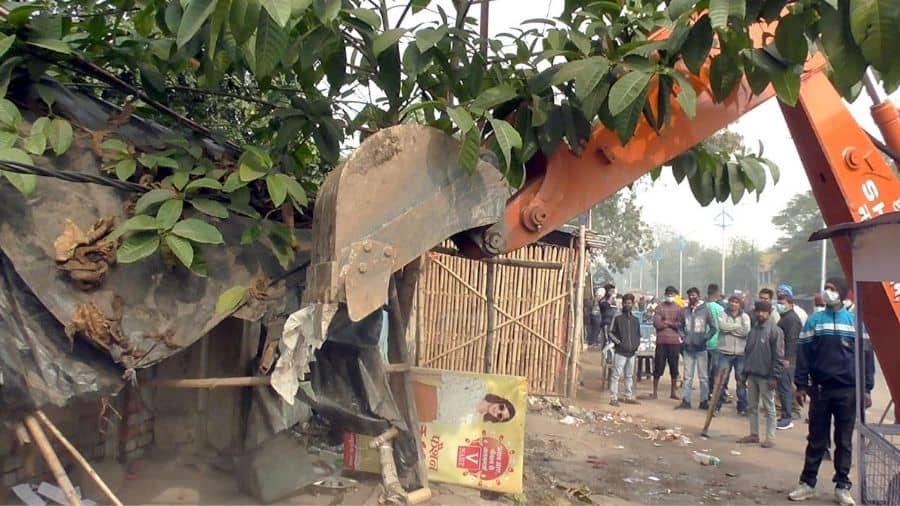 A makeshift stall being demolished by DMC in the police line area, Dhanbad on Friday.
Gautam Dey
---
Dhanbad
|
Published 21.01.22, 08:23 PM
|
---
Intended at ensuring hassle-free movement of vehicles and also providing a wider look to recently broadened national highway 32, Dhanbad Municipal Corporation on Friday carried out an intensive encroachment drive in the police line area of Dhanbad during which several makeshift shops clogging the road were removed.
The DMC team was led by Food Inspector Anil Kumar who supervised the drive. Kumar instructed the street vendors to use carts to carry out their articles instead of laying makeshift or permanent structures.
Kumar while talking to media said, "We carried out a survey of the road earlier before launching the encroachment drive today and identified 30 such makeshift structures which are lying unused. Other street vendors carrying out their business occupying the road were instructed to remove their shops at the earliest."
He further said that many of the makeshift shop owners at the police line area have been allotted shops at other places by Dhanbad Municipal Corporation but are unwilling to shift to the allotted shops.
"We appealed to all the shop keepers illegally encroaching the road to remove their respective units at the earliest otherwise all such structures will be removed by the DMC," Kumar further said .
Notably, the encroachment drive of DMC started on Thursday itself but it went off slowly during the first day. Some old and unoccupied structures including a rain basera, meant to provide shelter to street dwellers, were demolished.   
The broadening and strengthening of the 32.75 KM stretch of National Highway 32 were carried out by the State Highway Authority of Jharkhand at a cost of around Rs 180 crore through the Ranchi based contractor Ram Kripal Singh Construction Pvt Ltd with the aim of solving the perennial jam issue of Dhanbad on a permanent basis.