Dalma roads being fixed
Road from Makulakocha to Pinderbera forest guest house repaired, exercise underway to mend other kuchcha roads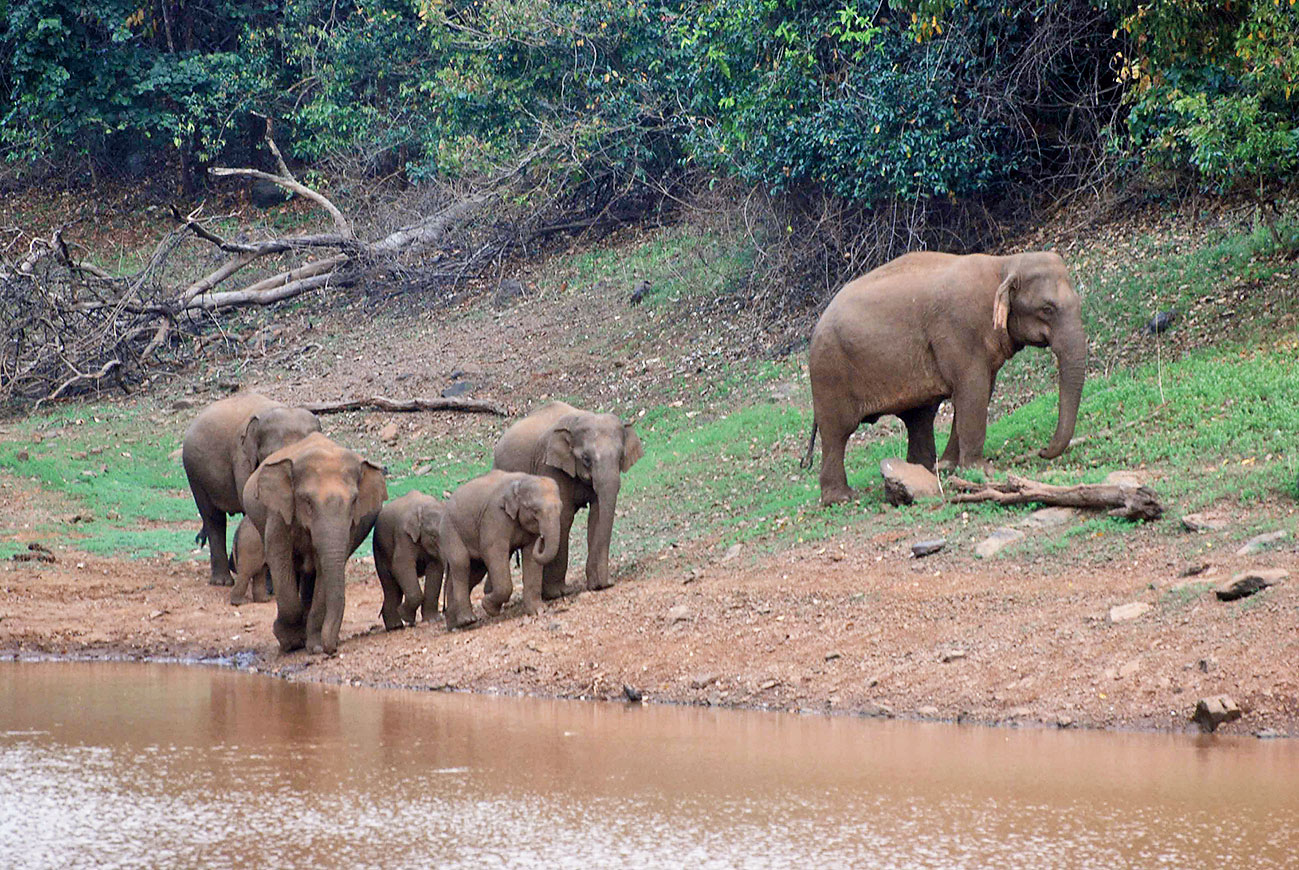 Dalma Wildlife Sanctuary ensuring tourists have a bump-free ride
Telegraph file picture
---
Jamshedpur
|
Published 14.12.19, 08:33 PM
|
---
Tourists can look forward to a smooth ride to Dalma Wildlife Sanctuary.
The state forest department has undertaken a road repair project across the 192sqkm elephant abode in view of the peak tourist season.
Under the project, the 14km road snaking from main entrance in Makulakocha to Pinderbera forest guest house has already been repaired.
A similar exercise is underway to mend all the other kuchcha roads.
Several roads inside the sanctuary were damaged during the monsoon, leading to the formation of craters between Makulakocha and Pinderbera. Tourists were facing a lot of inconvenience in negotiating the sharp bends leading to the top.
"The Makulakocha-Pinderbera stretch has been repaired while the exercise is underway on other roads. Roads leading to different watering holes are also being fixed. The effort is aimed at providing a smooth ride to the tourists who love visiting the sanctuary during winter," Dalma range officer (west) Dinesh Chandra said.
A forester informed plain cement concrete (PCC) would also be laid on the extremely damaged portions once the forest department released funds.
Red clay was being put on other roads, including those leading to the watering holes and villages dotting the sanctuary, located around 30km from Jamshedpur.
"Craters have been filled with red clay. When the clay dries up, it becomes hard as concrete," said a tracker.
Tourists from Jharkhand, Bengal, Odisha and Chhattisgarh take the Makulakocha-Pinderbera road while driving uphill and enjoy a panoramic view of the scenic sanctuary from a place near Hanuman temple.
Some drive on four-wheelers while others prefer bikes and scooters.
Visitors stay at the three quarters located at the entrance of Pinderbera guest those. These quarters were earlier used by forest guards and servants, but have now been turned into tourist accommodation.
Forest officials at Dalma range office in Mango said around Rs 8 lakh was being spent on road repairs.
Residents of 80-odd villages inside the sanctuary have been engaged to repair over 80km of kuccha road.
The roads undergoing repair passes through Chakulia, Kadamjhor, Dahulbera, Bandhdih, Khokhro, Bota, Saldoha, Konkadasa, Koira, Gerua, Nutandih and Narsinggarh.
The 4km stretch leading from Pinderbera guest house to Shiva Temple also comes under the repair ambit.