Dalma jumbos make hay as tourists are kept away
Barring villagers and foresters, there is little by way of human distraction in the sanctuary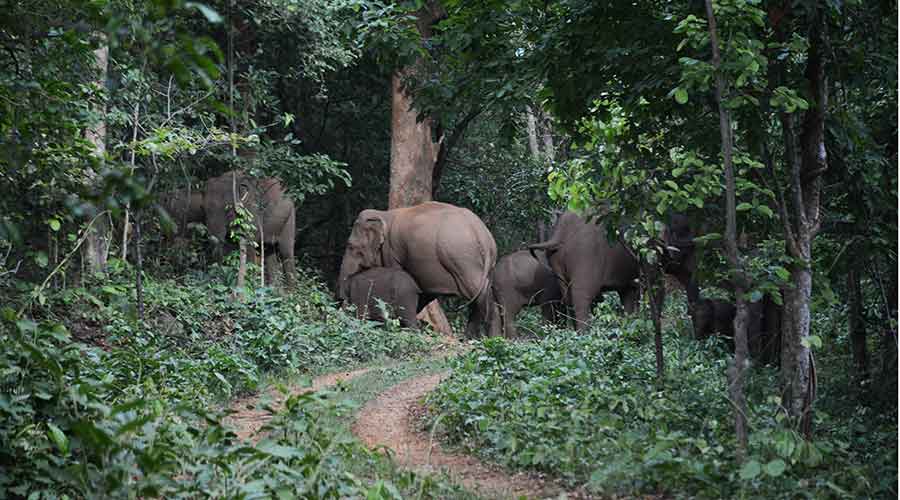 Elephants inside Dalma wildlife sanctuary last week.
Picture by Bhola Prasad
---
Jamshdepur
|
Published 05.06.21, 02:28 PM
|
---
The elephants, including calves, at the scenic Dalma wildlife sanctuary are enjoying their time out amid its peaceful environs with no tourist presence owing to the Covid-19 pandemic.
The jumbos are scattered almost everywhere across the 192 sq km sanctuary. With minimal human presence, the Asiatic elephants have ample reason to make their presence felt.
Elephants usually remain anchored in the core area and come to the watering holes to bathe or satiate their thirst in late afternoon. But, in the changed scenario, they can be spotted near watering holes in the morning hours.
"Sanctuary mein bahut shanti hain aur hathi mouj kar rahen hain (Sanctuary is very peaceful and the elephants are enjoying it)," a forester said, adding watering holes are overflowing.
Barring villagers who live in the 85-odd villages inside the sanctuary, and foresters, there is not much human traffic inside the jumbo abode. "Unlike earlier when the sanctuary was open, there is no one to tease the elephants. Tourists, including those from Jamshedpur and elsewhere, often tease the jumbos by throwing stones at them. But that is not the case now. Most of the elephants are stationed uphill and can be seen in their playful best near watering holes," a forest guard said.
The elephants can even be spotted on the main arterial road snaking uphill, besides the ones existing deep inside the jungles. "This is the best time for tourists to click pictures of elephants in their playful best. The animal hideouts near watering holes are lying vacant. The tourists are missing a great opportunity but nothing can be done in this situation," the forest guard said.
The villagers, who venture into the jungles to collect dry timber, are also venturing out in few numbers. However, foresters are continuing with their daily patrol of the sanctuary situated 30 km from Jamshedpur. Over 130 elephants are presently anchored inside the sanctuary.
Asked if presence of elephants pose any problems for villagers, Dalma divisional forest officer Abhishek Kumar said they cannot stop them (villagers) from venturing. "The villagers have a right to venture across the sanctuary. However, there is no danger as such from an elephant point of view," he added.
The jumbos had migrated to the jungles of Bankura and West Midnapore in neighbouring Bengal in August-September last year. The elephants gradually started ambling back home from January onwards.