Dalma elephants flee the chill, move to 'warmer' foothills
Worried about safety of villagers, foresters step up vigil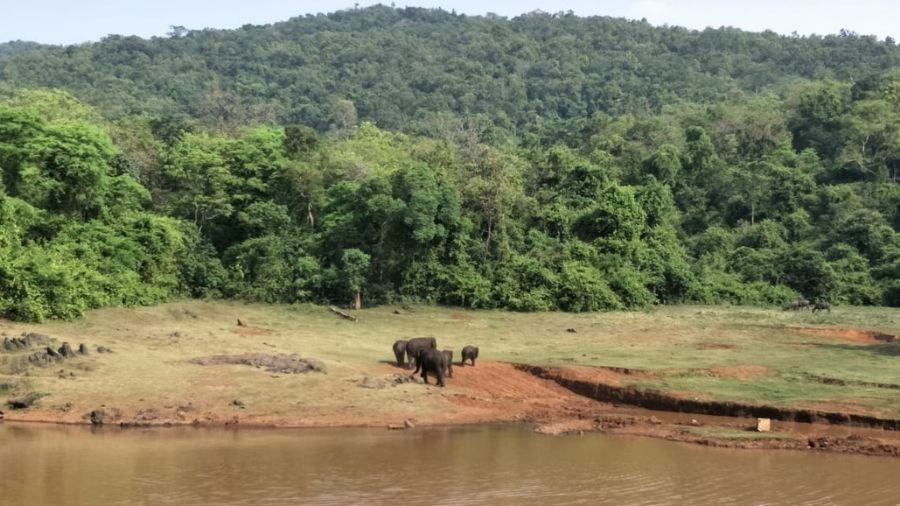 Elephants at the Dalma wildlife sanctuary.
File picture
---
Jamshdepur
|
Published 11.02.21, 05:57 PM
|
---
The prevailing chill atop the Dalma wildlife sanctuary has prompted elephants to move to the relatively warmer foothills.
Even the jumbos who have returned from their annual sojourn to the jungles of West Midnapore and Bankura in neighbouring Bengal are embarking  on a downhill journey. If night temperatures at Dalma top is between 6-7 degree C, it is 11 in the foothills.
With the elephants positioned in the foothill, Dalma range office is concerned about the safety of villagers and their farmland. The range office has, therefore, issued an alert, asking  villagers not to venture out of their homes at night. Trackers (village youths recruited as daily wagers to keep a tab on movement of jumbos and other animals) have been instructed to maintain strict vigil.
Dalma range officer (West) Dinesh Chandra confirmed that the elephants were anchored in the foothills. "It is very cold at the top. The elephants would take the uphill journey once the conditions get warmer," he added.
A forester said separate herds of elephants, who are home-bound from Bengal, were stationed in the periphery of the 192 sq km sanctuary. "The prevailing chill seems to have stopped them from entering the sanctuary. They feel warm in the periphery," he added on condition of anonymity.
Foresters believe that elephants would not damage standing crops or homes in the foothills since adequate food and water is available in the jungles. "But one cannot predict mood swings of the jumbos. But we are alert to avoid any  man-animal conflict," another forester said.
Almost all the 154-odd elephants have left Bengal and are yet to slip into the sanctuary, 30 km from Jamshedpur. The jumbos left for Bengal in August-September last year. Usually, they are home by February-March. However, some of the elephants returned home in December.
Elephants follow two designated corridors – one from Jhunjka anmd the other from Burudih. The first one leads to Nutandih while the second passes through Narsingpur (Ghatshila range), Dalapani,Suklara and Aamdapahari. Both the corridors merge at Mirjadih from where the elephants cross Haludbani, Bhadodih. Bota and Dimna to reach Dalma.