Daily wage earners vow to follow Father Stan Swamy's ideals
The spontaneous decision was taken during a resolution meeting organised by Jharkhand Krantikari Mazdoor Union at Adivasi Basti in Kadma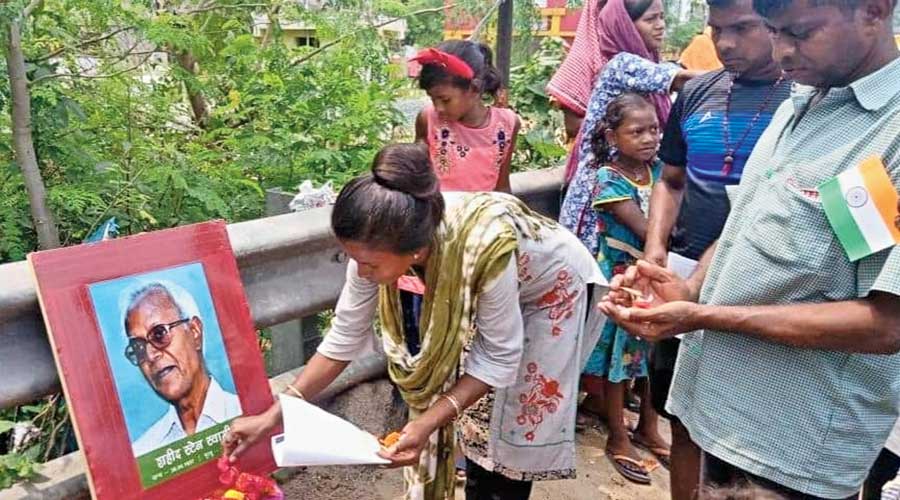 A woman pays tribute to Father Stan Swamy at the Adivasi Basti in Green Park, Kadma, on Sunday\
Bhola Prasad
---
Jamshedpur
|
Published 17.08.21, 12:19 AM
|
---
Daily wage earners in one of the urban slums in the steel city took a resolve to follow the ideals of Father Stan Swamy on the country's 75th Independence Day on Sunday.
The spontaneous decision was taken during a resolution meeting organised by Jharkhand Krantikari Mazdoor Union (JKMU) at Adivasi Basti in Green Park, Kadma.
Most of the daily wage earners work for petty contractors and live below the poverty line.
JKMU is among the over 160 organisations who, as part of a nationwide campaign, read out the pledge to defend the legacy of the freedom movement, the spirit of the Preamble and values of the Constitution on Independence Day.
"The campaign also sought to strengthen the agitation for the repeal of Unlawful Activities (Prevention) Act (UAPA) and other draconian laws. It also sought justice for Father Stan Swamy, whose death in judicial custody is considered by us as an institutional murder. We had put up a poster of Father Stan on a display board. When we started informing the masses about his work and life as a background for the campaign, some of the tribal workers started paying floral obeisance before the poster on their own. It was not planned. We also informed them about Baba Ambedkar and Jaipal Singh Munda who had ensured the rights of the poor, tribals and Dalits in the Constitution," said Gautam Bose, one of the conveners of JKMU and an active member of People's Union for Civil Liberties (PUCL).
The Adivasi Basti comprises 80 rickety houses on encroached plots inhabited mostly by Bhumij, Ho and Santhals. There are nearly 16 such urban slums dotting the 11-km four-lane Marine Drive that connects the city to the industrial areas of Adityapur and Gamharia.
"We had only read about Father Stan on a few occasions recently. But when we were told about his struggles for the rights of the poor Adivasis and Dalits and his agitation against the suffering of undertrials, we could not help but worship him. We face this humiliation often when the police raid our localities after every incident of chain snatching and theft, beat up youths and minors and take them to police stations for questioning. At times, they are detained for days. We want more of our people to know about Father Stan and resist the atrocities committed by the security personnel or contractors," said Dharma Raj Hembrom, 55, a resident of the basti who works under a contractor in Tata Steel.
Phulo Soy, 36, a woman worker at a canteen of a private company in Adityapur, paid floral tributes to Father Stan.
"At least we know that there are some people who are prepared to sacrifice their lives for our cause. We face exploitation and sexual harassment at work places and have taken a pledge to stand up for our rights come what may," she said.
The residents have decided to conduct awareness campaigns about their rights in various urban slums dotting the Marine Drive.
"We want other contract workers to know that people have sacrificed their lives for our rights. We will spread this awareness on a regular in other bastis," said Binde Soren, 56.
Over 160 organisations, comprising civil society outfits, trade unions, and farmers' organisations, also took the pledge as part of the National Campaign to Defend Democracy across Jharkhand on Sunday.
The movement spearheaded by PUCL, Jharkhand Janadhikar Mahasabha and trade union bodies in the state saw members reading out: "We pledge to campaign for repealing all draconian laws and assert the right to bail of every citizen. We believe that the right to question and the right to dissent are the foundation of our democratic, secular and socialist republic. We commit to campaign against all ideologies, laws, and state actions that deprive us of the freedoms of speech and opinion, conscience, association, and to non-violent opposition."