Over 8 lakh impacted by swollen rivers
Cyclone Yaas prompts Jharkhand's largest evacuation
More than 14,000 rescued n the southern part of the state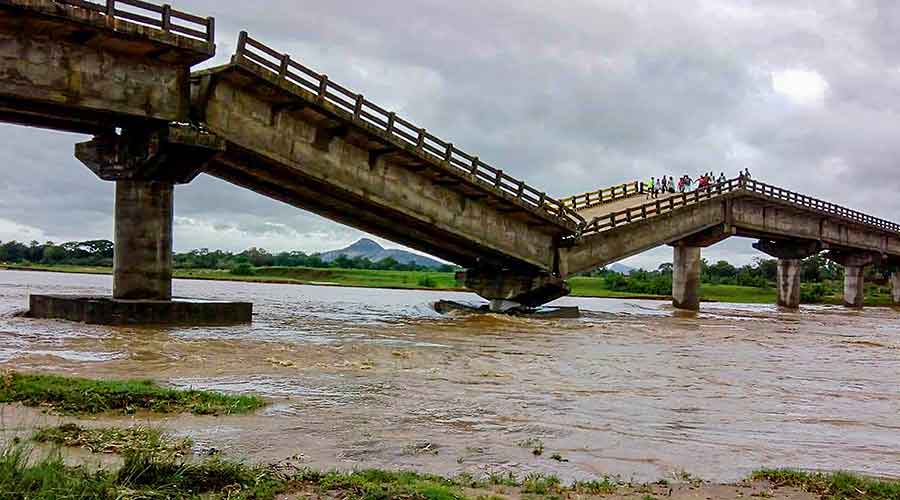 A bridge on the river Kanchi in Ranchi after it collapsed due to heavy rain triggered by Cyclone Yaas on Thursday.
PTI
---
Jamshedpur
|
Published 28.05.21, 01:19 AM
|
---
Three persons were killed as Cyclone Yaas hit Jharkhand as a depression on Wednesday night.
More than 14,000 were evacuated, the largest since the creation of Jharkhand, and over 8 lakh people were impacted as swelling rivers because of heavy rains led to threat of inundation in low-lying areas of three districts of East Singhbhum, West Singhbhum and Seraikela-Kharsawan in the southern part of the state.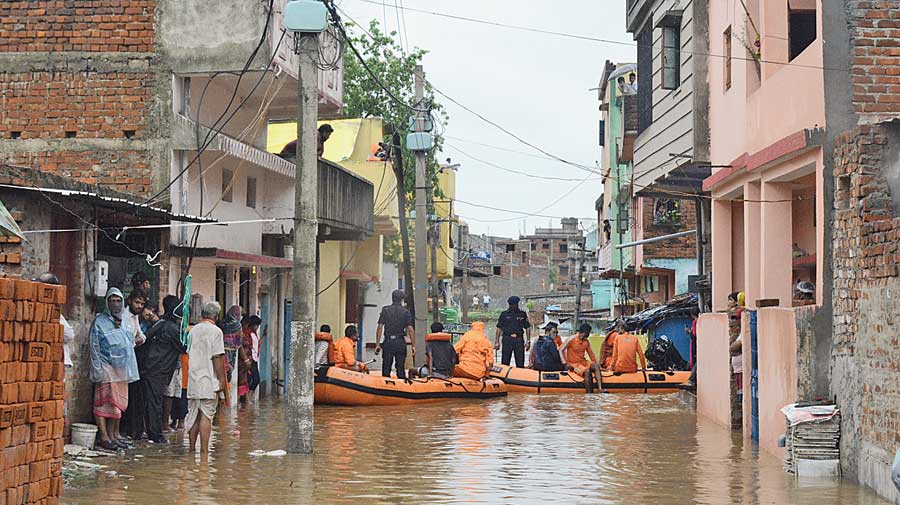 "As per data received from different districts over 14,000 persons have been evacuated to safer locations in the wake of the storm and there have been reports of three deaths (two in Ranchi and one in Bokaro). We are getting it investigated and they will be entitled to receive compensations as per Disaster Management Act norms. Rivers are in spate following heavy rains and people residing in low-lying areas in East Singhbhum, West Singhbhum and Seraikela-Kharsawan districts vulnerable to inundation have been evacuated to shelter points by the district administration," said state disaster management secretary Amitav Kaushal.
The father-son duo of Shanker Pandey, 25, and Rishabh Pandey, 1, were sleeping in their house near Bangla School area in Dhurva Sector 5 under Jagannathpur thana in Ranchi when their thatched hut wall collapsed at around 6am on Thursday due to the impact of the wind and rains which had lashed the capital Ranchi since Wednesday. The wife of the deceased who had gone out for some work raised and alarm and locals informed the police which reached the spot and rescued the father and son and rushed them to Rajendra Institute of Medical Sciences (RIMS) where they were declared as brought dead.
A middle-aged farmer who had gone out of his house died after being struck in lightening at Gomia in Bokaro district.
"We have deployed our resources at low-lying areas like Bagbera, Shastrinagar, Bhuiyandih, Mango, Jugsalai after the Kharkai river started flowing above danger mark. Evacuation of vulnerable people has been completed. We have deployed NDRF team at all the vulnerable spots," said East Singhbhum deputy commissioner Suraj Kumar.
Kharkai river till the filing of this report was flowing at 132.87 metre much above the danger level of 129 metre.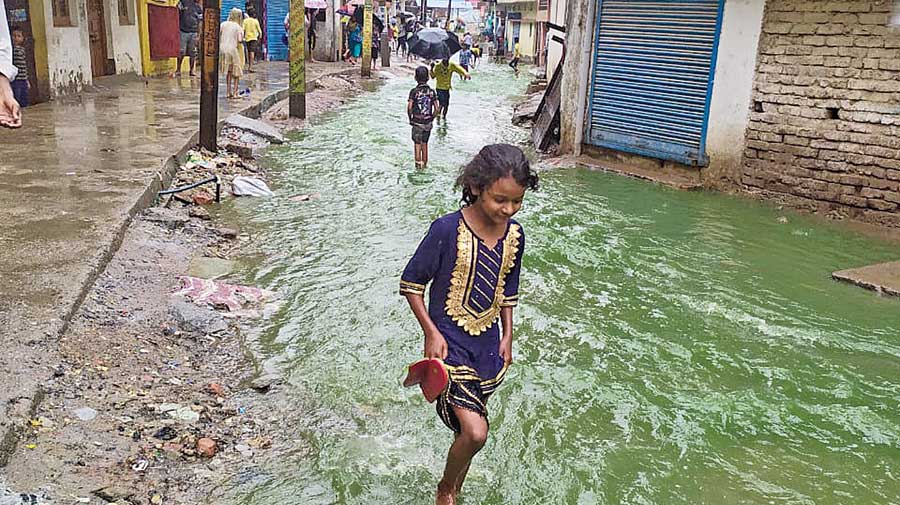 The Kharkai and Subernarekha river are in spate following opening of sluice gates of Bankabal and Silaipath dams in Mayurbhanj district of Odisha since Wednesday.
Similarly, three important rivers in West Singhbhum, bordering Odisha, Koina, Roro and Karo were in spate since Wednesday night.
"The river level were threatening to touch danger mark and we had carried out evacuation of close to 3,000 persons from low-lying areas. However, on Thursday afternoon the water level have started receding. Roads disrupted due to uprooted trees have been cleared. Several houses which had been partially damaged will be covered for the compensation scheme of the government," said West Singhbhum deputy commissioner Ananya Mittal.
Meanwhile, deputy director IMD Ranchi Abhishek Anand said that the Cyclone Yaas which turned into a depression while hitting Jharkhand has moved northwards.
"It moved northwards with a speed of about 9 kmph and weakened further into depression and lay centred over central part of Jharkhand, 20 km east of capital Ranchi. The system is very likely to move nearly northwards and weaken into a well-marked low pressure area during next 12 hours," said Anand.
Due to the influence of the system, moderate to heavy and very heavy rainfall was recorded at many places over Jharkhand.