Covid: Pressure swing adsorption plant plan for all sadar hospitals in Jharkhand
CM Hemant Soren also announced all 24 districts will have dedicated nodal officers to look after oxygen supported beds and other assistance for patients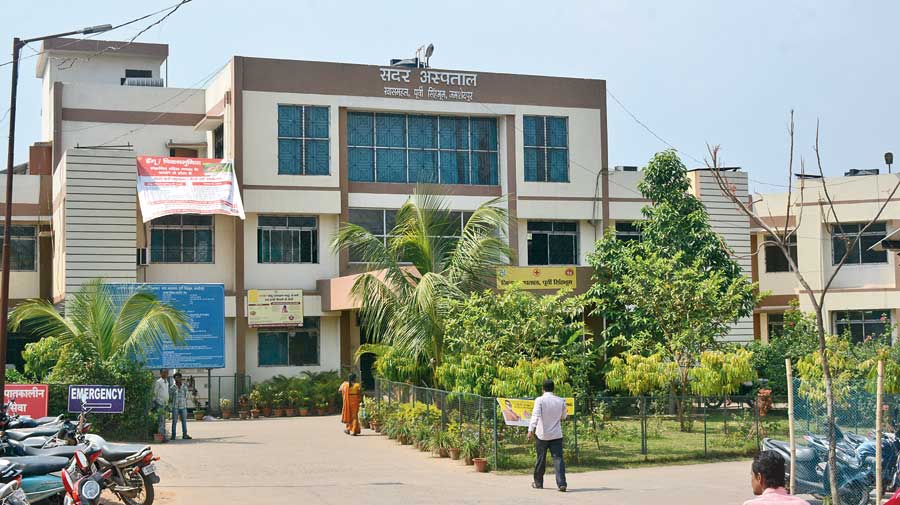 Sadar Hospital at Khasmahal in Jamshedpur which will have a PSA plant.
Bhola Prasad
---
Jamshedpur
|
Published 13.05.21, 12:37 AM
|
---
Jharkhand will have pressure swing adsorption (PSA) plants at sadar hospitals in all the 24 districts.
Chief minister Hemant Soren during interaction with MPs and MLAs of North Chotanagpur region comprising districts of Chatra, Hazaribagh, Koderma, Giridih, Ramgarh, Bokaro and Dhanbad on Wednesday afternoon informed that decision has been taken for installation of PSA plants and oxygen banks at all the district sadar hospitals.
"We have taken a decision for installation of PSA plants and oxygen banks in all district Sadar Hospitals by the end of this year in order to overcome the oxygen crisis as oxygen will be supplied directly from the plant to the hospital. We want to be prepared for the third wave of the Covid-19. We have also got a team from Union government for making over 80 ventilators operational in different districts of the state by this month end," said Soren.
According to state health department sources, each of the PSA plants will have capacities to generate oxygen and cater to hospitals with 200-500 beds and would be employing technology provided by DRDO and CSIR absorbing nitrogen from ambient air to concentrate oxygen. 
The oxygen generated will be supplied directly to patients admitted in the hospitals. Order will be placed by the end of this month for vendors for setting up the plant.
Meanwhile, additional chief secretary (health) Jharkhand Arun Kumar Singh in a directive issued on Wednesday directed all the deputy commissioners to ensure that private hospitals having more than 50-bed have a PSA plant installed at the earliest.
The chief minister also announced that each of the 24 districts will have dedicated nodal officers to look after oxygen supported beds availability and other assistance for Covid patients.
"The district wise nodal officers numbers will be shared with all public representatives including MPs and MLAs so that they can enquire about any issues related to Covid patient's admission and get it sorted at the earliest," said Soren.
The state government will also hold meetings with PSUs and corporate entities having operations in the state to assist in the vaccination drive. "Meeting will be held with representatives of corporate sectors and PSUs to seek their assistance in success of the vaccination campaign," Soren said.
The chief minister informed that delay in getting Covid reports would be minimised to a large extent with RTPCR labs coming up in nine districts in addition to the existing eight districts. 
This apart, two Cobas machines will also shorten the time gap between samples taken and report generated of Covid suspects in the state.
"We will be distributing nearly 5 lakh RAT kits to anganbari sevikas and sahiyas (women rural healthcare workers) to ramp up testing of samples in rural areas," said Soren.
Meanwhile, on Wednesday morning, Hemant Soren in reaction to complaints from MPs and MLAs of Kolhan and South Chotanagpur region of private hospitals charging exorbitant fees from Covid patients, issued a warning to such health centres in a tweet at around 12am in Hindi.
"The Jharkhand government has a fixed rate for Covid treatment for private hospitals. It is a punishable offence if charges are in excess of the government fixed rates. Any complaints related to it can be made in 104 through phone and action will be taken at the earliest," tweeted Soren.
Sources in CMO said that action would be taken under Disaster Management Act and State Epidemic Diseases Act which includes cancellation of licence of the hospital.