Covaxin doses reach Jharkhand, but not enough to meet rising demand
Bharat Biotech vaccine most sought-after due to shorter gap between two jabs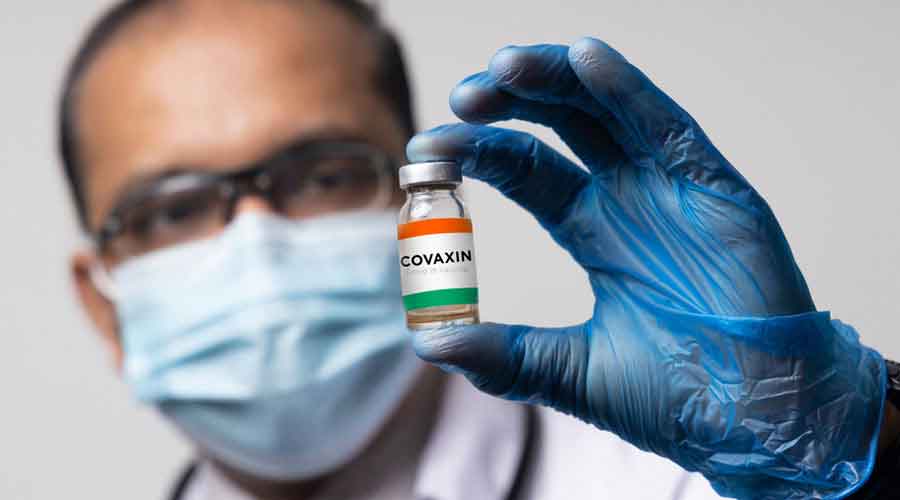 ---
Ranchi
|
Published 24.07.21, 07:01 PM
|
---
Jharkhand received 35,570 Covaxin doses on Saturday, a delay in supply of which left several second dose beneficiaries of this Bharat Biotech-made vaccine worried, said health officials.
As per government data, the state was left with barely 7,000 doses of Covaxin in stock until Saturday and several beneficiaries of the second jab of the vaccine were kept waiting for fresh supplies.
"We received 35,570 Covaxin doses today (Saturday) morning. We are expecting around 70,000 more doses of this vaccine by the end of July to ensure that second dose beneficiaries are not kept waiting," said Dr Ajit Prasad, the immunisation officer of Jharkhand.
The number of Covishield doses administered in the state so far was at least six times the number of Covaxin doses, latest data with the health department highlighted. The state has administered Covaxin doses to over 13.76 lakh residents and Covishield to around 71.62 lakh beneficiaries. However, many of the almost 14 lakh residents who were administered Covaxin as their first dose struggled to find slots for the second dose of the vaccine due to poor supplies in the past week or so, health officials said.
Even though the state had a limited supply of Covaxin, the demand for this vaccine has been growing among locals, primarily due to the shorter gap between the two doses as compared to Covishield. As per Indian Council of Medical Research (ICMR) guidelines, Covaxin requires a gap of only 28 days between the two doses, while the second dose of Covishield is administered at least 84 days after the first dose.
"The shorter gap between the two doses of Covaxin has led to a sudden rise in its demand. Many people are willing to wait for weeks to get this vaccine, and not go for other options available," said a vaccination staff at Medanta Hospital in Ranchi.
While the immunisation campaign against Covid-19 has been a bumpy ride in Jharkhand this month with periods of extreme crisis and surplus dose availability, the health machinery has relied heavily on the easily available Covishield vaccine to prevent the vaccination drive from coming to a standstill, officials said.
Jharkhand received 5,30,430 doses of Covishield on Friday and an additional 2.61 lakh on Saturday to run the immunisation campaign for the remaining period of July, officials said. While the state received over 15 lakh doses of Covishield this month, hardly 1 lakh doses of Covaxin were supplied from the Centre.
A highly-placed source involved in the immunisation drive against Covid-19 said that the health department has asked vaccination centres to prioritize administering Covaxin to second dose beneficiaries over people willing to get the first jab of the vaccine.