Kolhan University students pitch in with stitches
Students registered with the Centre-sponsored NSS have decided to make and donate masks to the needy in rural areas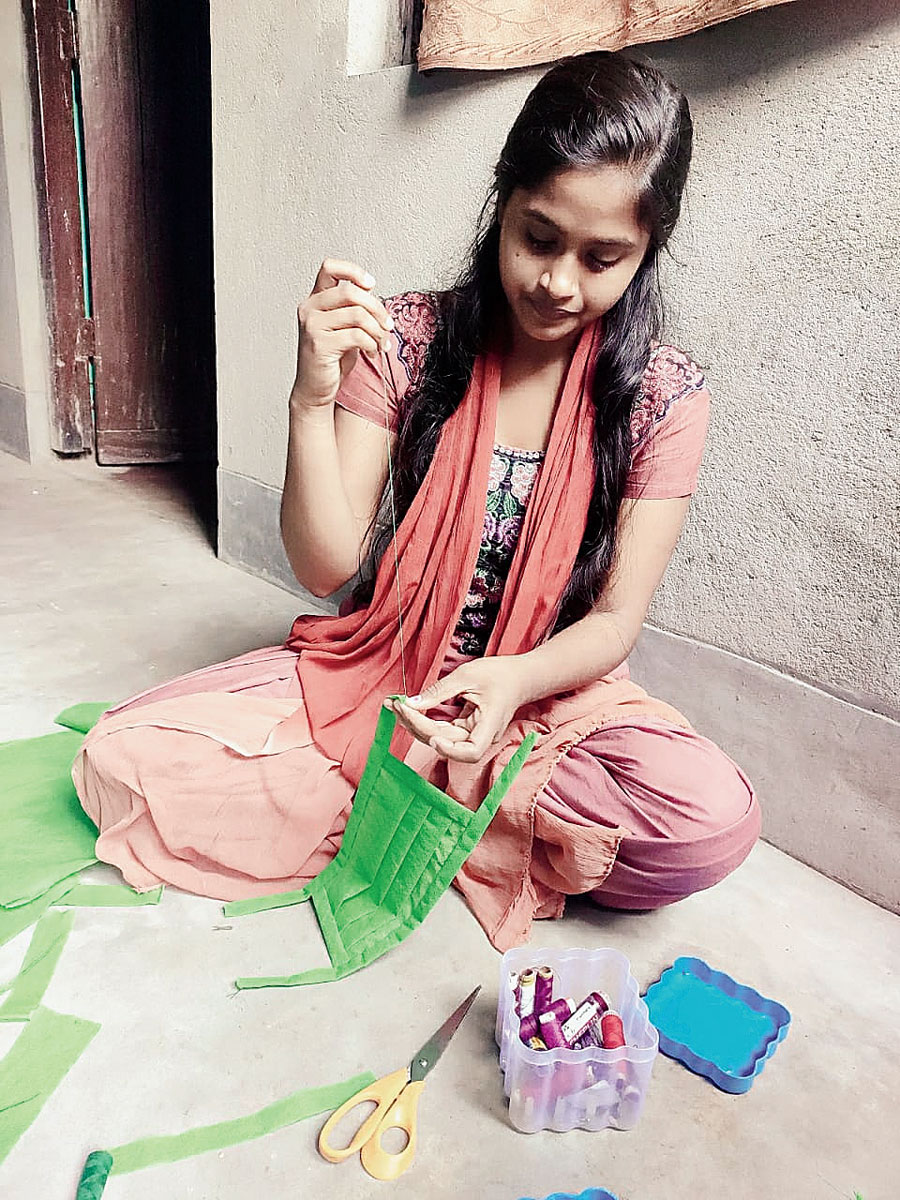 A student of Mahila College, Chaibasa, makes masks at her residence.
Telegraph picture
---
Jamshedpur
|
Published 14.04.20, 06:49 PM
|
---
A few students of colleges under Kolhan University are trying to help the rural population by making hand-stitched masks.
Students registered with the Centre-sponsored National Service Scheme (NSS) have decided to make and donate masks to the needy in rural areas.
A week ago, BEd students of Mahila College, Chaibasa, started making hand-stitched masks at home to help the poor.
For them, it is not only social work but also a skill-honing exercise, as sewing is an optional subject in the BEd curriculum.
About five students have already made 60 masks and distributed them to the needy, especially the elderly.
"As colleges are shut because of the lockdown, students sitting at home wanted to do something productive. Since they also have an optional course in sewing, they wanted to stitch masks and donate.
"We have asked them to distribute them to the people who are in need and have also asked them not to travel too far for the distribution work," said NSS programme officer of Mahila College, Chaibasa, Arpit Suman Toppo.
The girls have arranged for unused cloth for the stitching and those who do not have sewing machines, preferred doing it with their hands.
The girls have also asked for more unused cloth from their neighbourhood to make more masks for donation.
A student of Karim City College, Sushila Sahu, who is a resident of Rajnagar in Seraikela, has already made 140 masks and has distributed them to the sahiyas and people in her village.
As a tailor herself, she has used leftover cloth pieces to make masks but doesn't wish to charge anything.
"I am not buying cloth. It was there at my house. I also don't wish to charge a penny because this is a time of need and I don't want to use people for money. Also I get bored at home so making masks is a better idea to end boredom," said the first-semester chemistry honours student.
The NSS co-ordinator of Kolhan University, Darasingh Gupta, said the NSS unit of Jamshedpur Women's College is also making masks.
"These acts of kindness serve the purpose of the NSS. I had suggested students that they should charge a minimum amount for their time and labour but these girls wanted to contribute to the society in the time of need," said Gupta.