'Phone booth' innovation in West Singhbhum
Chaibasa Sadar Hospital gets new Covid-19 sample collection centre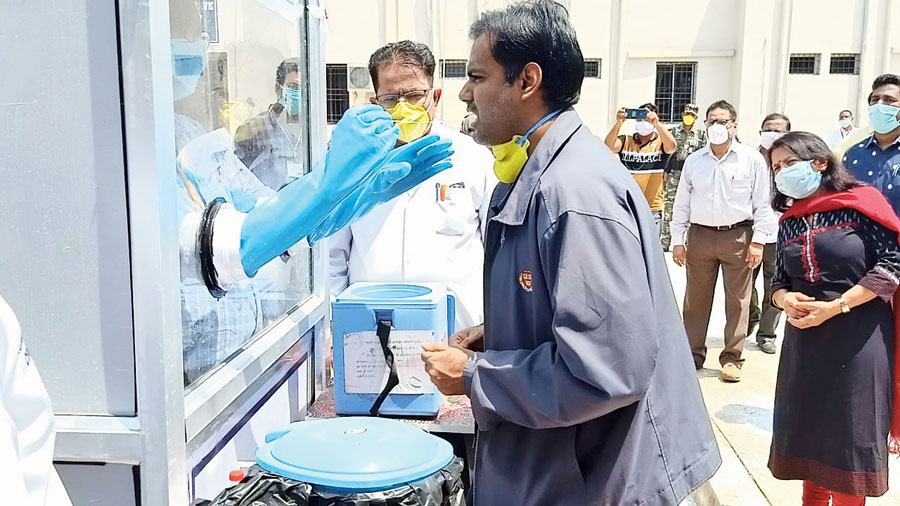 A sample for Covid-19 being collected at the phone booth sample collection centre
Picture by Bhola Prasad
---
Jamshedpur
|
Published 04.04.20, 07:07 PM
|
---
There's some cheer for a state state with so far two confirmed Covid-19 positive cases and a huge crunch of personal protective equipment (PPE).
On Saturday, a "phone booth" Covid-19 sample collection centre was inaugurated at the Chaibasa Sadar Hospital in West Singhbhum, some 65km south of Jamshedpur.
A brainchild of West Singhbhum deputy development commissioner Aditya Ranjan, a computer engineer from BIT-Mesra (2010 batch) and a 2014 batch IAS, the "phone booth" cuts down on the need for PPEs.
It also reduces the need for manpower for collection of throat and nasal swabs.
The structure of the kiosk also ensures faster and efficient collection of samples at Covid-19 hotspots and border checkpoints, and provides physical safety for health personnel from the quarantined people.
Ranjan said he got the idea by looking at pictures of models from South Korea and used his engineering expertise with the help of district rural development authority (DRDA) employees to develop this model.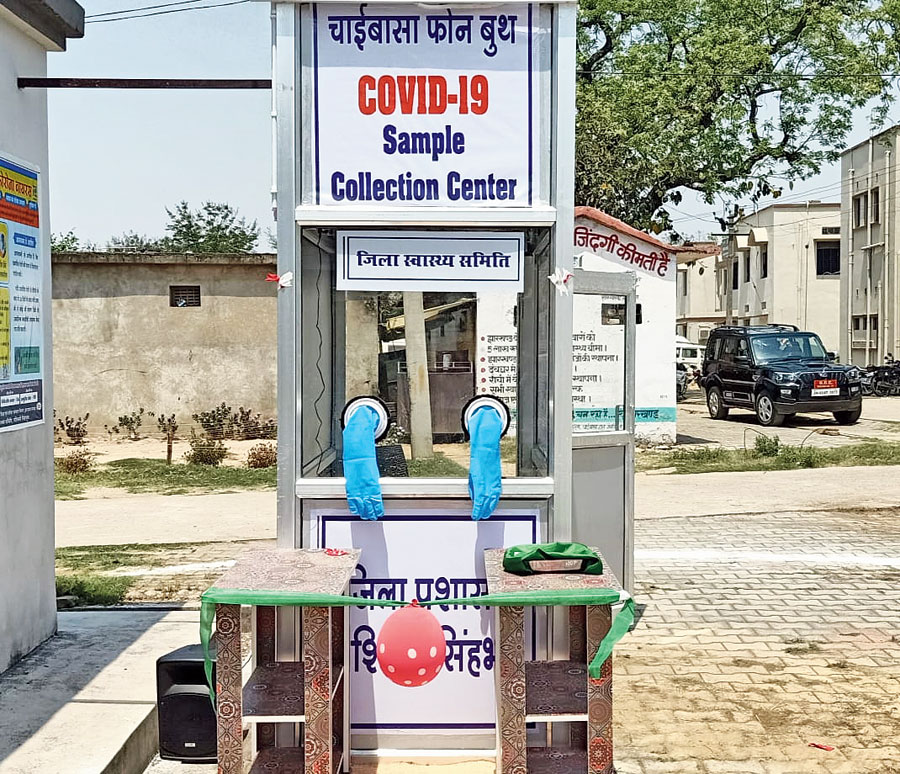 "This model costs around Rs 20,000 and is made indigenously using local products. It should save the government crores in purchasing PPEs which costs between Rs 600-Rs 3,000 at the moment," said Ranjan.
On how the kiosk will help, Ranjan said: "It needs only one person instead of the usual three and a suspected patient is instructed over the microphone to take up the kit and put his swab in the kit and keep it in the box after the mandatory process of using sanitisers kept outside the kiosk. The health worker will use the gloves hanging to take in the sample and keep it in the special box."
He said that apart from eliminating the need for PPEs, the kiosk is mobile. "So it can easily be mounted on a vehicle to a location for sample collection anytime and anywhere especially in suspected clusters. The masses would not be scared of tests with the scary PPE kits on health personnel," Ranjan added.
A source in the state health department revealed that as of now, each of the 24 districts need over 1,000 sets of PPEs per month. But the government has only 5,000 PPEs.
"For collection of throat or nasal swab we need a minimum of three personnel in PPEs, one carrying the kit, one collecting the sample and packaging the kit. So for each sample, we exhaust three sets of PPEs," said a health official.
State health minister Banna Gupta tweeted in praise of the effort, saying: "Great initiative, all the best".
Gupta later said Jharkhand had placed our requisition with the Centre for PPEs but had only got assurances. "Unfortunately, our Prime Minister is also slighting our state."