Forgotten dangers
Covid-19 combat takes toll on fight against other diseases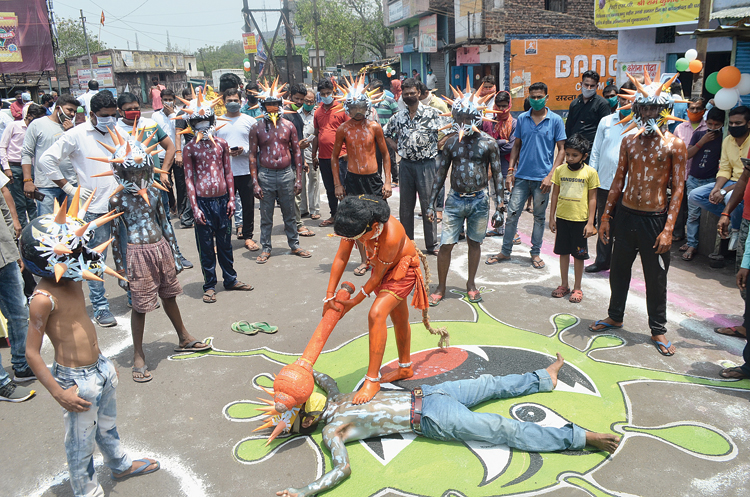 ---
---
The combat against the novel coronavirus pandemic is likely to impede the battle against vector-borne diseases in the state.
The first casualty has already taken place in the form of the postponement of Mass Drug Administration (MDA) campaign against filariasis scheduled between April 16 and 23 in 12 filariasis-endemic districts of the state. Surveillance and monitoring of malaria, dengue, chikungunya and Japanese encephalitis are also going to take a hit at a time the administrative machinery is preoccupied with keeping the deadly coronavirus in check.
"All our staff are now conducting surveillance for Covid-19, including keeping track of those under quarantine. We had no option but to cancel the MDA campaign for elimination of filariasis," said an official at the National Vector Borne Disease Control Programme (NVBDCP)'s state nodal office.
The MDA programme is part of the Union health ministry initiative to eliminate filariasis by 2021.
Filariasis, locally called hathipaon, can cause limbs, usually the legs (knee downwards) to swell enormously. Hydrocele, or swelling of the scrotum, is also a common manifestation of the disease transmitted through mosquito bite. Filariasis is estimated to be endemic in over 250 districts across 20 states, putting 650 million people at risk.
"Filariasis is caused by various coiled and thread-like parasitic worms. The worms produce about 50,000 microfilariae (minute larvae) that enter a person's blood stream and get passed on when a mosquito bites an infected person. We had planned an MDA programme in 12 districts, but it has been postponed," said Dr Sagya Singh, an entomologist at NVBDCP.
The 12 districts were the programme has been postponed are Simdega, Godda, Dumka, Giridih, Gumla, Hazaribagh, Ranchi, Khunti, Garhwa, Chatra, East Singhbhum and West Singhbhum.
Under the drive, two tablets — diethylcarbamazine citrate and albendazole — would have been given to all except children below two years, pregnant women and the seriously ill.
Dr Neeraj Dhingra, the director of NVBDCP (Government of India), had in a letter to the to the state programme officers on April 13 drawn attention to the threat of vector-borne diseases, especially in the light of the lockdown.
"I would like to draw your attention to some aspects of vector-borne diseases, which are likely to increase as the temperature rises and conditions become favourable for breeding. Coupled with this is the situation of lockdown, where most of us are in our homes. This leads to increased use and collection of water, especially in areas where sanitation is poor, leading to more breeding sites for mosquitoes…. If surveillance and other intervention are affected during this period, there are chances of an upsurge in cases of malaria in the various states and can lead to a setback in the elimination of malaria from the country," the letter had warned.
A senior NVBDCP, on the condition of anonymity, admitted that fogging and spraying of larvicides and insecticides usually done in collaboration with local urban bodies in urban areas to counter dengue and chikungunya had taken a hit.
"Almost all the workers of urban bodies are engaged in sanitisation activities apart from regular cleaning of roads and maintenance of other utilities. Others are doing surveillance work for Covid-19. Fogging and spraying of larvicides are yet to be done on a regular basis. We need an immediate action plan," the official based in Ranchi said.
State director of National Health Mission (NHM) Shailesh Chaurasia admitted that officials had been tied up with the Covid-19 crisis, but assured that new teams would be formed for surveillance of vector-borne diseases, too.
"We would be issuing advisories to all districts in this connection soon," Chaurasia added.