Coronavirus diktat in testing times
12-per-class tough for crowded schools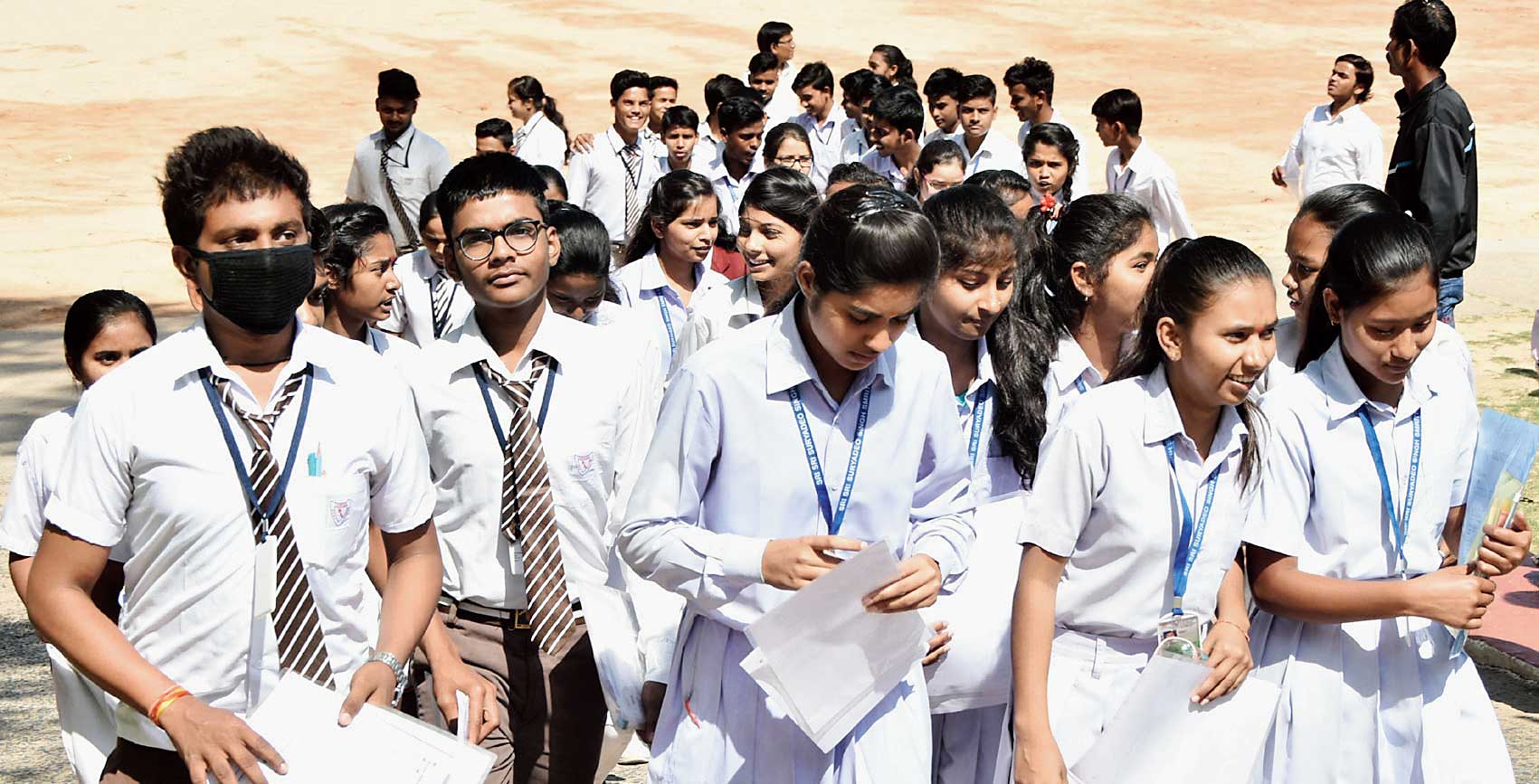 Students come out of a CBSE examination centre in Dhanbad on Wednesday.
Picture by Gautam Dey
---
Jamshedpur
|
Published 18.03.20, 08:03 PM
|
---
Social distancing is the buzzword in the time of coronavirus. But that's easier said than done at a time CBSE and CISCE board exams are underway.
On Tuesday, schools affiliated to CBSE were asked to maintain social distancing even during the ongoing board exams. Schools, wherever possible, were asked to seat 12 examinees in a classroom, instead of the usual norm of 24 examinees, to ensure healthy distance as an initiative against the spread of the novel coronavirus.
The circular was sent to all schools affiliated to the CBSE.
But on Wednesday, the day of the social science Class X board exam, which is compulsory for all students, many school principals confessed that they did not have enough classrooms to seat examinees in batches of 12.
Subhosree Sarkar, principal of Baldwin Farm Area High School in Jamshedpur, clarified that the CBSE had asked schools to follow the instruction wherever possible but it was not mandatory. "With the number of students for compulsory subjects running to hundreds, following the norm of 12-per-classroom won't be possible," she said.
She explained: "The 12-per-class is an advisory to be implemented as and when possible. Usually, CBSE allows 24 students per examination room. Due to the Covid-19 threat, it has been advised to reduce the number to 12 per classroom, but only where possible. We will follow this in the next exam with fewer students."
A school principal, who did not want to be named, said they all understood how sensitive the situation was, but the "12-per-classroom rule was not easy to implement".
Early in March, CBSE had ordered schools to allow students to carry masks and hand sanitiser at exam centres. CBSE Class XII board exam will end on March 30 and Class X on March 20.
The CISCE, whose Class X and Class XII board exams are ending on March 30 and 31, had ordered schools to make hand wash and sanitizers available for examinees. On Tuesday, the CISCE sent out a circular on "decentralising" evaluation by allowing teachers to mark board exam answer sheets at their respective homes for safety's sake.