Controversy over inauguration of Simpson Park
Political party leaders train guns at deputy development commissioner for not sending them invites for the opening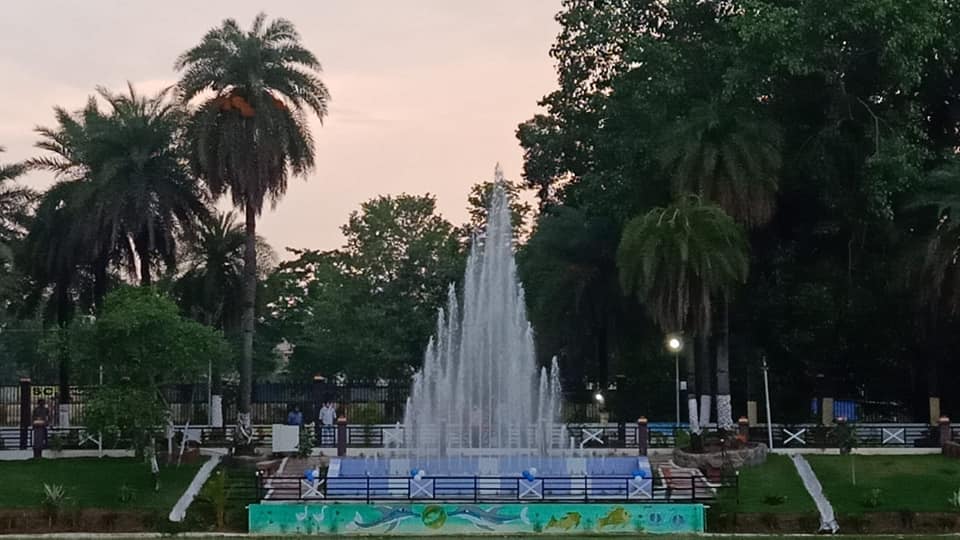 A fountain at Simpson Park in Hazaribagh on Tuesday
Vishvendu Jaipuriar
---
Hazaribagh
|
Published 16.06.20, 05:50 PM
|
---
Leaders of various political parties on Tuesday trained their guns at Hazaribagh deputy development commissioner Vijaya Jadhav after they were not invited to the inauguration of Simpson Park, a newly-renovated pond from the British era.
Jadhav had undertaken a beautification project to clean and improve the pond, which was lying in neglect for a long time. A total of Rs 1.5 crore was spent on the park, which was jointly inaugurated by three MLAs, namely BJPs Manish Jaiswal (Hazaribagh sadar) and Jai Prakash Bhai Patel (Mandu) and Amit Kumar, an independent MLA from Barkatha. Two former MLAs were also invited to the inauguration.
Talking to The Telegraph Online, Barhi MLA Uma Shankar Akela said the three MLAs were invited to the inauguration program in a hurry. Akela objected as to why two former MLAs, namely Manoj Kumar Yadav and Janki Prasad Yadav, were also invited.
"I was not invited as well as Amba Prasad of the Congress, who is the MLA from Barkagaon, which is highly objectionable," he said, adding that it was in violation of the protocol and he will take up this issue in the Assembly. BJP district president Tunnu Gope too shot a missive at chief secretary Sukhdev Singh on Tuesday, charging Jadhav for not inviting Hazaribagh MP and former civil aviation minister Jayant Sinha, which he said was an insult to the leader. Gope demanded action in this regard.
Congress OBC morcha's district president Surjeet Nagwala also wrote a letter to chief minister Hemant Soren claiming that Jadhav didn't take the approval of the zilla parishad's standing committee for the inauguration of the park. "We want a probe in this case," he demanded.
Senior Congress leader Jai Shankar Pathak and Manoj Narayan Bhagat said the party will not sit quietly over the issue and take up the matter at all suitable forums to ensure action against Jadhav. "Rule of the BJP has ended but officials are still favouring them," the duo added.
However, Jadhav said she had done nothing wrong.
"Zilla parishad is the custodian of this park and I called representatives of the parishad in the program, besides all those MLAs who donated fund for the project," she said.
Zilla parishad officials said former MLAs Manoj Yadav and Janki Prasad Yadav were legislators from Barhi and Barkatha, respectively, when they donated money for the park. The two lost their seats in the Assembly election in December last year.
Meanwhile, the contract to run the park as well as ensure its proper upkeep for five years has been given to one Kunal Kundan Jaiswal. He will pay Rs.6.21 lakh annually to the zilla parishad.
Jadhav said there is no entry fee for children and the elderly but others will have to pay Rs.10 for each. She said the caretaker will have to keep its beauty intact as well as ensure that no illegal work takes place there. Entire park is under the surveillance of CCTV cameras, she added.