Control room to allay water pain
Complaints to be addressed in 24 hours, system to be in place till June 15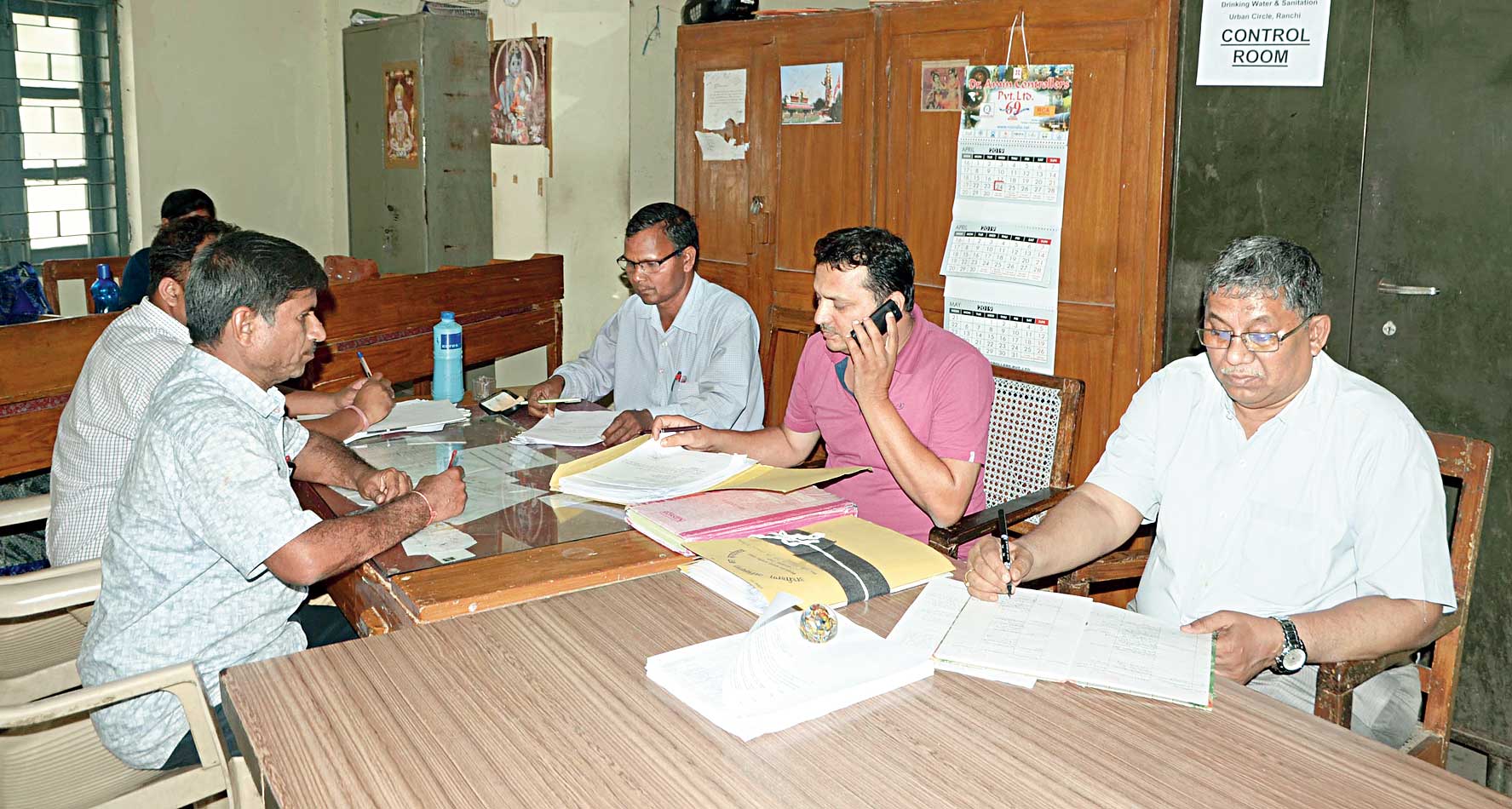 ---
|
Ranchi
|
Published 27.04.19, 06:36 PM
---
The drinking water and sanitation department on Saturday set up a control room in the office of superintending engineer (civil circle) in Doranda to address complaints related to the disruption of water supply in the city.
The number on which the residents can register their complaints during office hours (from 10am to 5pm) is 82712-13903. The calls will be attended by junior engineer of the department Kameshwar Pandey.
Once the complaint is get registered, the department will ensure that the problem is resolved within 24 hours.
Teams will be sent to undertake repairs like plugging leaks in water supply pipes that cause disruption in supply to households across the city.
Superintending engineer of drinking water and sanitation department Shushil Kumar said the control room would operate till the arrival of monsoon, which was expected by June 15.
"Apart from setting up the control room, the department has put in place a system wherein residents can give information on interruption in supply directly to four executive engineers of the department either through SMS, WhatsApp or a phone call," Kumar said.
An official of the department shared the names and numbers of the executive engineers and their area of control.
"Executive engineer Reyaz Alam is in charge of wards 37 to 55 besides those areas where water is supplied from Hatia Dam. His mobile number is 9431566935. K.K.Verma is in charge of wards 4 to 29 and areas where water is supplied from Rukka Dam. His number is 9431358883. Tapeshwar Chowdhary will take care of problems in wards 1 to 4 and wards 22 to 36 besides areas where water is supplied from Kanke Dam and his contact number is 9431109939. Prabhat Kumar Singh is in charge of the stretch from Booty More to Irba and he can be reached at 7903832615," the official said.
Alam said he had become amore alert following his special responsibility.
"Instead of waiting for calls informing about the problem, I have asked junior engineers to keep a watch on the pipelines and take solve the problem even before it arises. Today (Saturday), I have not received any call or WhatsApp message regarding any problem," Alam said.
Over 15 lakh residents of the capital depend 40 million gallons per day water supplied from three dams in the city.
HELPLINES
Complaints can be registered by dialling 82712-13903 between 10am and 5pm
Residents can also call, text and send WhatsApp messages to the following numbers of executive engineers
Reyaz Alam: 9431566935
K.K.Verma: 9431358883
Tapeshwar Chowdhary: 9431109939
Prabhat Kumar Singh: 7903832615