Congress stages protest over fuel price hike and inflation
Agitators display empty plates, LPG cylinders and parked bikes as a mark of dissent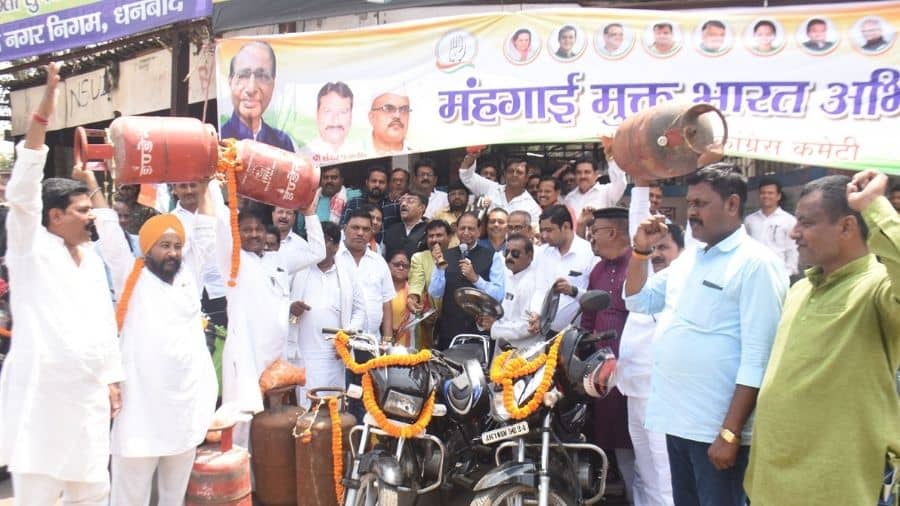 Activists of Dhanbad District Congress Committee stages dharna at Randhir Verma Chowk in Dhanbad during their Mahangai Mukt Bharat Abhiyan today.
Gautam Dey.
---
Dhanbad
|
Published 31.03.22, 05:56 PM
|
---
Activists of Indian National Congress led by district president Brajendra Prasad Singh on Thursday staged a massive demonstration at the district headquarters against price rise and recent hike in petrol, diesel and LPG  prices.
The protesters who were seen protesting with empty plates, LPG cylinders and also parked bikes at the Dharna site near Randhir Verma Chowk of Dhanbad as a mark of protest charged the Central BJP government of failing to control price rise.
Talking to media at the Dharna site, Brajendra Singh said, "We have staged Dharna and carried out a demonstration today at the district headquarters of Dhanbad as part of nationwide protest programme of the party against the wrong policies of Narendra Modi led central government which snatched the food from plates of the common people due to rise in prices of foodgrains as well LPG."
"We have put up LPG cylinders and bikes at the Dharna site besides us to show that these items have turned useless now as the common people are not able to either refuel their vehicles or refill their LPG cylinders due to unprecedented hike in fuel and LPG prices," said Singh.
"Such is the situation of price rise that if anyone goes to the grocery shop with a Rs 500 currency note then he is compelled to return empty handed as the bill crosses Rs 700," said Singh and added that they would like to remind the Prime Minister about the promises made by him during 2014 to control the price rise.
"We demand the prime minister to bring down the prices of foodgrains, petrol, diesel and LPG to the level of the former Prime Minister Manmohan Singh regime," said Singh.
Jaleshwar Mahto, state working president of Congress, who also participated in protest programme at Randhir Verma Chowk along with over 50 other Congress activists said, "We are participating in the district level protest being organized across the country at the instruction of our party president Sonia Gandhi and protest will also be carried at the block level and state headquarter level later on as part of people's awareness programme."
"The BJP leadership was raising hue and cry over the prices of Petrol in Congress era when the petrol was being sold at Rs 55 per litre but we are clueless about the silence of prime minister today when the Petrol prices have crossed over Rs 100 per litre mark," further said Mahto.