Drivers of autorickshaws which run on CNG (compressed natural gas) are having to face a long wait at the fuelling stations in the Jharkhand capital owing to a recent fuel shortage following a sudden rise in such vehicles.
"I came here around 4am and am still waiting for my turn," said Suresh Kumar, an auto driver from Kantatoli, who along with over 250 others had gathered at a CNG fuelling station at Kokar on Friday morning.
Asked about the reason for the scarcity, Gail (India) Limited general manager Alok Kumar said: "We understand that over 2,000 new CNG autos have joined the existing fleet over the past one month or so, raising the demand suddenly."
There are only four CNG fuel stations located at Hatia, Doranda, Kokar and Ormanjhi in Ranchi at present. They are finding it difficult to cater to the need of the increased number of autorickshaws.
"There will be 10 such fuelling stations coming up very shortly," Kumar said. Two new stations were ready for commissioning within the next few days while four more would also come up within a month or so, he added.
We have a plan to increase the number of CNG stations to 18 in Ranchi and that will be done soon, he said.
CNG was being brought to Ranchi from Durgapur in Bengal by special vehicles meant for the purpose, he further said. We are also considering to bring CNG from Bokaro that would help save the transit time, he added.
But the auto drivers said they are facing unprecedented problems in the meantime.
Many of them preferred running CNG autos as they would be economical compared to petrol or diesel autos, particularly because of the rising fuel prices.
"Many of us even opted for an exchange offer and bought CNG autos by taking bank loans," said Sukhlal Yadav, another auto driver. Many of us are now facing difficulties in paying the EMIs for the loans we took, he added.
"We faced financial hardship during the coronavirus-induced lockdown. We are in a fix now on how to earn livelihood if we have to spend almost half a day for getting CNG," said Suresh.
These autos are encouraged as CNG is considered a cheap and green fuel and helps reduce air pollution but many drivers started plying even before the registration process of their vehicles was complete and that added to the problems, alleged an auto operator who did not wish to be named.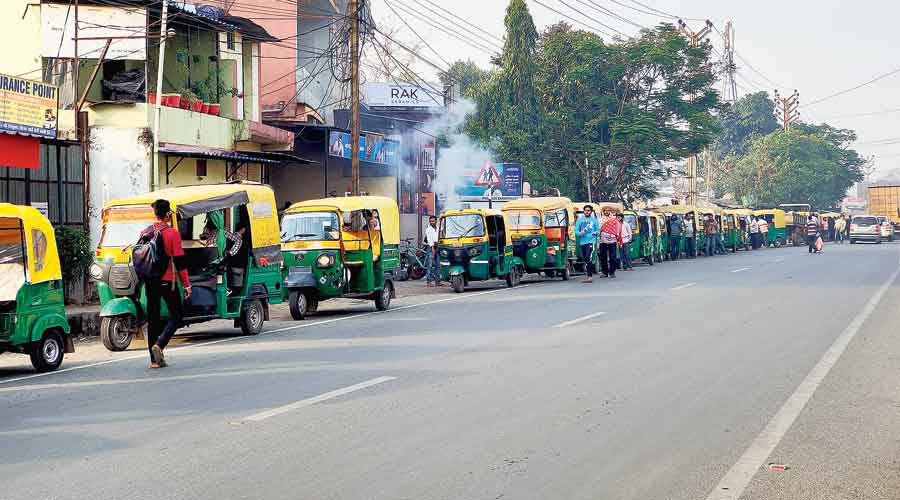 Cooking gas
Gail India also introduced piped natural gas (PNG) for cooking in certain residential areas of Ranchi about two years back but the network could not be expanded as the fuel was brought by vehicles and stored at a station before supplying to the existing households.
The expansion of the PNG network to other areas of the city can be done only when the gas reaches via a pipeline.
"It will take a few more months before PNG reaches Ranchi through a pipeline," said Gail India executive director K.B. Singh, who visited the city on Thursday.
On the expansion delay, he said that the pipe-laying work between Bokaro and Ranchi was not complete as it was being done over a 35-km stretch that would take some more time.