CMD of HEC meets striking workers, but fails to end deadlock
Unions reject offer of a month's salary by December-end, say management hasn't paid them for seven months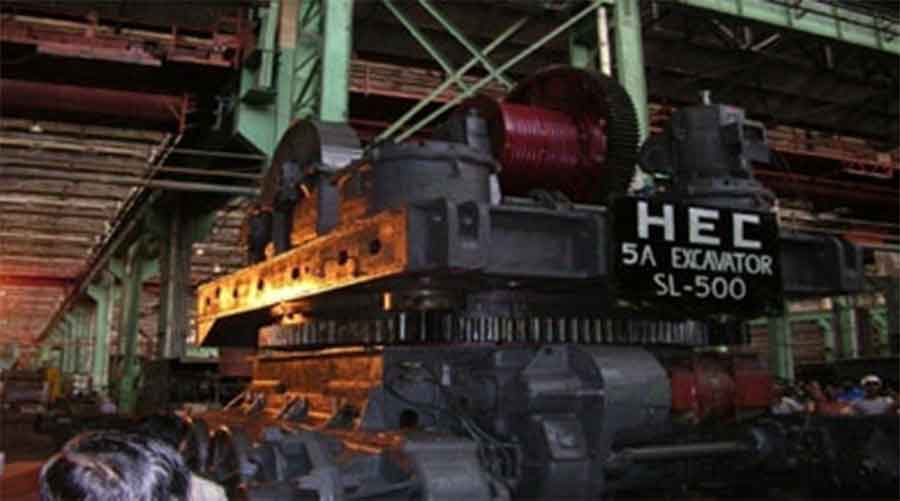 As many as 3,000 HEC workers have joined the "tool down" strike in Ranchi.
File Picture
---
Ranchi
|
Published 09.12.21, 07:48 PM
|
---
A three-hour-long meeting between union representatives of Heavy Engineering Corporation (HEC) and the CMD of the company on Thursday failed to convince the striking workers to resume work despite the assurance of getting one month's pay by the end of December.
HEC CMD Nalin Singhal was in Ranchi on Thursday to hold talks with the on-strike workers and build a consensus in a bid to end the ongoing strike, which started on December 2 against the non-payment of salary to HEC employees for the past seven months.
As many as 3,000 workers have joined the "tool down" strike in Ranchi.
The president of Hatia Kamgaar Union, Laldeo Singh, who attended the meeting with Singhal said that the strike would continue as the company had failed to make any concrete assurances to the workers.
"We have not received a single penny from the company in the past seven months, and they want us to resume work only by assuring one month's pay by the end of December," said Singh, adding that the workers would resume work only when the company regularizes their payments and shows a positive intent towards  workers.
Singh said that the Centre too has rejected HEC's request of Rs 50 crore for disbursing salaries and clearing debts. This indicates that the HEC has no possible way of getting the money for disbursing salaries in the near future, he added.
HEC does not have a local CMD. However, there are three directors who run the show in Ranchi. The striking workers have demanded that the three directors  tender their resignation in a bid to mount pressure on the government to release funds for disbursement of salary to HEC employees.
In a recent tweet, the All India Central Council of Trade Unions (AICCTU) claimed that HEC may have incurred a loss of Rs 1 crore due to the workers' strike so far, and a greater crisis could only be averted if immediate action is taken to ensure  payment to  workers.
Workers in HEC have had to deal with non-payment of salary even in the past. In 2015-16, HEC workers had sent at least 100 postcards to Prime Minister Narendra Modi asking when "Acche Din" would come for these workers following non-payment of salary for several months.
"The Union government brags about supporting industries, but fails to come to the rescue of an organisation that is reeling under loss," said Singh.
The striking workers also demanded procurement of new machines for HEC, claiming that some of the machines being used by the company were more than 70 years old and likely to malfunction.