Brand-new bronze Bapu
Nyas president Manoj Verma said the new statue would be ready in four to five days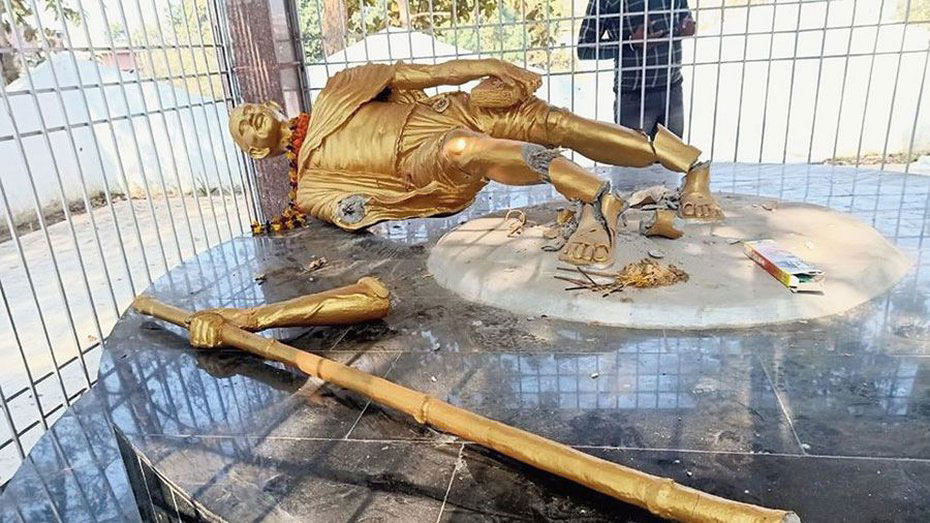 ---
---
The Gandhi Smarak here, where the 8-foot-high cement statue of the Mahatma was found broken on Sunday, will have a new, 7-foot-tall statue of Bapu made of bronze and fibre.
With deputy commissioner Bhuvnesh Pratap Singh releasing Rs 5 lakh, the Mahatma Gandhi Smarak Vikas Nyas that looks after the memorial has engaged two sculptors, Vijay Prajapati and Sanjay Prajapati.
They started work on the new statue on Tuesday.
Nyas president Manoj Verma said the new statue would be ready in four to five days after which they would organise a grand ceremony to unveil it in the presence of Hazaribagh MP Jayant Sinha and MLA Manish Jaiswal.
Verma said the new statue would cost Rs 50,000, and the rest of the money released by the DC would be used to renovate the area outside the Smarak, called Ramdhun Sthal.
Engineers of the district board on Tuesday started work on a new design of the Sthal, he added.
Verma said very few people knew about the importance of the Smarak. On February 2, 1948, a kalash (pot) containing the ashes of Bapu was brought here.
Some of the ashwas scattered in the Gonda river flowing in front of the Smarak.
But the kalash with the rest of the ashes was buried underground and a cemented platform was made where the statue of Gandhiji was installed.
Verma said land sharks were eyeing the expensive plots in front of the Smarak. He said earlier people used to come here for morning walks but increasingly it had become a hangout of hooligans.
"It's time to save the Smarak where the ashes of Gandhiji are buried," he added.
A seven-person team of Gandhi followers from visited the Smarak on Tuesday afternoon. They said they would hold a daylong dharna in Morabadi, Ranchi, under the statue of Gandhi there on Thursday.