Brace for a harsh summer, warns weather scientists
Maximum temperatures to stay above normal on most days between March and May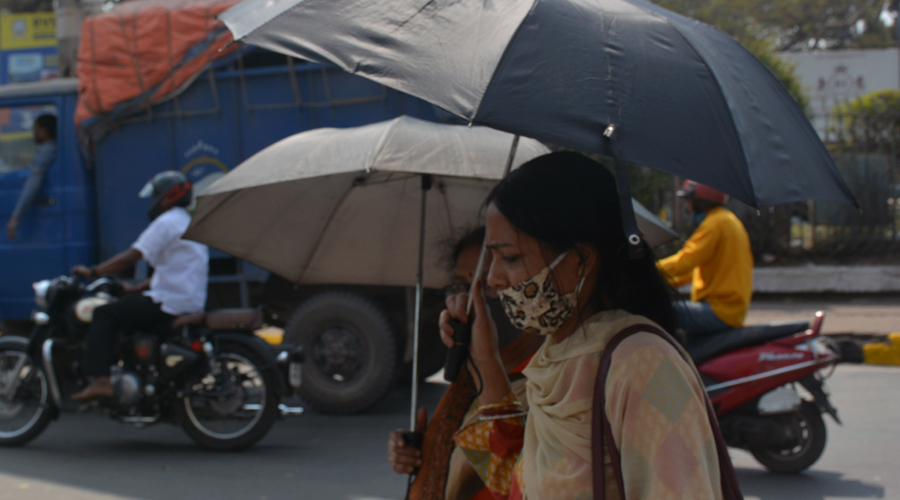 Pedestrians use umbrellas to protect themsleves from the sun at Sakchi in Jamshedpur on Tuesday.
Pic by Bhola Prasad
---
Jamshedpur
|
Published 02.03.21, 08:01 PM
|
---
Jharkhand is likely to experience a harsh summer this year, weather scientists have noted.
"The summer will be severe this year as the maximum temperature is expected to remain above normal on 60 per cent days in most districts of Jharkhand between March and May," said Abhishek Anand, deputy director of Ranchi Meteorological Centre. Last year, he added, the maximum temperature on most days between March and May was within normal limits with capital Ranchi witnessing readings of above 40 degree Celsius on one or two days.
The forecast for the next five days indicated dry weather and a clear sky with maximum temperatures likely to be above normal by four to five degrees Celsius.
Statistics available with IMD's Ranchi Meteorological Centre revealed that the maximum temperature had already climbed to 38 degree Celsius in and around Jamshedpur on Monday, five notches above normal. On Tuesday, the steel city and its adjoining areas, including Chaibasa in West Singhbhum, recorded a maximum reading of around 37 degree Celsius, four points above normal.
Daltonganj and its adjoining areas recorded around 36 degree Celsius for the second consecutive day on Tuesday, four points above normal.
Ranchi and its adjoining areas recorded maximum readings between 34 and 35 degree Celsius on Monday and Tuesday.
Day readings rose to 36 degree Celsius in Pakur on Tuesday while Sahebganj and other places in the Santhal Pargana region notched up day readings of over 35 degree Celsius. Data also revealed an abrupt rise in minimum readings in most districts of Jharkhand as winter departed from Jharkhand. In meteorological parlance, it is winter if the minimum temperature stays below 13 degree Celsius constantly.
Data suggests that in most parts of the state, night readings have shot up beyond 13 degrees. The minimum reading has touched 20-degree celsius in most districts of Santhal Pargana while the minimum temperature in Ranchi was hovering between 17 and 18 degree Celsius.
The minimum reading has also shot up to around 19-degree celsius in Jamshedpur, Chaibasa in West Singhbhum and adjoining Seraikela-Kharsawan district.
In Daltonganj, the headquarters of the Palamau region, the minimum reading has crossed beyond 16 degree Celsius, suggested Met data.
A senior Met scientist at IMD's Patna office said dry weather would prevail over Jharkhand with maximum and minimum readings showing a rising trend. He ruled out the possibility of rain or thundershowers in Jharkhand during the next five days.
Residents have already begun preparations for summer. "We have stopped warm clothes. Fans and air-conditioners have become a must, " said Shreya Anand, a homemaker at Bistupur in Jamshedpur.