Bokaro army officer Jay Prakash Kumar to get Tenzing Norgay National Adventure Award
The 41-year-old led a seven member team of National Security Guard to scale Mt Everest two years ago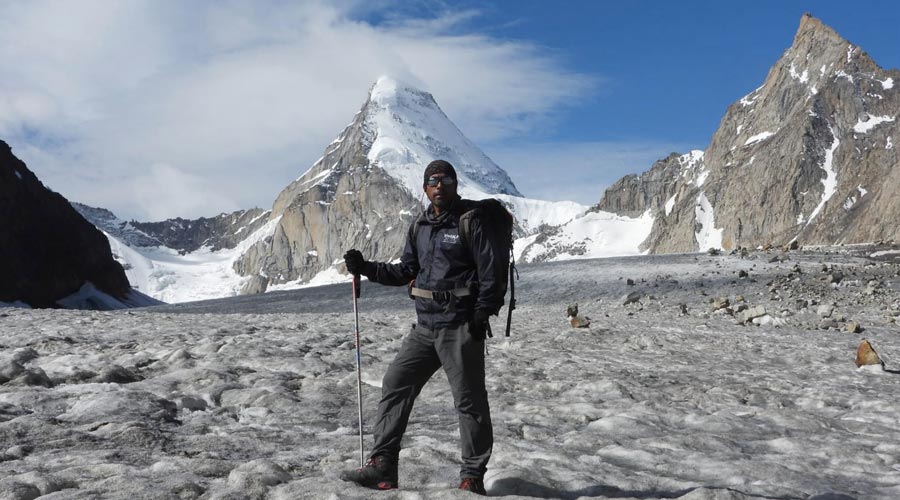 Lt.Col. Jay Prakash Kumar at the mountain ranges during his mountaineering.
Picture arranged by Gautam Dey
---
Dhanbad
|
Published 07.11.21, 05:36 PM
|
---
Bokaro born army officer Lt Colonel Jay Prakash Kumar will be bestowed with the prestigious 'Tenzing Norgay National Adventure Award 2020' for his outstanding contribution in the field of land adventure.
The 41-year-old, presently posted with Dogra Scout in Lahaul Spiti of Himachal Pradesh as Lt Colonel, led a seven-member team of National Security Guard to scale Mt Everest two years ago
He will receive the award from President Ram Nath Kovind at a function in the Rashtrapati Bhawan in New Delhi on November 13.
Talking to The Telegraph Online on Sunday from Lahaul Spiti over the phone, Kumar said, "I am happy to be blessed with my parents, teachers, seniors and friends in my 13 years of mountaineering journey on more than 38 mountain peaks over various mountain ranges including Mt Everest."
Divulging more details he said, "I developed an interest in mountaineering during my posting at Gulmarg in Jammu and Kashmir in 2009 after receiving a total of six months training divided into four parts." He also took part in a joint army expedition of the Indian Army along with the Army of Poland in 2013 and with the army of Kazakhstan in 2010 besides taking part in several Indian Army expeditions within the country.
Kumar, who led a seven-member team of National Security Guard during his two years positing with NSG from 2017-2019 to conquer Mt Everest on May 16, 2019, said the Tenzing Norgay award is given in four categories including, Land Adventure, Water (Sea) Adventure, Air Adventure and Lifetime achievement for adventure activities.
"The memories of my native town Phusro are still vivid in my memories," said Kumar and added he received several other awards for his mountaineering expeditions including Sena Medal on January 26 this year and added the land category of activities like mountaineering, cycling, skiing, etc. and added that he had also received chief of army commendation card, vice chief of army commendation card and Director-General NSG Commendation roll on two occasions earlier.
Asked about his message to people including youth interested in mountaineering he said, "Confidence is key to success and spirit to excel ahead is also equally necessary to scale all the obstacles in life."