BJP nominee tense about 'elder brother'
Spurned by party, Ram Tahal firm on standing as Independent, vote split imminent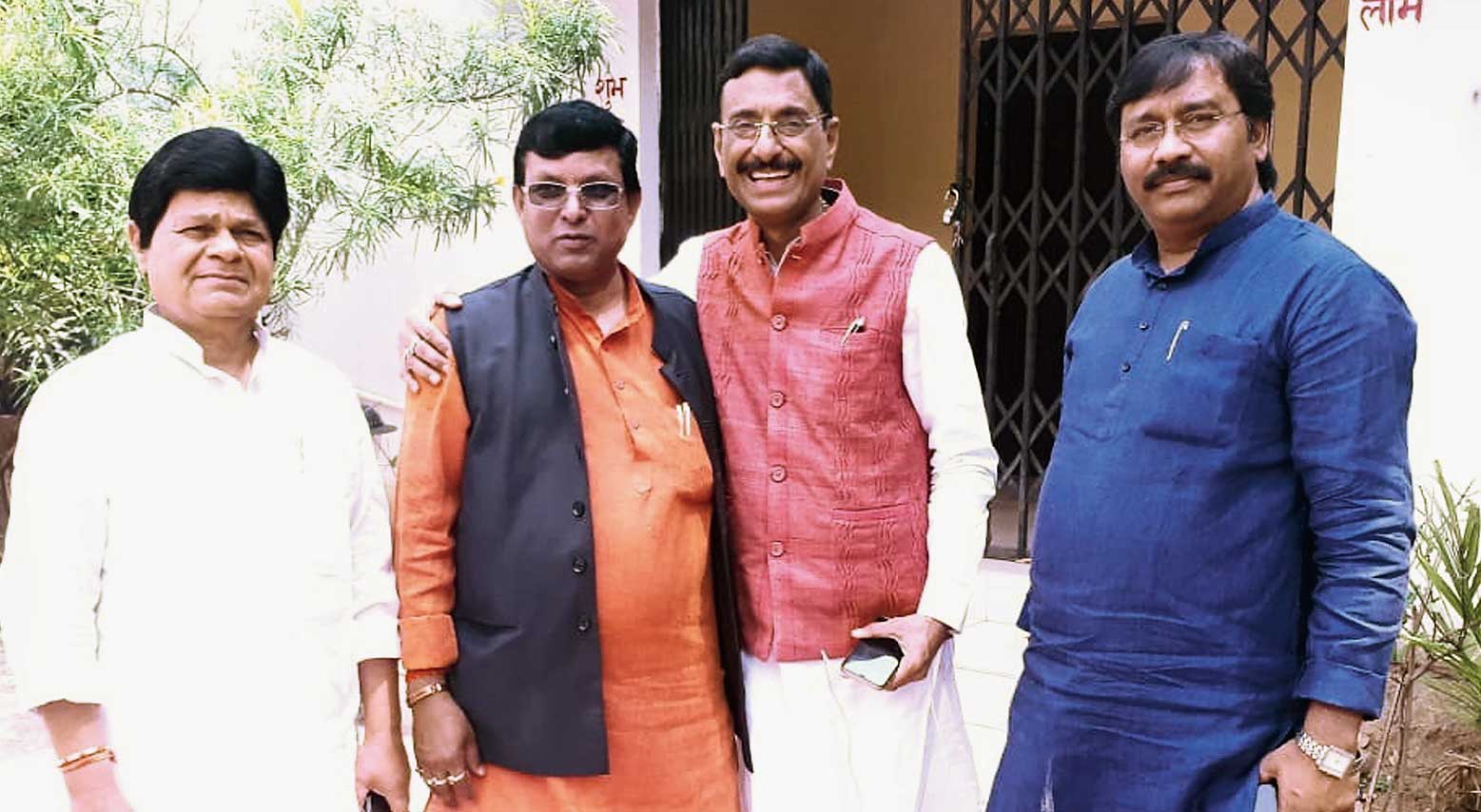 State khadi board chairman Sanjay Seth (second from right) beams as he holds Kanke MLA Jitu Charan Ram (second from left) in Ranchi on Sunday.
(Manob Chowdhary)
---
Ranchi
|
Published 07.04.19, 06:53 PM
|
---
BJP nominee from Ranchi Parliamentary seat Sanjay Seth on Sunday visited sitting BJP MP Ram Tahal Choudhary, who is planning to contest as an Independent after being denied a party ticket, to seek the latter's blessings.
Though Seth said Choudhary had always treated him like a "younger brother", and so seeking the veteran MP's blessings was the natural thing to do, insiders said Seth wanted to persuade Choudhary not to contest as an Independent. It is learnt that Choudhary did not change his mind.
If Choudhary does contest as an Independent, BJP votes will be split, ultimately helping Congress candidate Subodh Kant Sahay, a three-time Ranchi MP and former Union minister. Insiders say state khadi board chairman Seth, who is considered close to CM Raghubar Das and is making his Lok Sabha poll debut, knows well the mass appeal of five-time MP Choudhary and his clout over the Kurmi community.
"He always treated me as a younger brother so I visited to seek his blessings. He is known to me from the past 40 years. I am fortunate that I had been his foot solider during his election campaigning," Seth said after the meeting, a day after he told this paper that individual names (read Choudhary or Seth) were not important in this Lok Sabha election as people had made up their minds in favour of Prime Minister Narendra Modi.
Seth, appointed khadi board chairman in 2016, was Das's second choice for Ranchi seat. Das wanted BJP state vice-president Aditya Sahu, who hails from the Bania community. But as Choudhary was opposed to Sahu's candidature and projecting it as a case of the party favouring Banias at the expense of Kurmis, the central leadership decided to pick Seth, a Punjabi Hindu.
Though Seth is known to have an urban appeal, his supporters say that in the last four years as chairman of state khadi board, Seth is a known name in rural localities owing to self-help groups.
Sanjay Seth's priorities
On his priority if voted to power, "Ranchi native" Seth said, "My first priority is that my people have the first right to contact me and get their problems solved instantly. Ranchi parliamentary seats comprises six Assembly segments. I will open my offices in every segment so that people are not forced to come to the capital to meet me. I will remain accessible at all Assembly segments by turns."
Ranchi is emerging as a financial capital, he said. "I will ensure people don't migrate out of Ranchi in search of livelihood. Employment opportunities will be generated for them in Ranchi as the city has abundant scope of cottage industries. In recent years, Ranchi has seen infrastructure facelift. I will speed up development while keeping the fact in mind ecology and climate concerns," he said.
He admitted that water crisis during summer was one of the biggest problems. "But, Ranchi is blessed with natural and manmade reservoirs. We need to upgrade water storage system. Rainwater is always drained out. As an MP my priority to bring a long-lasting solution to this problem," he said.
He also said he would try to streamline Ranchi's traffic and bring its garbage collection on a par with Indore which "has one of India's best trash collection and disposal systems".
He justified the need to develop twin capitals in the wake of growing population.
"The Raghubar Das government has taken steps in this regard. New buildings of the high court, the Assembly and the likes are being constructed. Ranchi is known for its schools. Institutions for higher studies have also come up. But I feel Ranchi is still lacking in terms of institutions and activities to promote literature, arts and theatre, which are the essence of life. State government is aware of this. That's why Rabindra Bhavan is being built here, dedicated to Rabindranath Tagore. Our libraries are in poor shape. We need branches of national institutions. A lot needs to be done," Seth said.