Bidyut confident, his 'ideal' village isn't sure
Adopted by sitting Lok Sabha MP, Bangurda residents laud development, but rue water crisis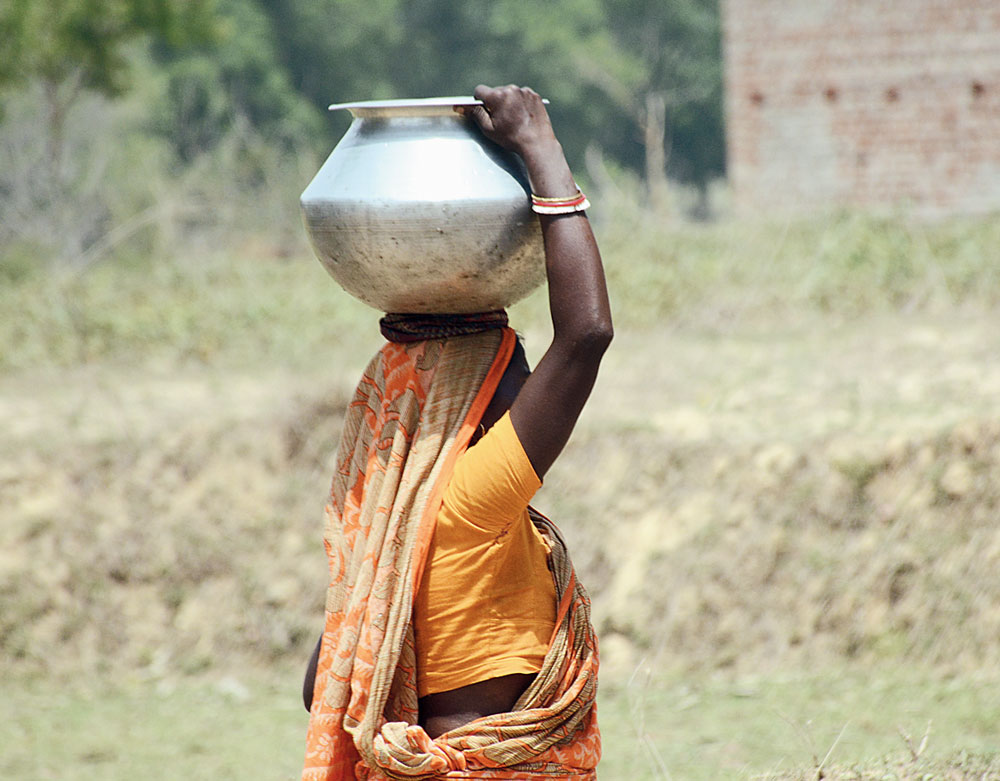 ---
---
Residents of Bangurda are proud that sitting MP Bidyut Baran Mahto had adopted their village bordering Bengal to turn it into an "adarsh gram", but they are unsure who to vote for on May 12 when the Jamshedpur parliamentary constituency goes to polls.
"Hamara sansad thik hi hain. Gaon main bahut vikas hua. Par peene ka paani ka samasya hai. (Our MP is fine. There has been a lot development in our village. But there is a problem of water)," said gram pradhan Manmato Singh, when asked about their MP.
About 45km from here in Patamda block of East Singhbhum district, Bangurda has over 4,000 voters, 40 per cent of which are Mahatos. MP Bidyut Mahto selected the village in January 2015 under Sansaad Adarsh Gram Yojana and decided to adopt it, aiming for holistic progress with equal importance on social development and infrastructure.
Despite this sense of pride, residents of Bangurda are undecided whom to root for in this village bordering Bankura and Purulia districts of Bengal.
"Bahut bar likh kar diya, bola bhi, par kuch nahin hua hain. Ab tak, gaon walon ko dur ja kar paani lana padhta hain (I have written to the MP and told him several times. But nothing has happened so far. People still have to go a long distance to fetch water," Singh explained.
The gram pradhan felt that two deep-boring submersible water pumps, along with overhead tanks and community bathing rooms that were built in financial year 2015-16, would have helped resolve the crisis to a large extent had these functioned.
This sense of palpable indecisiveness is quite unexpected for a village that was chosen for the Centre's scheme out of 1,777 villages in the East Singhbhum and 89 villages of Patamda block.
"Abhi tak nirnaya nahi kiye hain. Dekhte hain (We have not yet decided. Let's see)," said Ravi Gope, a casual worker who lives at Bangurda Shiv Mandir Pada, said ehne asked about their preference.
The village, comprising over 4,000 voters (over 600 households), has three tolas (hamlets) _ Bangurda, Chakadih and Bankati. Most residents are Mahatos while Gope, Rajwar, Karmakar (OBCs) and Bhumij and Kalindi (STs) make up the rest.
"We were happy in 2016 when we got a deep-boring submersible water pump and overhead tank and community bath room. But water did not come out ever since it was inaugurated. I am yet to get my wages for working as a labour for the project for over 15 days," said Kisto Mahto (65), a share cropper, adding that the problem of drinking water was acute too.
"Villagers depend on wells and ponds and when they dry up in summer we have to walk 2km to fetch water from tube wells in other villages," said Kisto whose house is adjacent to the deep-boring submersible tank along Bangurda- Pathargoda road.
There are two deep-boring submersible water pumps and an overhead tank and community bath. One is at Bangurda and the other in Bangurda Shiv Mandir Path. None of these are functional. Even the community toilet built in 2017 cannot be used as there is no water connection.
Yet, gram pradhan Singh defends the BJP MP.
"Electricity supply has improved and there isn't much voltage fluctuation. Road connectivity has also improved. We have got schools and colleges and a primary health centre in the last few years," he said.
Bidyut Baran Mahto, who is campaigning at Mosaboni in Ghatshila sub-division, said he was aware of the problems.
"We are looking into it. The concerned department has started the process of tender for a piped drinking water project worth Rs 14crore under which villages will get water at their homes. A work order will be issued after the elections," he said, expressing confidence that his contribution to the development of the village in the last four and-a-half years and the achievements of Prime Minister Narendra Modi's government would ensure his victory.